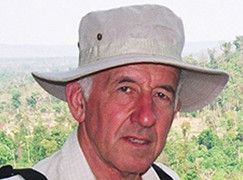 Professor Charles Higham
Charles was educated at Cambridge University, where he read Archaeology and Anthropology. In 1966, he became a lecturer in prehistory at the University of Otago, and was appointed the foundation Professor two years later. His archaeological fieldwork in Southeast Asia has involved a series of major excavations at sites covering the last 10,000 years, leading to the origins of early civilisations. This has wide implications that involve the origins of agriculture in China, the spread of farmers into Mainland and Island Southeast Asia, and the settlement of the wider Pacific, including New Zealand.
His research has been recognised in his election as a Fellow of the British Academy and the Royal Society of New Zealand. He is an Honorary Fellow of St Catharine's, his Cambridge College, and has received the Grahame Clark Medal from the British Academy for his archaeological research as well as the Mason Durie Medal, awarded to New Zealand's leading social scientist. In 2016 he was created an Officer of the New Zealand Order of Merit in the Queen's New Year Honours for services to archaeology. Charles is now a Research Professor at the University of Otago, with an active programme of excavations under way. He has published numerous excavation reports, syntheses of Southeast Asian prehistory, and a major Encyclopaedia of Early Asian Civilisations covering Afghanistan to Indonesia and India to Japan.