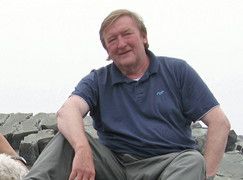 Professor Brian Williams
Brian is the Emeritus Professor of Geology at the University of Aberdeen, Scotland and currently holds adjunct professorial positions in the Universities of Manchester and Bristol in the UK, and Dublin in Ireland. He has also held university teaching positions in The Netherlands, Canada and the USA. He is a Fellow of the Geological Society of London and a member of the Energy Institute, and has published over 100 papers and several books. He has made TV appearances in the UK, USA and Far East and presented Radio 4 programmes for the BBC.
Brian gained his Ph.D. in sedimentary geology from the University of Wales far too many years ago to admit to, and in 2004 was awarded a D.Sc. degree in recognition of his global contribution to sedimentary research. He is a consultant to, and undertakes training courses for, the Oil Industry and several small geological service companies. His Studies have taken him to Australia, SE Asia, Middle East, Europe and North America which has given him the opportunity to share his enthusiasm for rocks and earth processes with adult education classes, industry personnel and students alike.
In addition to being passionate about Geology, Brian is an ardent Rugby enthusiast (he's Welsh of course!!) and a devoted follower of American Jazz.
Professor Brian Williams is on the following tours: