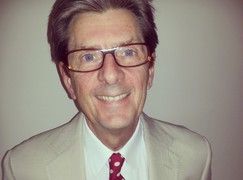 Peter Ward
With his father in military service, Peter Ward grew up in different places throughout England, Germany and the Far East. Graduating in English Literature and Religious Studies marked the start of a lifelong interest in Eastern mythology and religions, especially Buddhism. cruise specific: The 'Malabar Coast' itinerary includes important Buddhist sites of pilgrimage in Sri Lanka, which hold a particular significance for Peter having visited the two most important places in the Buddha's life (Bodhgaya and Sarnath) as guest lecturer on Noble Caledonia's 'Holy Ganges' river cruise (2014).
With his grandfather also in the military serving in many different places of the British Raj through the 1920s and 1930s – including Sialkot (now in Punjab state, Pakistan) where his mother was born – India is central to Peter's family history, providing a strong, personal connection to his travels and study of the country. cruise specific: The buccaneering history of the East India Company – the foundation from which the Raj evolved – will be a focal point of Peter's lectures, as we visit one of the Company's most important early trading posts, the Fort of St George, established in Chennai (Madras as was) in 1639.
In addition to accompanying tours and lecturing on the Silk Road across China and central and western Asia covering Kazakhstan, Turkmenistan and Uzbekistan, Peter's travels to northern India have taken in Kashmir before it became extensively off-limits to tourists, Uttar Pradesh, and throughout India's largest state – Rajasthan. He is a published author with Random House and actively promotes literacy for children as a '21st Century Author' for the National Literacy Trust.