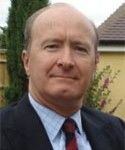 Major General Peter Williams
After studying History at Cambridge University Peter Williams spent more than 30 years in the British Army (Coldstream Guards) and enjoyed an unusually varied career. As an Infantryman he carried out ceremonial duties in London, spent two years in the mountains of Oman, served twice in Northern Ireland and commanded an armoured infantry battalion based in Münster, Germany. In the early 1990s he wrote speeches for the Supreme Allied Commander Europe, an American general.
During the Cold War he specialised in intelligence and studied Russian and German before spending more than four years in the 1980s in Berlin and East Germany as an officer in the British Commanders'-in-Chief Mission to the Group of Soviet Forces in Germany (known as BRIXMIS), in effect working as a military spy (MBE).
From 1993-94 he commanded his Coldstream Guards armoured infantry battalion in Bosnia-Herzegovina on UN peacekeeping operations during the civil war there (OBE). He went on to do two more tours of duty in the former Yugoslavia. The first was in 1995 as the Deputy Chief UN Military Observer; his boss there is now the President of Indonesia. Finally in 1998 he was the Chief Faction Liaison Officer in NATO's HQ in Sarajevo, dealing with the Bosnian Serb and Bosnian Federation Ministries of Defence and general staffs.
From 2001-02 he served first on the Western European Union Military Committee and then on the European Union Military Committee. His final military posting was from 2002-05 in Moscow where he started up and led NATO's Military Liaison Mission to the Russian Federation, working on military cooperation projects with the Russian armed forces (CMG). He retired from the Army in December 2005.
He now enjoys giving talks to schools, on cruise ships and to other audiences about Cold War and other current and historical issues and helps to train British military diplomats. He is a member of the international Guild of Battlefield Guides. He is also the editor of The Guards Magazine, the in-house journal of the British Army's Household Division (Household Cavalry and Foot Guards).
He is married to Anne, who was an Army education officer and language teacher; she now designs and makes jewellery. They live in Wiltshire and have three adult children and a very old black Labrador dog.