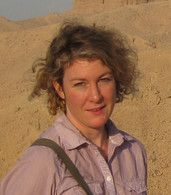 Lucia Gahlin
Lucia Gahlin is an Egyptologist based in the UK. She is an Honorary Research Associate at University College London's Institute of Archaeology, and teaches on-line Egyptology for the University of Exeter. She lectures far and wide, and gives guided tours of museums with Egyptian collections. She is an accredited lecturer for The Arts Society (formerly NADFAS), for whom she has done three lecture tours of Australia. Over the years she has taught Egyptology for the Universities of London (Birkbeck College and UCL), Reading, Surrey, Sussex, Warwick and Bristol.
She has worked at the Petrie Museum of Egyptian Archaeology in London (in the role of Amarna Archaeological Research Data Administrator), and continues to teach with objects in this museum, one of the world's most important collections of Egyptian antiquities. She has been a Trustee of the Egypt Exploration Society, is Chair of the Friends of the Petrie Museum and Co-Director of Bloomsbury Summer School at University College London, providing short courses on Ancient Egypt and the Ancient Near East. Her areas of special interest are Ancient Egypt's social history, settlement archaeology and the rituals and beliefs of daily life. She is author of books including Egypt: Gods, Myths and Religion, and chapters in Wilkinson, T. (ed.) The Egyptian World and in Rathbone, D. (ed.) Civilisations of the Ancient World.
She has spent two seasons working as the Small Finds Registrar at the archaeological site of Tell el-Amarna in Middle Egypt. She has been leading tours to the ancient monuments and archaeological sites of Egypt for over 20 years. She loves sharing her knowledge and passion for Ancient Egypt with groups of travellers to this extraordinary and awe-inspiring country.