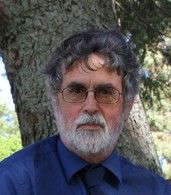 John Robson
John Robson was born at Stockton-on-Tees in County Durham, U.K. in 1949. He has had two lifelong interests – maps and Captain James Cook. They were combined in 2000 when his first book, Captain Cook's world, was published. A second book, The Captain Cook Encyclopaedia, appeared in 2005.
John has travelled extensively in his career, first as a mining geologist and later as a librarian. He retired as the Map Librarian at the University of Waikato in Hamilton in July 2018. He is President of the international Captain Cook Society. His book, Captain Cook's War and Peace about Cook's early Royal Navy career was published in 2009. He contributed the maps to John Gascoigne's award-winning book, Encountering the Pacific, and has recently written chapters for 2 books about Cook in Alaska. Of late, he has been writing a biography of the hydrographer, John Lort Stokes (who mapped much of the New Zealand and Australian coasts and named Darwin).
Robson moved to New Zealand in 1981 and now lives in Hamilton with his corgi, Durham, and a house full of Captain Cook books and 'Cookabilia'. He has begun a second career as a cruise ship lecturer in recent years. Robson has lectured on many cruise ships as well as advising on and appearing in several television documentaries.