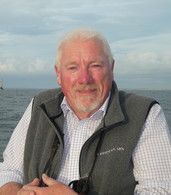 John Love
Born in Inverness, John Love graduated in zoology at Aberdeen University. In 1975 he went to live on the Isle of Rum where he managed a highly successful project to reintroduce the white-tailed sea eagle. While he remains involved with birds of prey, seabirds are another passion. In the 1990s John acted as guide and lecturer on several small charter vessels round the Hebrides and has lectured on cruises, round Scotland and to Norway, for the National Trust for Scotland.
He first worked for Noble Caledonia in 2009 and now participates in various expedition cruises for three to five months each year. This is mainly around the UK - and the Hebrides in particular - but he has also voyaged round Ireland, northern France, Iceland and the Faroes, Norway, the White Sea, the Seychelles, the Maldives, the Tanzanian/Mozambique coast, northern Madagascar and, most recently, New Zealand and Lesser Antilles.
John has written and illustrated books on eagles and penguins, on the human history of the Isle of Rum, and natural histories of lighthouses and of St Kilda. His interests are wide, and include drawing, photography and playing the fiddle.
John Love is on the following tours: