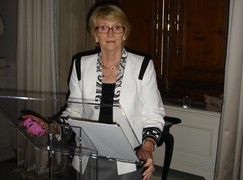 Hendrika Foster
Hendrika was born in Yorkshire, of Anglo-Dutch parentage, and now lives in Hampshire. Her first career in medical rehabilitation was followed by a BA Hons with the Open University – just for pleasure; then after a move to Somerset, by an MA at the University of Bristol. Whilst lecturing for the university in their Lifelong Learning department she also worked free-lance organising and tutoring thirty nine study tours to Italy and The Netherlands. New doors were opening.
With a Dutch father, the Netherlands (including Belgium), it's art and history, have long held a special fascination in what became with family, a second home. Hendrika's family can be traced to the end of the 16th century in and around Dordrecht. In a city like Delft, largely unscathed in WW2, it is easy to slip back into the world of the newly independent Republic of the Northern Netherlands. A visit here is like stepping in and out of paintings by Vermeer.
She loves driving through the countryside, where so much of landscape was known and loved by Ruisdael, and has changed very little.
When asked to make a contribution in a book about 'special heroes' Hendrika wrote about Willem I of Orange. He gave his fortune, two brothers, a son and ultimately his life for this small country. The history of Holland is a wondrous story that she feels is a part of her heritage.
Hendrika Foster is on the following tours: