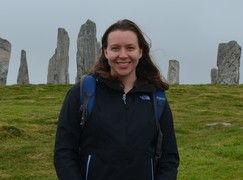 Elizabeth Pierce
Elizabeth Pierce grew up in Bismarck, North Dakota in the US. Despite her landlocked origins, she first travelled to Scandinavia during college to study. After college she worked for a few years as a journalist before turning her attention to two other areas of interest: archaeology and Scandinavia. For nearly a decade she lived in Scotland, where she received her master's degree and PhD in archaeology.
The focus of Elizabeth's archaeological research has been the Viking and Norse periods, particularly the material culture of those periods. During her postgraduate studies, Elizabeth worked on excavations in Shetland, Iceland and mainland Scotland and travelled extensively throughout Scandinavia to attend conferences and see the fantastic artefacts from the area. Since completing her degree, Elizabeth has taught undergraduate, postgraduate and adult education courses about the Vikings at the University of Glasgow in Scotland, has published numerous book chapters and scholarly articles and has consulted on television documentaries about the Vikings. More recently she has been a guest lecturer on voyages to the British Isles and Scandinavia, as well as an expedition staff member and lecturer in the Arctic. Currently she is co-authoring a book on the Vikings in the North Atlantic.
Her research interests continue to lie in the western Viking world, including the North Atlantic, British Isles and Scandinavia.