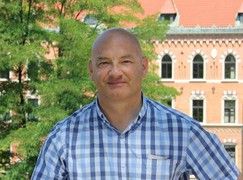 Dr Peter Caddick Adams
Dr Peter Caddick–Adams has been Lecturer in Military and Security Studies at the UK Defence Academy since 1998, and additionally Lecturer in Air Power at RAF Halton base since 2012. He was educated at Shrewsbury School, the Royal Military Academy Sandhurst and Wolverhampton University, where he gained First Class Honours in War Studies; he received his PhD from Cranfield University. A Fellow of the Royal Historical Society, he previously lectured at Oxford and Birmingham Universities, and now addresses staff colleges around the world on military history, doctrine, terrorism, psychological and media operations. Peter is also a battlefield guide, covering all periods of history from the Romans to the present day. He has also led many official commemorations with serving soldiers, veterans and official delegations, most recently in connection with the centenary of various 1914-1918 campaigns.
His most recent book is Snow and Steel: The Battle of the Bulge 1944-45 (2014). This, along with his previous works, Monty and Rommel: Parallel Lives (2011) and Monte Cassino: Ten Armies in Hell (2012) are best sellers and Monte Cassino is now the basis for a movie for which he is the historical consultant.
Additionally, Peter has pursued a second career in the UK Regular and Reserve Forces, was commissioned in 1979 and joined the Reserves in 1985. He has extensive experience of various war zones, including the Balkans, Iraq and Afghanistan. During 1996–7 he was the official NATO Historian in Bosnia, based in Sarajevo. Awarded the Territorial Decoration in 1997, he was also the official UK Historian during the Iraq War of 2003, based in Qatar and Iraq, and has written extensively on the campaigns he witnessed for newspapers and journals around the world. He was made a Knight of St Joachim in 2016.