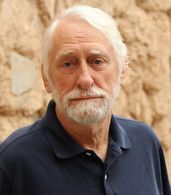 Dr David Price Williams
David Price Williams has a first degree from the University of Wales in Ancient Near Eastern languages (Aramaic, Hebrew, Arabic etc.), with a subsidiary in Attic and Koine Greek. His post-graduate work and his doctorate, from the University of London, is in Near Eastern archaeology. His first overseas archaeological field work in the eastern Mediterranean was in 1969 as a field surveyor at the classical site of Knidos in Turkey. He then worked for the Smithsonian Institution as an archaeological field surveyor on excavations in the Near East before directing his own field research in the same area through the early 1970's.
David has been associated with the eastern Mediterranean – Greece, Turkey, Jordan and the Near East - for more than 40 years. He is deeply involved with all aspects of Near Eastern culture, history and archaeology. David has just retired after almost forty years lecturing on the Archaeology of Western Asia (Eastern Mediterranean) at the Institute of Archaeology for the University of London Extra Mural Department. He is the author and co-author of numerous academic papers on the area and several books.
David has designed and lectured on many tours to Greece, Turkey and the Near East and is very familiar with the archaeological sites of Turkey, Syria, Egypt and Jordan. He is a Fellow of the Royal Geographical Society, an elected life member of the Society for Old Testament Studies as well as the Southern African Quaternary Research Association.