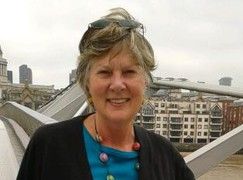 Daphne Joynes
Daphne Joynes (BA Hons, F.HEA) is an art historian who worked for The Open University and University of Surrey. She is also a free-lance lecturer with extensive experience of working in continuing adult education and, since 1996, has led regular study tours to Italy, initially for the Open University Travel Society, and since 2000 for Siragusa Tours, a small company based in Italy. She also leads Siragusa study days at the National Gallery in London and at the V&A and lectures for NADFAS and other groups.
Although her principal professional field of interest relates to Renaissance art and culture, she takes a great interest in 19th-20th century North Atlantic art and has given talks about the land- and sea-scapes of the North Atlantic as they feature in the work of North American, Canadian and European painters.
Daphne also has a longstanding interest in 18th and early 19th century British naval history relating to the North Atlantic and Gulf of St Lawrence and, in 2012, published a paper under the aegis of the International Map Collectors' Society about a previously unknown chart of Newfoundland by Admiral Sir William Parker, a family ancestor. As a young man Parker was assistant to James Cook - later Captain Cook of Pacific exploration fame - when they jointly surveyed and mapped Newfoundland and Labrador in the 1760s. She has published a number of articles about Sir William Parker for the Captain Cook Society and, together with her lecturer husband Andrew (see separate Guest Speaker biography), has given a series of talks for various historical societies about Parker, Cook and the historical context of their times.