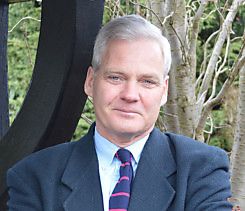 Commodore Rupert Wallace CBE
Rupert Wallace retired from the Royal Navy in 2014 as a Commodore, after a career which included the Falklands War, three ship commands, heading a flotilla of destroyers and ​frigates, and strategic UK defence relations work throughout the Middle East and South Asia.
On retirement he completed a Postgraduate degree in International Relations at the London School of Economics. He now talks widely in schools, institutions and aboard cruise ships, concentrating on the Middle East, North America and Atlantic regions. He is History Director on an outreach programme to inspire disadvantaged pupils to apply to the top universities.
Rupert travels extensively, including riding a bicycle across America, independently travelling the Silk Road from Iran to central China (with his wife, Kate), and is currently in the middle of a 10-year walk from the Atlantic to the Black Sea. To keep his feet wet he has a boat in Greece.
Commodore Rupert Wallace CBE is on the following tours: