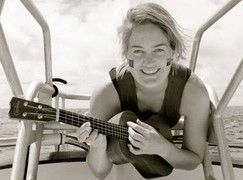 Sasha Guggenheimer
Sacha was born in Australia and grew up exploring it's vast wilderness. Her love for the ocean and animals was apparent from an early age, she dreamed of filming and photographing marine megafauna around the world. With this vision she went on to become a Marine Biologist graduating with honours in seabird foraging ecology.
Her work in research took her to the Centre of Marine Science and Technology where she spent several years investigating acoustic communication of Australia's migrating humpback, southern right and pygmy blue whale populations in the Indian and Southern oceans. This included a spectacular two month voyage on Whale Song with the Centre for Whale Research recording acoustic profiles of the Southern Ocean, as well as 3 months living in remote south Australia studying population dynamics of calving southern right whales. Through her research Sacha has become very familiar with marine megafauna.
What she enjoys most in her career is being the bridge between people and the ocean and is always enthusiastic about exploring new habitats, creatures and cultures. When she's not sailing you will find her working whale shark seasons as a guide and photographer in Exmouth, WA. Sacha has dedicated her life to following the seasons and migrates like the great whales around the world. It's this passion to explore, experience and teach that lead her to work in the expedition cruise industry.