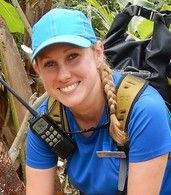 Phoebe Olsen
Phoebe Olsen grew up in a small fishing village on the rugged south coast of Ireland. There she was never far from a boat and spent most of her summers out on the water in one form or another. Pursuing a degree in archaeology she completed her undergraduate in archaeology at the University College of Cork followed by a master's degree in the Osteoarchaeology.
Phoebe has spent over ten years studying and working in archaeology. For five years she worked as a field archaeologist in the UK working on a range of projects from the unearthing of a Saxon cemetery next to a Neolithic monument in Wiltshire to the excavation of Bronze Age cremation urns from Kent.
She caught the travel bug and has lived in Hong Kong, the UK and Italy as well as working on an archaeological dig in Azerbaijan. Working as an expedition field staff member has seen her travel around Northern Europe, South America, Australia and the South Pacific.