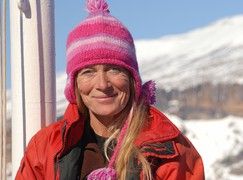 Kristine Hannon
Kristine is a true example of how it is never too late to find the job of your life. She was born and raised on the Belgian Coast and spend most of her professional life working in the food industry as a shop owner and manager.
After a visit to Antarctica in 1998, she was determined to follow her dream and get a job on one of the expedition ships sailing South. Being a single mum, it took her 10 more years before the dream could be accomplished and she returned to the White Continent as member of the expedition staff. Between 2008 and 2011 she spent most of her time in the Polar regions.
Apart from being an experienced assistant expedition leader Kristine has become an accomplished landscape and wildlife photographer whose work has been widely published and exhibited. Having been resident photographer for an expedition cruise company during 2.5 years she has a great eye and love for photography.
With over 110 countries visited in the position of Assistant Expedition Leader – zodiac driver and/or photographer since starting to work in the expedition cruise business, Kristine has been a professional, passionate and well organized member of a large number of expedition teams. Having enjoyed every single trip she has done so far all around the Globe, Antarctica remains her favorite place on earth.
Kristine is always ready to help guests with any issues or questions they might have and is eager to pass on her passion for expedition cruising. Being a highly self-motivated autodidact and professional, she has never looked back since giving up her shore side job in 2008 and considers this career change as the best decision she has ever taken in her professional life.