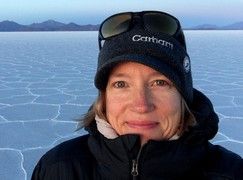 Joselyn Fenstermacher
Joselyn's extensive travels to all seven continents and the long list of various seasonal jobs-- including fire fighter, farmer, and field biologist-- perhaps happened as a reaction to what could be considered a "sheltered" childhood growing up in the suburbs of Washington, D.C. Having always been someone who needs a lot of time outside, she constantly looks for ways to spend life out-of-doors, learning new things, seeing new places, and inspiring others to ask questions and think big.
As an undergraduate, Joselyn studied behavioral ecology and conservation biology, going abroad to Ecuador and Tanzania for hands-on, research-based semester courses studying the local flora, fauna, and conservation attitudes. She has worked all over the United States including in Alaska and Hawaii, and with all manner of critters including fish, brown bears, desert tortoises, and rare and endangered birds. Over the past several years she has also been working in Antarctica, spending several seasons supporting the scientific research program at two U.S. science bases (McMurdo and South Pole) and for the past three years serving as guide and education coordinator on expedition voyages to the Antarctic Peninsula, Falkland Islands, and South Georgia. When back in the U.S. Joselyn spends most of her time in the Big Bend region of far western Texas where she has fallen in love with the Chihuahuan Desert.
She has worked for the U.S. National Park Service there as a bio-technician and interpretive Park Ranger, and in 2007 completed her Master of Science botanical research involving Big Bend flora. During the ensuing years she continued investigating a small group of relatively unknown cacti, publishing her research and becoming a recognized regional expert. Recently, her ongoing contributions to botany were honored by a colleague who named a new plant species after her, one that she discovered during her MS thesis work. Joselyn is passionate about learning more about the world around her and sharing that passion with others-- hoping to inspire a broader appreciation for, and understanding of, the fascinating world we live in.