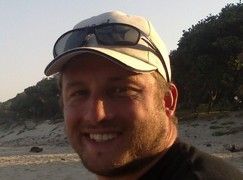 Jean-Pierre Els
Jean-Pierre Els is a qualified Padi Divemaster and Category C vessel skipper who is passionately in love with the ocean and the outdoors. He is now working as a Divemaster, Watersports Coordinator, RIB Driver, Zodiac Driver, Guide and Expedition Team Leader/Member.
His lifelong dream to scuba dive became a reality when he relocated to the east coast of Kwa-Zulu Natal. What started out as a hobby quickly progressed into a career and Jean-Pierre soon had the opportunity to work on the Sardine Run, known as The Greatest Shoal on Earth. After that he was employed as a resident Divemaster and Skipper in Shelly Beach. He specialized in shark diving on the reef Protea Banks. One of his greatest experiences in life is as a Sardine Run Expedition Leader for African Dive Adventures. Setting up an entire operation to a remote area and being on the water with no guarantee what to expect is truly an exhilarating challenge he looks forward year after year.
Thereafter his work expanded to various parts around the globe while working with Eyos-Expeditions as a Divemaster and expedition team member. He is responsible for the planning of dive programs, managing operations, group diving, driving RIB's, zodiacs, guiding etc. He is currently also working with Expedition Voyage Consultants as a Watersports and Surface Activity Coordinator. At EVC he assists and advises with the start-up and set up of watersports, surface activities and operations onboard. Advising on the onboard organizational structure, schedules and developing SOP's.