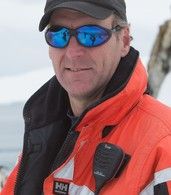 Graeme Snow
Better known as Snowy, Graeme is originally from Adelaide, South Australia, and has a professional background in electronic and telecommunications engineering. With a love of travel and adventure he joined the Australian Antarctic Division and over-wintered at Casey station Antarctica as a Radio Technical Officer in 1991. Following this, for 15 years Graeme worked in the Engineering section of the AAD, based in Hobart Tasmania, supporting Australia's Antarctic Program.
During this time he undertook numerous trips to many regions of the Antarctic and sub-Antarctic, including spending over two years working on extended research voyages in the Southern Ocean and around the Antarctic continent, providing technical support and participating as a field assistant in areas as diverse as glaciology, oceanography, penguin and sea-bird monitoring and research, seal and krill biology, and whale observations and acoustics.
This deep connection to the Antarctic and polar environments led Graeme to sharing his expertise and experience on tourist voyages and since 2006 he has participated in over 80 voyages in many remote regions of the world. He has also spent months working in safari lodges in the Okavango Delta in Botswana, Africa and over two years in the Southern Highlands of Papua New Guinea. In all he has traveled and worked in over 50 countries and all seven continents.
An experienced small boat operator and guide, Graeme's areas of special interest are ornithology and marine biology as well as a general interest in history.