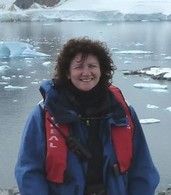 Dr Susan Currie
Susan was born and brought up in North East England. After obtaining her Bachelor of Science degree in Geology from the University of Exeter and a Doctoral degree from the University of Cambridge she worked as a geologist in the UK offshore oil and gas industry and lived in Aberdeen, Scotland, for 27 years. Her responsibilities included exploring for new oil and gas fields, developing existing fields, working offshore on oil rigs in the North Sea, and geological field studies in isolated areas on land. She has published papers in a number of academic journals. Over the past decade climate change has been a particular area of interest and study for her and in 2008 she took up an appointment as a senior geologist in the UK Government Department of Energy and Climate Change (DECC). While working there she continued to make frequent expedition cruises.
Eventually she decided to make geology lecturing on expedition cruise ship her full-time profession and in 2012 she left the Department of Energy and Climate Change and has since worked in the expedition cruise industry from her home base in the North-East of England.
Travelling to remote areas which offer spectacular scenery has always been her hobby. Susan made her first ship-based expedition in 2002 and since then she has completed 7 seasons in the Antarctic, cruised extensively in the South Pacific and Australasia, and has enjoyed 8 seasons cruising in the Arctic, including the North Pole, Alaska, and the Russian Far East. Susan really enjoys introducing her chosen subject to non-geologists. She also served on the Fellowship and Validation Committee of the Geological Society of London and continues to give talks to different organisations on geology and climate change topics. When not working on cruise ships she may be found enjoying a walk along her native Northumbrian coast-line, practising Taoist Tai Chi, or hiking in the English Lakes District.