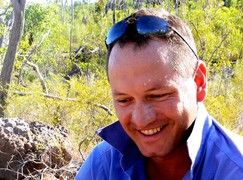 Craig Ward
Craig is a marine professional, dive instructor, marine biologist & ship's captain and studied Zoology at James Cook University, Cairns. For over twelve years he has been involved in marine research and education throughout the Indo-pacific, particularly the Northern Great Barrier Reef, the Kimberley, south-east Asia, Papua New Guinea and New Zealand.
He became a wildlife keeper working with many native Australian species including crocodiles, snakes and cassowaries and wrote a number of public education presentations on topics such as wetlands, reptiles, jellyfish and conservation, Craig developed his lecturing skills and became recognized as a regularly cited author. He is credited on a number of scientific papers, has been published in a variety of magazines and has co written and edited several natural history works.
Craig is based in tropical northern Australia, where he is actively involved in conservation research. He spends much of the year travelling to remote parts of the world in search of, sadly, rare animals with like-minded people who share his passion for nature and travel, and he goes out to sea as often as he can.