| | |
| --- | --- |
| | Support for Papua New Guinea & Melanesia |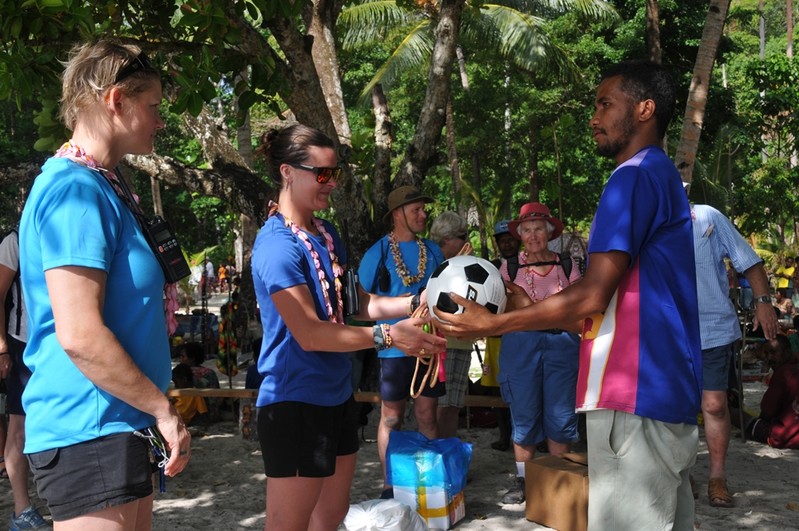 'Not everyone can do everything – but everyone can do something'
Wise words from Karin Lundstrom during her recent time on board Caledonian Sky visiting Melanesia. Click on the link for her report on bringing much needed supplies to remote areas of Papua New Guinea, Solomon Islands and Vanuatu.
Last year when I was working aboard Caledonian Sky in this area we didn't have anything to give away, so I tried to arrange something through the NCCT for the next Cal Sky voyage. With help of the local agent we bought some school materials and medical supplies.
This year again it was a bit of a last minute mission so I bought some footballs with pumps as well as long skipping ropes to give away to the school children who perform for us along the way up thru Melanesia. Just to have something fun at least as a thank you.
Daniel our agent had bought some school material as well as sports equipment, a volleyball net and some balls, etc which we gave away on some of the islands we visited in PNG together with some of the balls and skipping ropes I bought. On Kitawa it turned into a bit of a ceremony where we handed over our gifts together with a few boxes of old things from the ship.
On Santa Ana, one of the Solomon Islands they started playing straight away when we gave them a ball. It was just pure enjoyment to watch the happy kids. The hotel department often buy lobster and local supplies when they call and at the same time they were giving away old towels as well as a whole bunch of sunhats that they had bought specially at the request of the islanders. They asked us for pain killers so our Doctor kindly put together a bit of a medical kit from the clinic.
Our last island stop this voyage was to Rah and Moto Lava in Vanuatu and we gave the last of our balls, pumps and skipping ropes to a school and kindergarten. It wasn't much but every little thing is so appreciated.
The question is what can we do next time Caledonian Sky is here in 2016? So I asked our our guides and they both mentioned that t they need help with the fruit plantations as got totally destroyed in Port Vila during the last hurricane. So the NCCT are now looking into how best we can achieve this. Watch this space!
Karin Lundstrom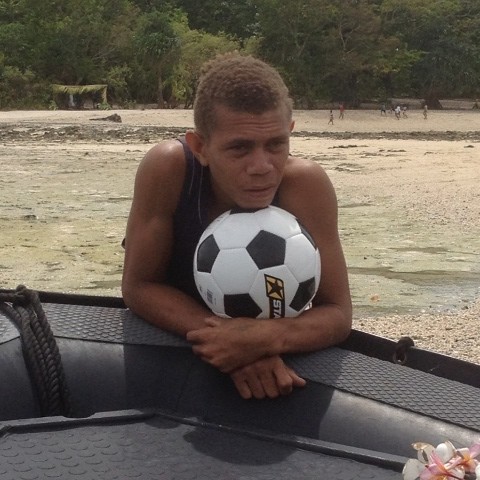 If you would like to make a donation by cheque please make it payable to 'NCCT' and send it to NCCT, 2 Chester Close, London, SW1X 7BE.
Or donate online here.
If you are eligible for gift aid you can increase your donation by 25% at no extra cost to you by using our Gift Aid Form.