Coral Reef Restoration Training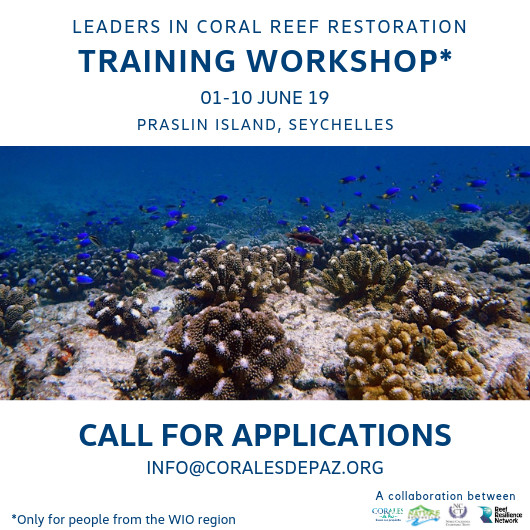 The impact of climate change on global coral reefs has been devastating, threatening the livelihoods of millions of people including coastal communities within Eastern Africa and the islands of the Western Indian Ocean. Over the past two decades, coral reefs within the region have suffered widespread degradation through a series of ocean warming events and subsequent coral bleaching. Within the Seychelles this resulted in an average loss of 90 % live coral cover in 1998 and a further 50 % loss in 2016. In addition to coral mortality, coral bleaching inhibits overall reef health and resilience capacity, coral reproduction and increases disease prevalence.
The NCCT are funding a two week intensive training working in coral reef restoration in June 2019 on Praslin Island in the Seychelles. This workshop will result in the first cohort of Coral Reef Restoration Leaders, a collaboration between Corales de Paz, the Noble Caledonia Charitable Trust and Nature Seychelles.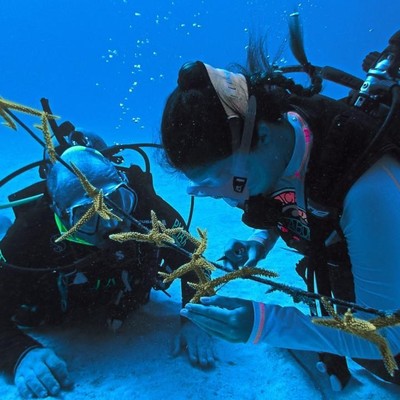 The trainees will be community leaders and reef practitioners from the Western Indian Ocean region (Comoros, Kenya, Madagascar, Mauritius, Mayotte, Mozambique, Reunion Island, Seychelles, Somalia, South Africa and Tanzania) who are working or plan to work on coral reef restoration in their home countries; people that don't have the resources to pay for such training but are committed to coral reef conservation. The objective is to build capacity for people living in the WIO region and to improve coral reef conservation efforts at a local and national scale in the region.
The workshop will be coordinated by Dr Phanor H Montoya-Maya of the NGO Corales de Paz and Research Associate to Nature Seychelles, the NGO responsible for the largest coral reef restoration project completed to date in the Indian Ocean: the USAID/UNDP-GEF-funded "Reef Rescuers: Restoring Reefs in the Face of Climate Change". Phanor is also an onboard marine biology expert as part of Noble Caledonia's expedition team. The current Reef Rescuers Project Technical Coordinators, Paul Anstey and Chloe Shute, will assist in training and logistics.
At the end of the training programme participants will be able to plan a coral reef restoration project and carry out key activities of the coral gardening method. They will receive seed funding, advice and support to set up and maintain a project in their local community.