Islands on the Edge Memories by Theo Steel
A first post-covid cruise
Hebridean Sky 14 to 26 July 2021
Background
We booked in 2019 to travel on Serenissima in May 2020 from Plymouth to Oban via the Scillies, SW Ireland, St Kilda to Oban with the intention to add to our range of outposts and Islands visited. Obviously this was not to be so we rebooked for May 2021 with a similar itinerary albeit ending in Aberdeen. In the event this cruise was postponed until 14 July on Hebridean Sky with an advertised itinerary from Portsmouth that excluded Southern Ireland but included Guernsey and some rare Scottish Islands. More on the actual itinerary in the description of the cruise.
We knew that Noble Caledonia had succeeded in getting those in their care home in 2020 safely and as seamlessly as possible and that Island Sky had been on Government charter in winter 2020/1 in the Antarctic from the excellent Travel Post which continues to give an informative read and this encouraged us to stay with NC.
Preparations
By the time the intentionally relatively unambitious but ground breaking UK cruises recommenced in mid June, we were aware that the drift was out of lockdown but that the statistics were still bumpy. So we were happy to learn from our joining instructions that pre vaccination was mandatory; that we needed to do lateral Covid tests in advance, on departure and on day 4 of the cruise; and that passenger occupancy would be 60% of capacity with masks to be worn in public areas. Social distancing and fixed dining seating would apply for the start of the cruise.
At Portsmouth all was seamless once we had walked from Harbour station to the transfer bus for the terminal where there was lots of room for testing by the shore team with temperature check by the ships nurse (repeated daily) as the final step before embarkation. Arrivals were staggered so we were on board with prosecco in hand and a light lunch on offer within an hour of getting off the train. Neil Horrocks' latest piece confirms that we were being observed at Chief Officer level within the Company which gives me reassurance.
Sailing away
A nice touch to have a small music ensemble to see us off and then Chris Edwards gave a good commentary as we sailed past naval ships in port. Once on board we were told that we had 2 days in the Scillies rather than a day in Guernsey/Herm, due to the authorities there continuing to refuse cruise calls. I was not unhappy happy with that and it gave a relaxed start to the cruise.
Queen Elizabeth was anchored off the East of the Isle of Wight and Spirit of Adventure had preceeded us out from Portsmouth on proving trials. We passed the Needles after dinner, complete with welcome toast. The food was good, the wine service enthusiastic! The crew had bedded down but crew regular faces were missed.
The Scillies - 15 and 16 July
We spent the morning heading west with distant views of the Lizard and various lighthouses before anchoring between the islands and using the Zodiacs for a landing at Tresco where there was plenty of time to admire the marvellous Abbey Gardens which lived up to their reputation. The Valhalla ships museum was open as was the café. A nice birthday treat!
On day 3 we had a morning on Bryher and an afternoon on St Agnes using local tenders for access, some fascinating contrasts and well led walks by the Expedition Team. The small holdings on Bryher grow a wide range of herbs etc. I'd not been before but was brought up in a house named Bryher by my parents!
At St Agnes the pub was open in line with the then restrictions and all went well. Some walked over the tombolo beach to reach Gugh. Hebridean Princess was in port. Dinner was interrupted by a good dolphin show and sighting of a whale.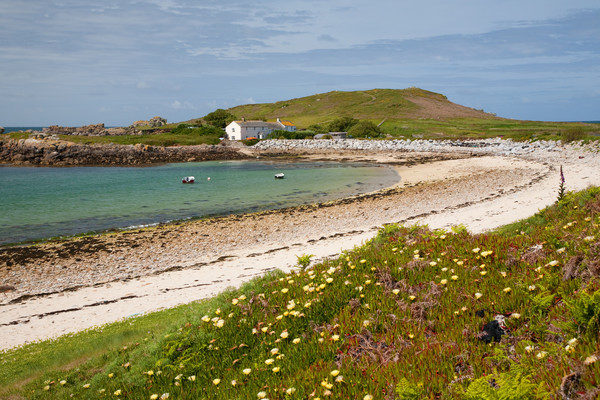 Lundy and Skomer/Grassholm - 17 July
Lundy was another new landing for us (by Zodiacs). It is a steep haul up from the landing (cars were available) but a worthwhile trip with good long views of the Bristol Channel. The Island is well looked after by the Landmark Trust and features a good museum in the church. There are around 30 all year inhabitants but some overnight visitors. The afternoon cruise along the Pembrokeshire Coast was good value before the day's highlight of Zodiacing around the puffineries at Skomer and cruising close to the gannetery at Grassholm. We had a choice of sights as there was a "superior mirage" reflecting the islands west of Ramsey Head, a first for me!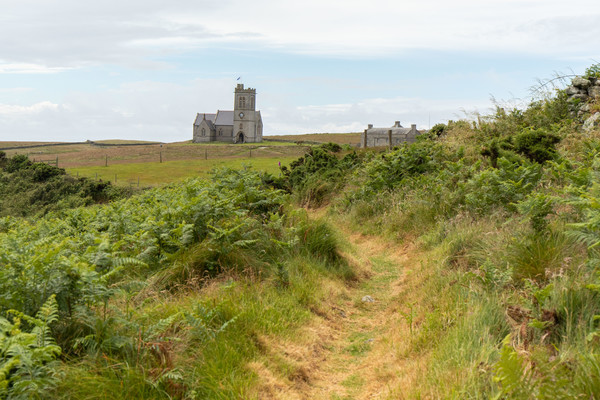 A day at sea - 18 July
We covered the distance from Grassholm to Ailsa Craig by 1500 passing the west of the Isle of Man closely and with Ireland, Cumbria and Galloway in sight at times. All passed the day 4 COVID test and choice of dining seating was then allowed, albeit on tables for a maximum of 4. There was an option of outdoor or inside dining for most meals. A Zodiac cruise around Ailsa Craig broke up the afternoon and replaced a call at Rathlin. I had done the circuit on PS Waverley before and our trip was a more than adequate substitute for Rathlin in glorious weather with great sighting of gannets and some seals. A more unexpected sight was an Astute class submarine slipping out from Faslane. There was surprisingly little leisure cruising evident. We headed to cruise past Rathlin to find it shrouded with fog but it miraculously cleared affording us a view. We then made our way overnight to Gigha a small island between Islay and Jura and the Kintyre mainland.
Gigha/Jura – 19 July
A Zodiac landing was made at the excellent pier as scheduled at Gigha for a walk to the Achamore Gardens. It was the first visit for some of the expedition staff to Scotland for 2 years as they landed at Gigha and a positive moment for us all. The COVID retrictions were eased in England that day but the situation in Scotland was still tighter. The gardens were an interesting contrast to Tresco with fuschias in full bloom, the hedges were well stocked too, particularly escalonias and foxgloves. We were not the only visitors and there were yachts parked by the quay with good looking fish restaurants nearby. The community bought the island some years back and it seems to work. The whisky distilleries were closed so a planned visit to Craigmills was aborted. We did pass up the tight passage between Jura and Islay with close up views of the country houses at Jura and Port Askaig. The substitute for Craigmills was a Zodiac cruise up Loch Tarbert which almost cuts Jura in two, this was a first for Noble Caledonia and gave opportunities to land on one of the raised beaches as well as to see seal, gannet and tern activity.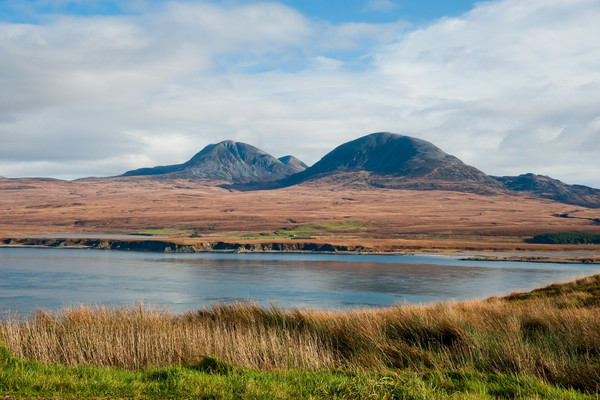 Staffa/Iona and Lunga – 20 July
Yet another nice day – the weather was very good throughout actually. Hannah Lawson (Expedition Leader) challenged us with an early rise and a Zodiac-trip to Staffa, some set foot but we chose to Zodiac into Fingals Cave. Another spectacular moment. Then it was back to the ship for breakfast taken either upstairs on deck or in the dining room as applied for nearly all main meals.
After breakfast to Lunga in the Treshnish Isles for more Zodiacing and a landing if desired before returning to Iona where we landed by Zodiac. Although the cathedral was closed we were able to walk around and enjoy the atmosphere with many others in an informal and relaxed atmosphere. The shops were open.
St Kilda – 21 July
An early Zodiac landing at the refurbished quay, now supplemented by a new land on causeway to enable the new much more sympathetically designed army/weather buildings currently being built to be supplied with materials. The remains of the settlement are being carefully conserved and we met 2 people involved in the process. The permanent residents now outnumber those evacuated in 1930!
A white owl sighted on arrival. Soay sheep around having shed their winter coats.
A return to lunch on board and then a comprehensive Zodiac trip around the main islands, travelling into caves and surrounded by seals, gannets (in particular) and other seabirds. Then round Boreray and the stacks twice. Superb views and photo opportunities with very calm weather. The order of visits was sensibly swapped with Loch Skavig to get this fabulous day at St Kilda.
Loch Skavig and Canna – 22 July
Loch Skavig is a well protected inlet on the south coast of Skye where we woke up to yet another fine day. We clambered ashore up a ladder from the Zodiacs for a scramble over the rocks to reach Loch Curuisik an inland freshwater loch where a group were wild swimming.
Back to the ship for lunch and then over to Canna, an island with about 20 inhabitants but many summer visitors. Again in by Zodiac to be met by the Harbourmaster. The island is run by the Scottish National Trust and has been connected to its neighbour island Sanday by a permanent bridge even if the roads are no more than metalled tracks. We saw 2 of the three churches, one has a round tower.
A very pleasant highlight was Canna House currently under restoration but with well tended gardens which are a credit to the Trust and their employees open. Again there were shops open – often with items for sale on trust.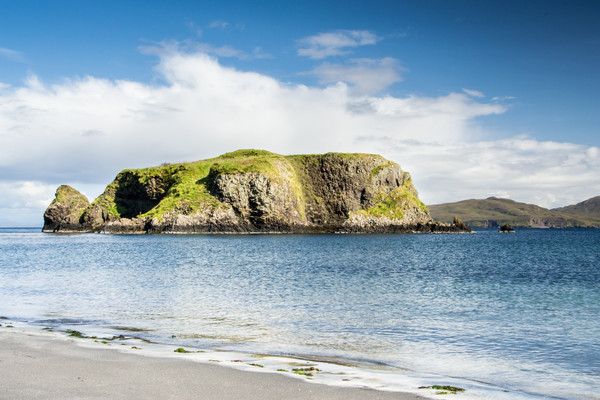 Stornoway and Harris and the Shiant Isles – 23 July
We were the first cruise ship into Stornoway (where we docked at the quay) since the pandemic began but were not free to walk around the town centre. Ironically demand is such on the Caledonian McBrayne ships, albeit with capacity reduced due to social distancing, that they have chartered a freight ship to supplement the ferries!
We were, however, allowed to take the standard coach circuit to see the Callanish stones, the Broch and the Carloway Village. The facilities and shops were open at Callanish and Carloway and we were by no means the only coaches around. Our coaches were loaded on socially distanced principles.
We left during lunch for a comprehensive Zodiac exploration of the Shiant Islands which involved caves, seals and a wide selection of seabirds. A great bonus!! As usual the rocks were often hexagonal. The bird life was agitated by the presence of eagles – what a sight over the cliffs.
Late in the evening we passed W Sutherland with its distinctive volcanic ancient rock scenery and headed North from Cape Wrath towards Shetland.
Lerwick and South Shetland – 24 July
We made good progress overnight with a following wind and were able to pause at Mousa to observe the best preserved Broch.
Sister ship Island Sky had beaten us to Lerwick so we were the second cruise ship to call this year. Our tour from Lerwick was south to Sumburgh and to the myriad of remains at Jarlshof which include a broch and the remains of a house occupied by the Stuarts. Christine our excellent guide also showed us the seals on Vanlop beach and described her life in Shetland – 61 degrees north and nearer Bergan than Edinburgh. A well led tour.
Fair Isle – 25 July
We joined the walk led by employees of the Bird Observatory. Unfortunately my wife tripped and cut her hand as she landed. The expedition staff were quick to dress the wound, call up a car to take us back to the landing stage where we were Zodiaced at speed to the ship where the ships Doctor stitched up the wound efficiently. Obviously not what we had chosen but showed the team in a good light. We missed the afternoon Zodiac cruise but enjoyed the final briefing.
Aberdeen – 26 July
Into the harbour on time and by coach to the station or airport after breakfast. Station being remodelled and a complicated access from the coach to train.
Overall
Well worth doing and made by the staff. The weather helped immensely. Let us hope that the rollout continues.