Hebridean Sky Crew on Tour
By Mike Deegan, Head of Fleet Operations
Our ships are currently laid up around the world manned only by a small maintenance crew whilst we wait for the moment the world starts to open up again.
Hebridean Sky has been at anchor off Portsmouth since she returned home with almost 90 British Antarctic Survey staff aboard, repatriated from Antarctica as the Covid-19 pandemic took hold. Her crew have seen the bright lights of the Isle of Wight, Hampshire and Sussex coastlines tantalisingly close every night but just out of reach. So we were delighted to be able to organise three days alongside in Portsmouth and a tour for them to alleviate the monotony.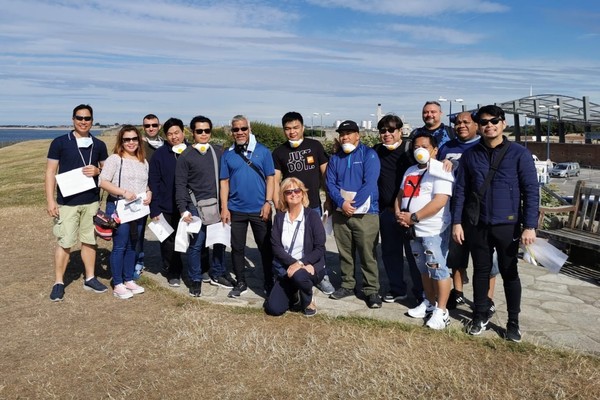 The ship arrived into Portsmouth on Saturday 11 July for some shore leave and the ability to walk ashore. On Monday though we had arranged something slightly more organised for them. Firstly Cruise Director Jane Mannerings, who gave up her free time to ensure seamless arrangements on the day, was in regular contact with Chief Purser Thea de Leon on board to offer to purchase all those important sundry items seafarers need but can't always get ashore to buy. Armed with a shopping list Jane scoured the retail emporiums of Hampshire for days beforehand to ensure she arrived on board early on Monday morning with all she had been asked to find.
Retail thirst quenched, and after a quick chat about social distancing (remember our crew members hadn't been ashore for weeks) Jane then accompanied Hebridean Sky crew members by coach to Southsea Castle, where, with an amazing sense of timing and history, they stood in almost the same spot that King Henry VIII had stood in almost 475 years to the day previously as he watched his beloved Mary Rose slip beneath the waters of the Solent whilst repelling an attack by the French.
After everyone had the opportunity to stroll along Southsea Common and sample the finest ice cream Hampshire has to offer, Jane ensured everyone re-boarded the coach for the short ride to Gunwharf Quays. Once there all engaged in more intensive retail therapy in the many designer outlets and other shops or relaxed in one of the many coffee shops or just wandered along the waterfront overlooking Portsmouth Harbour in the sunshine.
With everyone having "shopped till they dropped" the coach was reboarded, this time with various purchases, for the journey back to the port and Hebridean Sky. On returning to the ship, all agreed it had been a fantastic day out.
Our talented crew members are part of the Noble Caledonia family and taking them for their own day out whilst they await the return of our guests seemed like the least we could do to say thank you for the fantastic job they do. We couldn't do what we do without them.