QuaranTeam aboard MS Island Sky
by Phoebe Olsen, Expedition Leader aboard MS Island Sky
As a member of the expedition team your first day on board at the start of a new contract is a busy one, you have safety briefings, articles to sign, certificates to deliver, staff meetings to attend and, not long after, a complement of passengers to guide on board! And that is before you get to grips with unpacking. For this summer season on board our team had a very different experience joining the ship in Portland. The articles were signed, the forms were collected and then, we were confined to cabins for quarantine. This is what we got up to!
The port side were treated to stunning sunsets over Portland Harbour. The starboard side maintained that the reflection of the sunset broadcast on the side of whichever enormous vessel was "enhancing" our view, was just as good as the real thing... It was amazing to watch these waterborne behemoths slowly and sedately twirl into berth, even if they did constitute a partial eclipse every time they did so. Also anchored in Portland harbour is another kind of floating beast, two sections of 'Phoenixes', of which Kevin Morgan had a perfect view.
Two sections of 'phoenixes' in Portland Harbour, next to the Island Sky
Mulberry Harbours
After D-Day, June 6th 1944, prefabricated sections known as phoenixes were towed across the English Channel to the Normandy beaches. Sections were joined together to create a breakwater and temporary harbour off Omaha Beach (Mulberry "A") and Gold Beach (Mulberry "B"). Thousands of men and vehicles and tons of supplies were quickly off loaded, speeding up Operation Overlord and the liberation of Europe. The Mulberry Harbours have been described as one of the greatest feats of military engineering.
While we filled our days with preparing lectures and phone calls between cabins to discuss what day of the week it was (it was Wednesday twice), some of us also used the time to keep fit. Colin Munro, team strongman, devised a simple workout routine, despite not having any equipment. Ever the innovator he managed to complete his routine using only the furniture in his cabin. Though he was keen to share his system with the team, most of us were still recovering from having to carry a full suitcase for the first time in 15 months and were happy to leave him to it. I followed an altogether more gentle exercise session with the Ship Pilates and Yoga section of The Travel Post from Wendy Malan. I suggest that you all do the same should you feel inclined!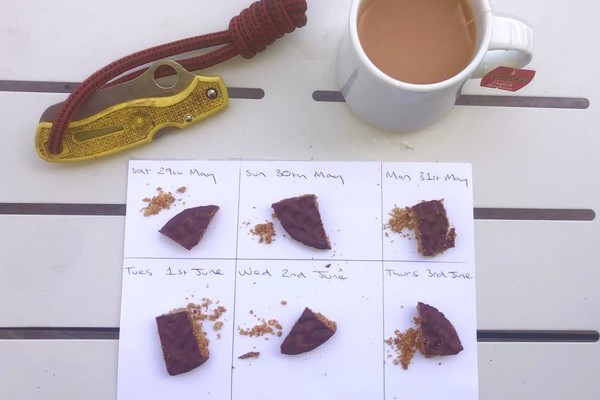 Though we were well looked after by the caretaking staff who worked tirelessly to keep us fed and watered, there were some creature comforts that required rationing. Justin Anderson took inspiration from Captain Bligh's voyage in a lifeboat after being unceremoniously ejected from the good ship Bounty. At least we didn't have to eat breadfruit I suppose. Should you ever find yourself in a similar situation regarding the eking out of a packet of Hobnobs I have included a handy diagram courtesy of Justin. We have now all successfully shed whatever extra padding we had acquired during our time of unfettered access to cheese and sourdough and hobnobs have become the second official form of currency on board. Please bear this in mind when paying your bill at the end of your next trip with us.
One fine morning I became aware of some sort of flapping outside my window. I rushed to see if it was a herring gull I could trap to supplement my lunch, but it was just Justin signalling to his family out on Chesil Beach. He had ingeniously devised some sort of Flannel semaphore and promised that the message was positive and not a desperate cry for help and or rescue. Shortly afterwards I heard the sound of helicopters and realised that he may not have been entirely honest about his intentions…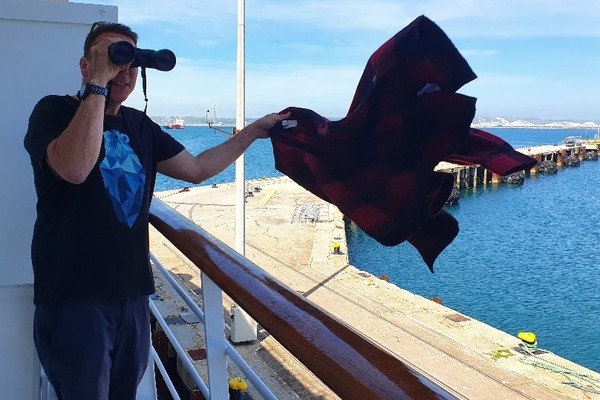 But it was only the sound of the helicopters that we had on the Starboard side, and as much as we craned our necks for a glimpse we were unable to establish the source of the clacking whirring noise that would occasionally fill the air at Portland Harbour. Luckily Port side Ian Bullock, artist extraordinare, was able to commit the images of the flying contraptions to paper in his daily sketchbook. For those of you straining to read it, the comment on the lower left segment of the page is "Four-oar Ladies Skiff with beefy ♂ coxswain". You have to admire his attention to detail.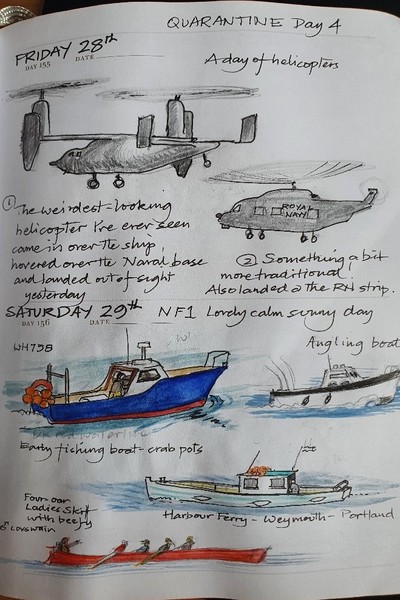 The expedition teams, along with all joining crew of both the Island Sky and the Hebridean Sky have quarantined on board prior to starting this UK summer season We are all so excited to start working again and to welcome all of you back to cruising with us. Now we have been released from our cabins we are all working feverishly to set up the ships for your arrival. The crew on board are doing a stellar job, as always, and the teams are checking zodiacs, hunting down errant radios and preparing presentations for our trips ahead. We cannot thank enough the caretaking team who looked after all of us so well during our cabin confinement and hope they enjoy their well-deserved break while we take over. For now, know that we are on board and getting started again, and do think about what I said about the Hobnobs.
Back to Getting Ready to Set Sail