Banana Milkshake in Quarantine
By the MS Island Sky QuaranTeam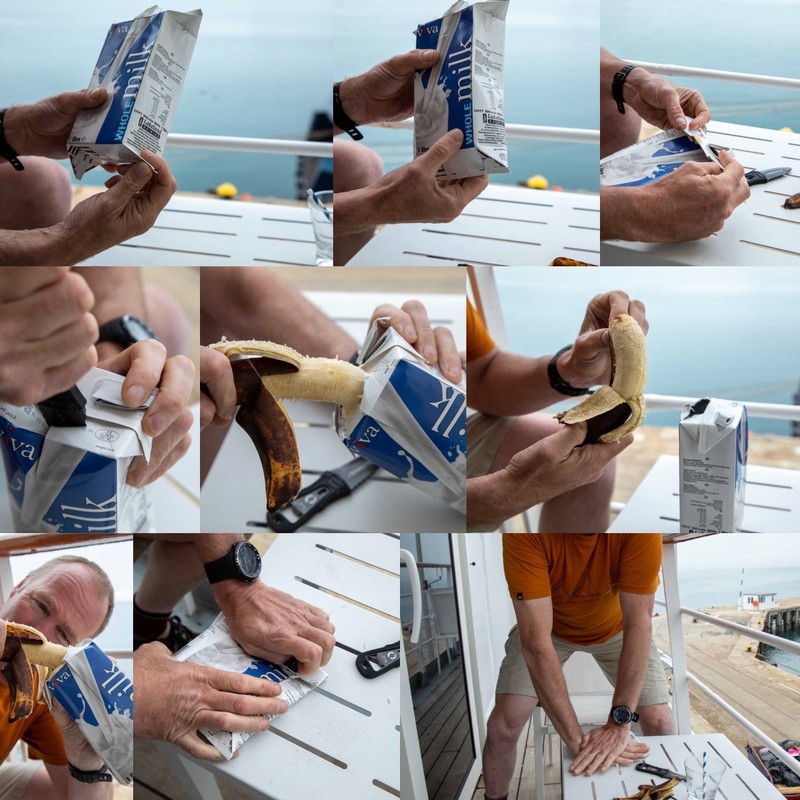 Ingredients
• One very brown banana
• A sachet of sweetener
• A small amount of boiling water
• Some long-life milk (bonus points if it is from Sweden with an unpronounceable brand name)
First you must leave the banana to ripen in the sun. Take an empty milk cartoon that you prepared earlier by very carefully opening the top to facilitate inserting the banana.
Place the banana inside and roll up the top of the carton. Then you will need to perform CPR on the carton in order to sufficiently smush the banana and create a pulp, perhaps sing @Staying Alive@ by the Beegees to help with the rhythm of the carton compressions.
Once this step is completed you need to reopen the carton and pour in a small amount of boiling water, this aids to release the flavour of the banana. Add sweetener. Add the milk.
Carefully roll the top of the cartoon and shake the mixture inside to combine the flavours, this is a milkshake after all. Then place the carton in the fridge overnight for it to marinate.
Enjoy cold.
Other attempts at a fermenting process using apples, a sock, and a Tupperware were unsuccessful and therefore will not be documented here.
Back to Getting Ready to Set Sail