Great to catch up with our amazing Expedition Staff
By Mike Deegan, Head of Fleet Operations
Just because we are not able to sail together currently does not mean we are not still a team – thus we recently arranged one of our regular internet conferences to keep our talented field staff up to date with plans and developments whilst our operations are temporarily paused.
Head of Expedition Field Operations (and Travel Post internet sensation!) Pam Le Noury, Field Staff Manager Megan Fowler and myself hosted almost 40 of our expedition staff at a call during which we were able to discuss some of the hard work taking place behind the scenes, and in consultation with our colleagues in the wider expedition sector, to ensure that when we do recommence operations, it will be safely. We were also able to explain the plans to introduce social distancing into our operations and discuss the myriad lockdown learning modules that we have been publishing regularly to all field staff (the last one was about "managing the unexpected" – how apt!) The opportunity was taken to field a range of questions from staff either in person of via the chat room facility on the call.
It was great to catch up with our colleagues who, because of the global nature of our business, were scattered across the globe. So particular kudos to Expedition Leader Jane Wilson for whom it was the middle of the night in Western Canada where she lives and to Tony Crocker for whom, at his home down under, the sun was very much over the yardarm!
Zodiac Driver Dominic Barrington said "It was great for us to hear the about the detailed planning and work going on- thanks to Noble Caledonia management for arranging".
Although the screenshot below shows the maximum that can be in vision simultaneously, many more were there but not in vision in this particular shot. See if you can spot your favourite Expedition Leader, Assistant Expedition Leader or Zodiac Driver!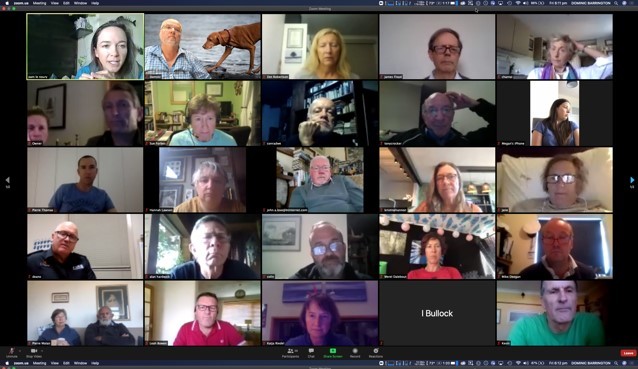 Keeping in touch
With the magic of video conferencing, Head of Fleet Operations Mike Deegan and Field Staff Manager Megan Fowler are updating some of our Cruise Directors and Assistant Cruise Directors on the plans and developments of future tour operations. At Noble Caledonia we like to keep in contact with our field staff team, even during times like this when they are not able lead our tours and they are as much part of the wider Noble Caledonia family as ever.