New England to Niagara Falls
An exploration of New England, Nova Scotia & the St. Lawrence River aboard the five-star Hanseatic Inspiration
Here is a fascinating cruise at a delightful time of year aboard a vessel on which you can be assured of excellent service, food and sumptuous surroundings. The five-star Hanseatic Inspiration will be launched in October 2019 and we are delighted to have been able to secure some cabins for this wonderful voyage from our associates at Hapag-Lloyd Cruises. The itinerary offers a combination of sophisticated cities and towns with the great Canadian outdoors. We will see some stunning scenery, encounter marine-life including the famous whales in the Saguenay Fjord, and enjoy the interesting blend of cultures for which Eastern Canada is famous.
Before embarking the Hanseatic Inspiration, we have an overnight stay in Boston, surely America's most historic and beautiful city. Once on board we sail north to Bar Harbor, gateway to the magnificent Acadia National Park. After exploring the park, we sail to Saint John in New Brunswick where our exploration of Maritime Canada begins.
Amongst the many scenic highlights of the region will be the expansive coastal wilderness of the Bay of Fundy, the geological wonders of Gros Morne National Park and the beautiful island of Iles de la Madeleine. There will be a range of optional excursions on offer in each port of call as well as ample time to relax on board whilst cruising through some stunning scenery including a day sailing along the St. Lawrence River and a day cruising Lake Ontario. Finally, to experience the unique culture and heritage of the region, the itinerary includes the cities of Halifax, Quebec City and Montreal, a city that exudes old world charm, French joie de vivre and a modern style all of its own.
Useful links & Travel Advice
Please find a selection of useful websites to refer to for information from the Foreign & Commonwealth Office, on visa requirements, NHS travel health advice and other useful travel tips.
---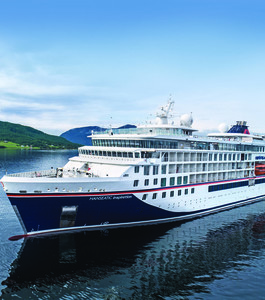 Hanseatic Inspiration
Operated by our German associates, Hapag-Lloyd Cruises, the Hanseatic Inspiration is a new five-star expedition ship launched in October 2019. With a maximum of just 230 passengers (199 passengers in Antarctica), this unique vessel offers an informal and relaxed atmosphere on board with more open deck space than any other expedition ship. There is a qualified expedition team of naturalists who will accompany you ashore and provide informative talks in the comfort of the well-designed HanseAtrium, and a crew of 175 offering the most exquisite and attentive service on board.
Itinerary
Day 1 - London to Boston, USA.
Fly by scheduled flight. Arrive this afternoon and transfer to our hotel for an overnight stay. The remainder of the day and evening are free for independent arrangements.
Day 2 - Boston.
This morning we explore Boston and Cambridge. Founded in 1630 as the first seat of government for the Massachusetts Bay Colony, Cambridge has developed into an international community, merging history, education, arts and culture. Stroll the historically elegant Brattle Street with its outstanding collection of Tory mansions including the Longfellow House National Historic Site, a treasure chest of historic artefacts. In Boston, visit the Old North Church, where Paul Revere began his famous ride, and discover the Beacon Hill neighbourhood, with lovely turn-of-the century homes and cobblestone streets. After lunch in a local restaurant we transfer to the Hanseatic Inspiration where the crew will welcome us on board. Set sail this evening.
Day 3 - At Sea.
Enjoy a day at sea as we cruise towards Bar Harbor. Join one of the lectures or relax and enjoy the facilities on board.
Day 4 - Bar Harbor.
Many settlers' stories began on the eastern coast of the USA, and ours will also begin in the small port of Bar Harbor. Bar Harbor is an artists' enclave and gateway to the rich natural beauty of Acadia National Park. There will be a choice of optional excursions today, envelope yourself in a world of dense pine forests and blooming grassland on a hike through Acadia National Park. Alternatively enjoy a panoramic tour through Acadia National Park including the Cadillac Mountain which offers an unforgettable 360 degree panoramic view of the outlying islands. Natural motifs such as these and an imposing, rugged coastline of cliffs add a special allure to this tour.
Day 5 - Saint John, New Brunswick, Canada.
Arrive this morning in the charming port of Saint John. Saint John is Canada's first incorporated city, a celebrated wooden shipbuilding centre with a colourful history. Today, the quaint "Uptown" area is laden with Victorian influenced architecture, brick walkways, historic churches, town squares and flowers blooming around old-fashioned lamp posts. There will be an optional walking tour of Irving Nature Park to learn about the diversity of the unique marine ecosystems. The park is a 600 acre site created to help protect the environment. The area nurtures one of the province's richest marine ecosystems and is a traditional staging site for migratory and marine birds that travel between the Arctic and South America and a breeding ground for many waterfowl of the Atlantic coastline.
Day 6 - Cruising in the Bay of Fundy.
The Bay of Fundy boasts the world's largest tidal range of around 13 metres. Between salt marshes and sandy beaches, seabirds and seals, we marvel at the unspoilt beauty of the flora and fauna. The Bay of Fundy is renowned not only for its tides but also for geological discoveries and marine life.
Day 7 - Halifax, Nova Scotia.
The capital of Nova Scotia and the largest city in Canada's Atlantic Provinces, Halifax was once Great Britain's major military bastion in North America. The beautifully restored waterfront buildings of Halifax's Historic Properties recall the city's centuries-old maritime heritage. There will be a choice of optional excursions today. Choose a scenic trip to Lunenburg, where impressive cultural treasures tell the story of German and Swiss settlers. A visit to the historic centre of the UNESCO World Heritage Site gives us an understanding of the history of the settlement and its colourful wooden houses from the 18th century. Alternatively, join a tour to Peggy's Cove and the Titanic. A museum dedicated to telling the truth behind the story and the legend of Peggy of the Cove. Here we discover the facts about the life of a girl named Peggy, who was the sole survivor of a shipwreck that actually happened at Peggy's Cove - it could be how the cove got its name. We continue to explore the fate of one of the world's most famous giants of the ocean. Home of the Titanic burial site, Fairview Lawn Cemetery has 121 graves of various victims of the Titanic disaster.
Day 8 - At Sea.
Enjoy a relaxing day at sea and perhaps attend a lecture or two.
Day 9 - Norris Point, Newfoundland.
Norris Point will be our base today as we explore Gros Morne National Park on a choice of optional excursions. Stretching across 1805 square kilometres of western Newfoundland, the park encompasses tiny seaside communities, forests, bogs, barren lowlands and striking shorelines. The area is world renowned for its complex geology, it was here that geologists proved the theory of plate tectonics. Alternatively, for the more active, there will be the opportunity to join a spectacular hike through the wetlands and forest to a series of waterfalls and look out for wandering moose.
Please note that today we will be at anchor and the ship's Zodiacs or local tender boats will be used.
Day 10 - Iles de la Madeleine.
Enjoy a relaxing morning at sea and arrive at Cap aux Meules, part of the Iles de la Madeleine archipelago. Here spectacular red sandstone cliffs jut out of the sea on the northern coasts of the 12 main islands. Sand dunes creating lagoons, adjacent wetlands, and miles of windswept beaches link most islands. During the optional afternoon tour we explore the island of Iles de la Madeleine with its breathtaking views of the Cap Alright Lighthouse.
Please note that today we will be at anchor and the ship's Zodiacs or local tender boats will be used.
Day 11 - Charlottetown, Prince Edward Island.
Arrive this morning in Charlottetown, where in 1864, the Confederation Conference set in motion a series of events that led to the birth of the nation of Canada. It is a picturesque town with colourful clapboard houses, converted warehouses and striking churches. From here a fisher will provide insights into lobster fishing on a scenic journey across Prince Edward Island.
Day 12 - Sailing on the St. Lawrence River.
Today we spend the day sailing along the St. Lawrence River, keep an eye out for whales as we pass along the lifeline of the Canadian wilderness.
Day 13 - Tadoussac.
Off Tadoussac and at the mouth of the Saguenay Fjord, various species of marine mammals hunt for krill and fish. Today our choice of optional excursions include, whale watching on the St. Lawrence Fjord with the opportunity to see humpback, beluga and possibly even rare blue whales. Alternatively, for the more active, head to the heart of the inlet on a hike on the Sentier du Fjord trail.
Please note that today we will be at anchor and the ship's Zodiacs or local tender boats will be used.
Day 14 - Cruising on the Saguenay.
Founded by Jacques Cartier in 1536, the Saguenay River is nestled beneath towering cliffs and enveloped in pine. Today, relax on deck and enjoy cruising through this picturesque area.
Day 15 - Quebec City.
Arrive this morning into Quebec City where we will have a choice of excursions. Join a city tour to explore the distinctive French culture, cobblestone streets, and the historic architecture of the Old Town with afternoon tea at Chateau Frontenac. Alternatively, take a tour to Montmorency Falls and Ile d'Orleans. From the top of these 272-foot high waterfalls, savour the breathtaking views and witness the powerful forces of nature as the water of the Montmorency River roars down the cliff to eventually meet with the St. Lawrence River.
Day 16 - Montreal.
Today we have a choice of optional excursions from our base of Montreal, the second largest French speaking city in the world after Paris. Discover the city on a walking tour of Montreal and explore the contrasts between the picturesque buildings of the old town and the glittering facades of high-rises. Alternatively, explore the city on an e-scooter discovering the outer districts.
Day 17 - Cruising on Lake Ontario.
Spend today cruising Lake Ontario as we journey towards Toronto. Lake Ontario is one of the five Great Lakes of North America and the 14th largest lake in the world in terms of surface area. Like all of the Great Lakes, Lake Ontario as it is known today was the result of glacial shifting and melting at the end of the most recent Ice Age.
Day 18 - Toronto to London.
Disembark this morning and transfer to visit the Niagara Falls, one of the natural wonders of the world. Upon arrival, enjoy an orientation tour before taking a cruise aboard the Hornblower where we witness the breathtaking power and amazing mist of the magnificent Falls. Enjoy lunch before transferring to the airport for our scheduled flight to London.
Day 19 - London.
Arrive today.
Dates and Prices
Prices per person based on double occupancy
17

May to

4

June 2020
Category
Price
1 Outside cabin Deck 4, 5 & 6
£10295
2 Panoramic cabin Deck 4 & 5
£10695
3 French balcony cabin Deck 6
£11075
4 Balcony cabin Deck 5
£11495
5 French balcony cabin Deck 7
£11495
6 Balcony cabin Deck 6 & 7
£11995
7 Balcony cabin Deck 6
£12395
8 Balcony cabin Deck 7
On Request
9 Junior suite with balcony 6 & 7
On Request
10 Grand suite with veranda Deck 6 & 7
On Request
2 Panoramic cabin for sole use
£14975
Tour Reference Code: SCHI170520
PRICE INCLUDES: Economy class scheduled air travel • Overnight hotel accommodation in Boston with breakfast • Tour of Boston with lunch as described • 16 nights aboard the Hanseatic Inspiration on a full board basis • Mini-bar with soft drinks in your cabin restocked each day • Onboard team • Tour to Niagara Falls with lunch as described • Gratuities • Transfers • Port taxes • Airport taxes.
Not Included: Travel insurance, shore excursions (details will be available to pre-book three months before departure and payment will be made on board), ESTA (Electronic System for Travel Authorisation) which is required for entry into the USA.
N.B Flight schedules are yet to be released at the time of going to print and the itinerary may change on their release.
SHIP TO SHORE
Please note that we will be at anchor at the following ports and will use tender boats or Zodiacs to transfer ashore: Norris Point, Isles de la Madeleine, Tadoussac.
Deckplan
Hanseatic Inspiration
Operated by our German associates, Hapag-Lloyd Cruises, the Hanseatic Inspiration is a new five-star expedition ship launched in October 2019. With a maximum of just 230 passengers (199 passengers in Antarctica), this unique vessel offers an informal and relaxed atmosphere on board with more open deck space than any other expedition ship. There is a qualified expedition team of naturalists who will accompany you ashore and provide informative talks in the comfort of the well-designed HanseAtrium, and a crew of 175 offering the most exquisite and attentive service on board.
Know Before You Go
General intro to guidelines
Temperate Regions Packing List

THE BRITISH ISLES, ICELAND, NORWAY, ALASKA, PATAGONIA, THE WHITE SEA & NEW ZEALAND

CLOTHING:

The dress code on board is defined as casual. During the day, comfortable and casual attire is appropriate and the evenings are smart casual. Jackets and ties are not required although you may wish to wear something a little dressier for the Welcome & Farewell Dinners.

FOR EXCURSIONS, THE FOLLOWING ITEMS ARE RECOMMENDED:

• Sturdy and waterproof shoes / boots to use in Zodiacs when going ashore.
• Sturdy shoes or trainers with good grip for hikes & guided walks.
• Warm socks.
• Waterproof shell jacket.
• Waterproof over-trousers (strongly recommended, particularly for Zodiac trips).
• Comfortable long trousers & convertible three-quarter length trousers.
• Shirts for on board and ashore.
• Mid-layers, for example wool jersey, fleece, down jacket.
• Head cover: peak cap and/or woollen hat (beanie).
• Gloves; a lighter pair is ideal for use with binoculars and cameras and a thicker pair for cold days.

EQUIPMENT AND ACCESSORIES:

• Backpack; lightweight and water-resistant for carrying items ashore and keeping your hands free.
• Sunglasses; preferably polarised.
• Camera, protective case, charger or spare batteries, spare memory cards.
• Binoculars.
• Sunblock, insect repellent, motion sickness remedy, personal medical kit, universal travel adaptor, money belt, phone charger.

Swimming & Snorkelling Guidelines

SWIMMING & SNORKELLING GUIDELINES

During your cruise or tour, there may be opportunities to swim or snorkel. However, such opportunities are always subject to local conditions and weather and at the discretion of the Expedition Leader or Cruise Director. Swimming and snorkelling entails certain risks and you will be required to sign a waiver form before undertaking either activity whilst travelling with Noble Caledonia.

Swimming

Swimming is usually conducted from a beach or public swimming area although swimming can also be enjoyed from the aft of some vessels. When swimming is likely to be an option, it will usually be indicated in the daily programme on board. Your Expedition Leader or Cruise Director will designate a swimming area, that will be monitored for swimmers in distress. If you choose to swim independently away from the main group activity, please inform a member of staff. Always seek local advice and watch out for local regulations, warnings, designated areas and lifeguards.

Snorkelling

When snorkelling is a possibility, a briefing will be held on board to explain how the operation works and to distribute snorkel equipment. Snorkellers will be given a mask, fins, snorkel and net bag for use throughout the voyage. You are also welcome to bring your own equipment. Snorkelling is restricted to people who are capable swimmers. The expedition team will try to plan the first snorkel of the voyage off a beach, although it is not always possible. A beach entry allows people to familiarise themselves with the equipment and techniques, although the reef is usually better much further out. Thereafter our snorkel operations may be run from a beach or from a 'Zodiac platform' which is an anchored Zodiac with a fixed ladder from where you may come and go. A Zodiac Platform is usually anchored in water too deep to stand up in. A Zodiac shuttle will take you to the Zodiac Platform and you should have as few items as possible (snorkel gear and zodiac lifejacket). Expedition staff will help you transfer into the anchored Zodiac where the snorkel team will give a briefing to point out the designated snorkel area and provide information on conditions, currents, sightings, etc. Take as much time as needed preparing yourself to enter the water, by slipping in feet first. Re-board the Zodiac platform via a fixed ladder at any time. There will always be a Safety Zodiac watching people in the water.

Good to Know

• You may wish to bring your own snorkel gear, particularly if you need a prescription mask.

• Moustaches can break the seal of your mask and allow water to trickle in. A Vaseline-like gel can be useful to minimise leaking.

• Ear plugs are useful if you have frequent ear infection problems.

• Sun exposure whilst snorkelling is a major factor. A long-sleeved rash vest or shirt helps to provide sun protection, protection against minor stingers and some insulation. You may consider covering your head with a bandana or cap whilst snorkelling too.

• Reef shoes can be handy for shore-entry snorkel opportunities where unknown hazards lie underfoot (coral, urchins, sharp rocks).

Protecting the Environment

The coral reef environment is unique and delicate and we have a responsibility to ensure we do not harm it whilst swimming or snorkelling. Noble Caledonia operates with a 'leave only footprints, take only photos' principal. Do not touch or take anything from these environments (shells, pebbles, plants, corals, etc). Do not stand or fin-kick close to corals, you are likely to injure yourself and the reef. Do not chase after marine animals. Sunscreen can be damaging to corals. Either find a reef-friendly sunscreen (avoid ingredients like oxybenzone, butylparaben, octinoxate and 4-methylbenzylidine camphor) or use a rash vest / long shirt instead.
Book with Confidence
Speak to one of our advisors on 020 7752 0000