In the Footsteps of the Cossacks
An iconic journey along the Dnieper River in the Ukraine & the Danube River in Romania aboard the MS Dnieper Princess
In the Footsteps of the Cossacks
View
Download
Order brochure
View All
There are cities that symbolise a nation and Kiev is one of them. Kiev is the soul of Ukraine, playing a key part in its past, present and future. A handsome city, Kiev offers parks, boulevards and gardens, as well as many historic sites. For almost 300 years Kiev was the centre of Kyivan Rus, a mighty Eastern Slavic state whose territory spread from the Western Buh to the Volga, from the Black Sea to the Baltic. Kiev is friendly and dynamic, a great introduction to the colourful and diverse traditions of Ukraine, and September is the perfect month to visit this warm-hearted country. Our journey takes us along the Dnieper River to some fascinating sites. At Zaporizhzhya, we experience a taste of a Cossack past, with a dramatic display of skilled horsemanship. We will also visit the little known and scenic Dnieper Delta and the settlement of Vilkovo, a myriad of waterways and backwaters where locals use gondola style boats as part of their daily life. A real highlight of this voyage will be our time in Odessa, well known as a vibrant Black Sea resort, and a remarkable city founded in 1794 by Catherine the Great. Here we will have the chance to explore the city's many churches and spend an evening at the beautiful Opera House. We then continue along the Danube River into Romania where we will take a half day to visit the ancient coastal city of Constanta.
We are delighted to include Ukraine in our cruise portfolio and this journey promises a rich tapestry of culture and history, with a heartfelt welcome along the way.
Useful links & Travel Advice
Please find a selection of useful websites to refer to for information from the Foreign & Commonwealth Office, on visa requirements, NHS travel health advice and other useful travel tips.
---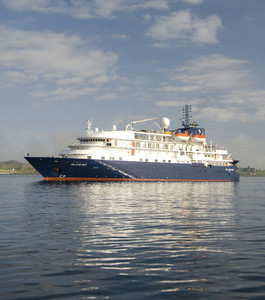 Dnieper Princess
For this culturally rich tour we have taken an allocation of cabins aboard the mixed-nationality MS Dnieper Princess which accommodates a maximum of 230 passengers. Built in 1976 and refurbished in 2016, this comfortable and well run vessel is ideal for exploring the Dnieper River.
Bucharest to Kiev
Day 1 - London to Bucharest, Romania.
Fly by scheduled flight from London to Bucharest, and on arrival transfer to the port of Fetesti (approx. 2 hours) for embarkation aboard the MS Dnieper Princess, where we moor overnight. This evening join your fellow travellers for the Welcome Drink & Dinner.
Day 2 - Constanta.
After breakfast this morning, join a half day excursion to nearby Constanta, a popular resort city with a colourful history dating back to ancient Greek and Roman times. Your tour here includes a visit to the Archaeology Museum, and the Peter & Paul Orthodox church. After some free time to walk along the popular promenade and marina, return to the ship and sail towards Izmail in Ukraine.
Day 3 - Izmail, Ukraine.
Arrive in the early afternoon into the historic port of Izmail, situated on a high bluff overlooking the Danube and strategically located to guard and control the upper reaches of the Kilia branch of the Danube - an area once known as Bessarabia. After lunch join a city tour here, including a visit to the Diorama Museum. Sail in the evening and cruise overnight to Vilkovo.
Day 4 - Vilkovo & The Danube Delta.
Arrive this morning in the unique town of Vilkovo, located on the border of Ukraine and Romania at the confluence of the Danube and the Black Sea. Known as the "Ukrainian Venice", Vilkovo is a picturesque, cosy settlement, with a myriad of waterways that take up almost half the town, and where the local transport is more often than not a gondola-style boat. The area is made up of dozens of man-made islands, formed out of silt and clay, and surrounded by gulfs and backwaters. We will enjoy a guided tour here in the morning, and this afternoon there will be a boat trip to the Danube Delta, one of the most important wetlands left in Europe. Sail in the early evening to Odessa.
Day 5 - Odessa.
We arrive into Odessa this morning and after breakfast depart for a tour of this elegant city, the gem of the Black Sea. Founded by Catherine the Great in 1794 following the Russian victory over the Turks, Odessa today is a busy port and popular resort. One of its most famous features is the Potemkin Steps which rise to a height of almost 500 feet from the sea to the upper town. During our tour we will stroll along the famous Promenade and see the acoustically perfect Opera House which is one of the most impressive buildings in Europe. Return to the ship for lunch and this afternoon is free to explore at leisure, or you may wish to join an optional tour to the Fine Arts Museum. This evening there will be an optional performance of ballet or music at the opera house (subject to schedules and availability).
Day 6 - Odessa.
Today is a full day at leisure, for independent sightseeing or shopping in this pretty resort. There will also be two optional tours available, firstly a tour "Churches of Odessa", a chance to visit some of the many historic and beautiful churches of this city. There will also be an optional trip by coach to the ancient city of Belgorod-Dnestrovski, located about two hours from Odessa in the historic region of Bessarabia. The story of the city began at the end of the 6th century BC when people from the Greek city of Miletus founded the town Ofiussa-Tyre on the banks of the Dniester estuary. The Medieval fortress "Akkerman" standing on the bank of the Dniester estuary is one of the largest and best preserved in Ukraine. Return to the ship and sail in the evening towards Kherson.
Day 7 - Kherson & Dnieper Delta.
Arrive this morning into Kherson, a city with a past dating back to the ancient Greeks, who were believed to have a colony in the immediate area named Chersonesos Taurica. From here we will take a boat trip to the beautiful Dnieper Delta with a stop along the way to see a traditional fishing village. Return to the ship and sail this afternoon.
Day 8 - Zaporizhzhya.
This morning we arrive in the town of Zaporizhzhya. Situated on the lower Dnieper, at the confluence of Lenin Lake and the Kakhovka Sea, Zaporizhzhya is an historic and important Cossack city with beautiful river vistas, and a place of pilgrimage for thousands of Ukrainians who visit nearby Khortitsa Island. Our morning city tour will include the small, but interesting Museum of the Cossacks and later this afternoon we will attend a Cossack horse show, an exhilarating demonstration of Cossack horse-riding, sword and whip fighting, gun shooting and dancing. Return to the ship and sail this afternoon.
Day 9 - Cruising.
Today you will have a chance to relax and enjoy a day of cruising as we head towards Kiev. Whilst sailing the ship will offer a Ukrainian national day, giving you the opportunity to experience Ukrainian cuisine as well as language lessons.
Day 10 - Kiev.
We arrive in the mid-morning into Kiev. After an early lunch, depart on a guided tour of this vibrant and friendly capital city. Our visit includes tour of the old city, located on seven hills on the right bank of the mighty Dnieper. We will also see St Sophia Cathedral, erected in 1037 by unknown architects in Russian-Byzantine style to commemorate the victory of King Yaroslav the Wise over the Petcheneg tribes. The cathedral contains a unique collection of mosaics composed of smalt of 177 different colours and shades, and frescoes on religious and secular themes. This evening there will be opportunity to enjoy an optional "Kiev by Night" boat trip, including a folkloric show.
Day 11 - Kiev.
After breakfast, depart for a trip to the wonderful Kyiv Cave Monastery, set on 28 hectares of grassy hills above the Dnieper River. The monastery's cluster of gold-domed churches is a feast for the eyes, and its hoard of Scythian gold rivals that of the Hermitage in St Petersburg, whilst the underground labyrinths is home to mysterious mummified monks. In 1051 St Anthony of Lyubech and his disciple St Theodosius journeyed from Mount Athos in Greece and took up residence here. Return to the ship for lunch, and this afternoon you will have time at leisure or alternatively take the optional tour to see the Open Air Museum. Located in a suburb of Kiev on a picturesque hillside, the museum was founded in 1960 and consists of more than 200 buildings and constructions brought from different parts of Ukraine and re-built here. This evening there join your fellow travellers for a Farewell Dinner and a performance by the Ukrainian National Male Choir, an unforgettable experience. The choir performs an acapella of the best masterpieces of Ukrainian sacred music.
Day 12 - Kiev to London.
After breakfast today we disembark and transfer to the airport for our return flight to London.
Dates and Prices
SPECIAL OFFER – SAVE £200 PER PERSON FOR A LIMITED TIME ONLY
Prices per person based on double occupancy
20

September to

1

October 2019
Category
Brochure Price
Special Offer Price
1 Standard Twin Main Deck
£1995
£1795
2 Standard Twin Upper Deck
£2175
£1975
3 Deluxe Twin/Double Upper & Boat Deck
£2795
£2595
4 Junior Suite Twin/Double Boat Deck
£2995
£2795
5 Single Cabin Upper & Boat Deck
£2295
£2095
Tour Reference Code: RCDP090919/RCDP200919
PRICE INCLUDES: Economy class scheduled air travel • 11 nights aboard the MS Dnieper Princess on full board basis • Shore excursions • Tour Manager • Gratuities • Transfers • Port taxes • Airport taxes.
Not Included: Optional excursions as described, travel insurance.
Deckplan
Dnieper Princess
For this culturally rich tour we have taken an allocation of cabins aboard the mixed-nationality MS Dnieper Princess which accommodates a maximum of 230 passengers. Built in 1976 and refurbished in 2016, this comfortable and well run vessel is ideal for exploring the Dnieper River.
Also of Interest
An early autumn cruise along the majestic Danube with music and cultural highlights including performances by Alda Dizdari aboard the MS Royal Crown
Royal Crown
Itinerary at a glance
Budapest, Hungary
Kalocsa
Pecs & Villany
Vukovar, Croatia
Belgrade, Serbia
Belogradchik & Vidin, Bulgaria
Veliko Tarnovo
Rousse
Bucharest, Romania
A unique escorted tour of Moldova and Odessa
Bessarabia - Your Accommodation
Bessarabia - Your Accommodation
Itinerary at a glance
Chisinau, Moldova
Chisinau / Capriana Monastery
Orheiul Vechi / Curchi
Clisova Noua / Soroca
Gagauzia
Transnistria & Odessa, Ukraine
Odessa
Purcari / Chisinau, Moldova
Manus Bei /Milestii Mici Winery
Chisinau
Book with Confidence
Speak to one of our advisors on 020 7752 0000