Birds & Blooms of Britain
A springtime voyage from Plymouth to Fairlie aboard the MS Hebridean Sky
Brochure
View
Download
Order brochure
View All
During the month of May our western shores become alive with colour. This is a spectacularly beautiful time when many of the gardens are at their most appealing and the countryside will be lush and inviting. This, combined with the sheer diversity of the coastline, makes for a most appealing sea journey, whether you be an avid gardener, birdwatcher or simply enjoy sailing past and visiting some of the most enchanting places in the world.
This journey provides a unique opportunity to explore the splendours of England, Wales and Scotland and amongst the many splendid gardens we will visit are the subtropical Abbey Gardens on the charming island of Tresco, beautiful Bodnant Garden and the magnificent Benmore Botanical Garden on the Cowal Peninsula. With regards to birds, we have included visits to Lundy, where we hope to see puffins, and peaceful Skomer Island which, carpeted with beautiful bluebells, is home to many birds including puffins, guillemots and razorbills.
Each day there will be the opportunity to explore coastal paths, see the resident wildlife and enjoy the wonderful views on offer. Whilst you could always drive, travel by train and coach and reach most of our itinerary with the help of a ferry, it is much more enjoyable to join the all-suite MS Hebridean Sky and travel in comfort accompanied by our expert onboard team without any of the hassle that independent exploration of these fascinating places would entail.
Useful links & Travel Advice
Please find a selection of useful websites to refer to for information from the Foreign & Commonwealth Office, on visa requirements, NHS travel health advice and other useful travel tips.
---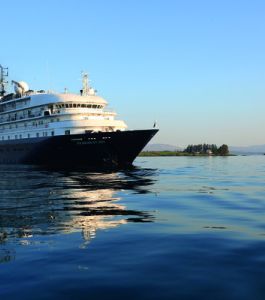 Hebridean Sky
The MS Hebridean Sky is one of our three flag ships and sister vessel to the MS Island Sky and MS Caledonian Sky. All three vessels were built in the same ship yard in Italy at similar times and share the same excellent attributes that make them three of the finest small ships in the world. Formerly known as the Sea Explorer, the vessel underwent a multi-million pound refurbishment in Sweden in Spring 2016 before being re-launched as the MS Hebridean Sky.
Itinerary
Day 1 - Plymouth, England.
Embark the MS Hebridean Sky this afternoon in Plymouth. Transfers will be provided from Plymouth Railway Station at a fixed time. Enjoy Welcome Dinner and Drinks and sail this evening.
Day 2 - Isles of Scilly.
Spend the morning on traffic-free Tresco, walking its idyllic lanes from the beach to the famous subtropical Abbey Gardens. Defying the Atlantic weather, this miracle of a garden is home to more than 20,000 species of plants from over 80 countries. Enjoy time to wander at your own pace along the paths, maybe visit the Valhalla collection of ship figureheads from ships wrecked on the islands or relax in the cafe. We spend the afternoon on St Agnes, the most southwesterly community in the UK. Surrounded by rocks and reefs this delightful tiny island offers marvellous coastal walks. The small island of Gugh lies across a narrow sandbar and here we find a single stone monolith called the 'Old Man of Gugh' which dates back to the Bronze Age. Alternatively, join a boat trip to the nearby island of Annet, the second largest of the uninhabited islands and a bird sanctuary. We are not allowed to land but will cruise the coastline alive with puffins, European storm petrels and shag.
Day 3 - Lundy.
We have scheduled a full day on Lundy, a remote and absolutely delightful island in the Bristol Channel. Walk along its traffic-free lanes and paths, explore the wide bays and coves by way of hanging valleys, observe the puffins nesting in abandoned rabbit warrens, have a drink at the inn and buy the islands 'puffin stamps' at the island's shop.
Day 4 - Skomer & Fishguard, Wales.
This morning we will arrive at Skomer Island, one of the most important wildlife sites in Northern Europe. It is a marvellously peaceful and scenic island with fantastic birdlife including 6000 pairs of puffins, countless numbers of guillemots, fulmar, kittiwakes and the elusive Manx shearwater and storm petrel. Enjoy a Zodiac excursion and return to the vessel for lunch as we sail to Fishguard. From here we will take the scenic drive to St Davids, Britain's smallest city, and explore the magnificent 12th century cathedral (the only one in the United Kingdom where the reigning monarch has a permanently reserved pew) and see the Bishop's Palace.
Day 5 - Llandudno.
This morning will be spent at Bodnant Garden. Situated above the River Conwy the gardens have stunning views across Snowdonia. Begun in 1875, Bodnant Garden is the creation of four generations of Aberconways and features huge Italianate terraces and formal lawns on its upper level, with a wooded valley, stream and wild garden below. There are dramatic colours throughout the season, with herbaceous borders, roses, hydrangeas, water lilies and clematis that delight throughout the summer. This afternoon will be free to explore Llandudno at leisure. Developed as an upmarket holiday town for Victorian visitors, this seaside town still retains much of its 19th century grandeur, with graceful wedding-cake architecture lining its sweeping waterfront promenade.
Day 6 - Peel, Isle of Man.
Arrive this morning on the Isle of Man and the main fishing port of Peel. Settlements have been here since the Mesolithic Age and the island also claims to have the longest continuous parliament which was founded in 979 AD. This morning we will travel to Tynwald Hill, located in the little village of St John's. This grass-topped, tiered hill is made from the soil and stones from each of the island's 17 parishes and is the point from which, each 5th of July, all the laws enacted in the year preceding are promulgated to the gathered government officials and the public at large, both in Manx and English languages. We continue to Castletown and the magnificent Castle Rushen, one of the best examples of a Medieval castle in Europe which was the former seat of the Kings and Lords of Mann. We end our tour at Castletown station and board the vintage steam train for a delightful and traditional journey to Douglas. Dating from 1874, the Isle of Man Steam Railway is the island's oldest Victorian rail system and this narrow gauge railway still runs with its original locomotives and carriages. Return to the vessel for lunch and enjoy an afternoon at leisure.
Day 7 - Holy Loch, Rothesay & Fairlie, Scotland.
This morning arrive in the Cowal Peninsula where we find the magnificent Benmore Botanic Garden situated in a mountainside setting. During springtime there is a blaze of colour as the 300 species of rhododendrons put on a spectacular display. Take time to walk the paths, see the Victorian Fernery and walk along Redwood Avenue, a line of 50 Sierra redwoods planted in 1862. During lunch we sail the short distance to the Isle of Bute where we will visit one of Britain's most astounding Victorian Gothic mansions, Mount Stuart House. After the original building was destroyed by fire the mansion was rebuilt between 1880 and 1912 using the finest craftsmen of the time. After viewing the house we will visit the wonderful grounds made up of over 300 acres of pasture, woodland and gardens combining exotic and native plants. Maybe enjoy one of the trails that pass through the woodland down to the shoreline or visit the Rock Garden and Kitchen Garden situated closer to the house. Alternatively, you may prefer to stay in Rothesay and explore the small town and its impressive 13th century castle. During dinner we will sail the short distance to Fairlie where we will moor overnight.
Day 8 - Fairlie.
Disembark this morning after breakfast. Transfers will be provided to Glasgow International Airport and Glasgow Central Station at a fixed time.
Dates and Prices
SAVE £500 PER PERSON FOR A LIMITED TIME ONLY
Prices per person based on double occupancy
9

to

16

May 2019
Category
Brochure Price
Special Offer Price
Amundsen Deck Standard Suite
£3950
£3450
Byrd Deck Superior Suite
£4150
£3650
Mawson Deck Premium Suite
£4450
£3950
Mawson Deck Corner Suite
£4750
£4250
Scott Deck Deluxe Balcony Suite
£5250
£4750
Shackleton Deck Owner's Balcony Suite
£5550
£5050
Shackleton Deck Hebridean Suite
£6450
£5950
Amundsen Deck Standard for sole use
£3950
£3450
Byrd Deck Superior for sole use
£4150
£3650
Tour Reference Code: SCHKS090519
PRICE INCLUDES: Seven nights aboard the MS Hebridean Sky on a full board basis • Wine, beer & soft drinks with lunch and dinner • Shore excursions • Noble Caledonia expedition team • Gratuities • Transfers • Port taxes.
Not Included: Travel insurance.
Deckplan
Hebridean Sky
The MS Hebridean Sky is one of our three flag ships and sister vessel to the MS Island Sky and MS Caledonian Sky. All three vessels were built in the same ship yard in Italy at similar times and share the same excellent attributes that make them three of the finest small ships in the world. Formerly known as the Sea Explorer, the vessel underwent a multi-million pound refurbishment in Sweden in Spring 2016 before being re-launched as the MS Hebridean Sky.
Travelling with You
Dot Robertson

Born and bred in Melbourne I have always had a love of the outdoors and adventure. Getting out into the wilderness, exploring new places and meeting people from different cultures is my passion. For the past 25 years I have travelled to many places around the world, exploring everything from cities, wilderness, coastal regions and many historical sites.

A family history in both world wars first drew me to PNG. For the past seven years I have taken trekkers across the Kokoda Track to explore the history, experience the amazing environment and meet the wonderful people who live along the track. It is definitely an experience that stays with you and brings to life the battle fought by those courageous Australians during the Kokoda campaign.

Over the past few years I have also taken groups to hike Mt Rinjani on Lombok,walked the Inca trail, Mt Blanc, West Highland Way, Cuba and sea kayaking around the Komodo Islands.

In 2014 this work led to the opportunity as a tour director and expedition team member on the Caledonian Sky, a role that I totally embraced and absolutely love doing, carrying out numerous and varied roles and responsibilities.

Dot Robertson will be on the following tour dates:

9

to

16

May 2019

Alice Brun

Born and raised in the countryside of western France, between fields, forests and seaside, Alice has always felt at peace in natural places. She started travelling at age 18 and has kept on doing since then. In the summer seasons 2014 and 2015, she was working as a grizzly bear naturalist guide in a remote area of British Columbia, Canada. When she returned to France, she trained as a nature guide in the University of Lille. Her wish is to keep travelling and working in natural places, as she did as a whale watching guide in Husavik, Iceland in the summer 2017. She would like to pursue a profession and lifestyle in environmental education to raise awareness about the planet's wonderful natural world in need of human care and protection. Alice has a particularly close bond to the ocean and feels at peace when spending time both at sea or in the sea when diving into the blue.

Alice Brun will be on the following tour dates:

9

to

16

May 2019

Pamela Le Noury

Coming from South Africa, Pam is a marine scientist, PADI dive instructor, zodiac skipper and sailor, and has worked in and on the ocean just about every day for the past 16 years. After leaving school she worked in the diving industry whilst studying a BSc in zoology and physiology, and ended up managing the dive school before starting up her own whale watching charter and boat business.

She has participated in several marine research cruises, has published 3 APPS for smartphones on sharks & rays and whales & dolphins and Antarctic Wildlife, and enjoys teaching people about the oceans and conservation through her travels. Pam started expedition cruising in 2008 and soon after closed her business to travel full time. She has been almost everywhere a small cruise ship can take you; 120 countries from the poles to the remote reaches of every ocean – loving life as a citizen of the sea. When not at sea – Pam is a beach bum in her home town of Umdloti.

Pamela Le Noury will be on the following tour dates:

9

to

16

May 2019

Genna Roland

Born and raised in leafy Hertfordshire, Genna has been swapping the fields and woods of England for more exotic vistas to travel to all seven continents as a wildlife and landscape photographer and expedition guide. After studying Neuroscience, Psychology and Artificial Intelligence, Genna worked for several years in an office, while still traveling as much as possible. She soon realised that the indoor life was not for her and started working on ships full-time. These have taken her from the Arctic to the Amazon to Antarctica and so many places in between. She especially loves working on Expedition ships with the constantly changing landscapes and variety of activities both on board and ashore. She'd love to help you return home with fabulous memories, wonderful new experiences, and the best images you can possibly achieve.

Genna Roland will be on the following tour dates:

9

to

16

May 2019

Bernabe Urtubey

Born in Argentina and currently living in Patagonia, all of his studies were orientated towards biology. During his Exchange Student time in Johannesburg, South Africa, Berna fell in love with nature and wildlife, travelling extensively around southern Africa, especially Zimbabwe, Zambia, Namibia, Mozambique, South Africa and Botswana.

In the past 17 years has been working as a Guide, Zodiac Driver, Lecturer and/or Expedition Leader to Antarctica, the Arctic and around South America.

South America is his home, with a vast knowledge of the Atlantic and Pacific costs, from Tierra del Fuego to Brazil and as far North as Panama and Colombia.

Berna's passions are the Polar Regions and travelling, making this his favorite place on Earth. During the excursions Berna will share his knowledge about wildlife, especially marine mammals, seabirds and the history of the area.

From 2006 and until 2009 he has worked as an External Consultant for UN in Tierra del Fuego Province in a major program called Coastal Management of the Argentine Patagonia. He has worked at Punta Tombo Magellanic Penguin Colony for several years as well, enjoying every moment around wildlife in its fullest.

During his little spare time, Berna is a Whale Watching, Tug and Pilot boat Captain around Peninsula Valdes, in the home of the Southern Right Whales.

Bernabe Urtubey will be on the following tour dates:

9

to

16

May 2019
Tour Extensions
Dartmouth Pre-Cruise Extension - 7th to 9th May 2019

If you would like to spend some time in Dartmouth we are offering a two night hotel extension at the Dart Marina Hotel. This will be an independent stay allowing the opportunity to explore at leisure before embarking the MS Hebridean Sky. The hotel is in a wonderful setting by the river and offers exceptionally comfortable rooms. Situated a short walk from the town centre, you can take time to explore the historic centre or visit some of the nearby attractions including Agatha Christie's former residence at Greenways, a boat trip on the River Dart, join the steam railway along the south Devon coast or visit the nearby naval college.

Prices per person based on double occupancy

7th to 9th May 2019
Category
Price
Standard with balcony & partial sea view
£345
King room with French doors & sea view
£375
King room with balcony, partial sea view
£385
Standard room for sole use
£545

Price Includes: Two nights accommodation at the Dart Marina Hotel & Spa on a bed and breakfast basis, transfers from Totnes railway station to the hotel and from the hotel to the MS Hebridean Sky in Plymouth.

Not Included: Travel insurance.
Also of Interest
Book with Confidence
Speak to one of our advisors on 020 7752 0000