Islands on the Edge
An exploration of the islands of England, Ireland & Scotland aboard the MS Serenissima
Brochure
View
Download
Order brochure
View All
This expedition voyage will appeal to those who wish to visit some of the most remote and inaccessible islands in England, Ireland and Scotland. This is a truly unique voyage visiting as it does the remarkable islands on the edge of the British Isles with only one non-island call during our voyage; such is the advantage of having a self-sufficient vessel with the qualities of the MS Serenissima. We will sail from Portsmouth and during our cruise visit both inhabited and uninhabited islands and places of great natural beauty, rich in wildlife and mystical history. We have also included a number of gardens which, given the timing of our cruise will be coming into bloom from the Isles of Scilly to the Hebrides. For keen birders, there are numerous highlights including sailing past the Cliffs of Moher which are home to an estimated 30,000 birds and cruising past two of the largest gannetries in the world at St Kilda.
The sheer diversity of the landscapes and lifestyles will amaze you as will the spirit and warmth of the small communities we will encounter. In an age of rapid centralisation and common identity it is fortifying to know that life with its unique traditions and values can still be found on the edges of our islands. This is not a cruise in the traditional sense, more an exploration with 95 or so fellow travellers who wish to enjoy the peace, beauty and tranquility of the islands. Learn something of their history, see the abundant bird and marine life, but above all revel in the timeless enchantment that these islands exude to all those who appreciate the natural world.
Useful links & Travel Advice
Please find a selection of useful websites to refer to for information from the Foreign & Commonwealth Office, on visa requirements, NHS travel health advice and other useful travel tips.
Our View

"The islands around the edge of England, Ireland and Scotland are home to remote communities, wonderful wildlife and a history that dates back thousands of years. Difficult to visit independently, our cruise is devised to access some of these places where we can meet the locals be they farmers or landlords, puffins or seals. From the historic naval town of Portsmouth we visit the Channel Islands, Isles of Scilly, Skellig Islands, Aran Islands and the Hebrides on our quest to visit the outlying islands. We will find beautiful blooming gardens, walk through islands of wildflowers and watch in wonder as thousands of birds fill the sky as we cruise past their breeding grounds. We will also appreciate the history of the region from the archaeological sites of the Aran Islands to the more modern history of St Kilda. Join us as we take this wonderful opportunity to explore the islands on the edge."
---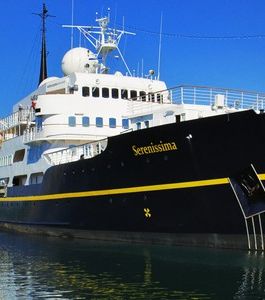 Serenissima
The charming MS Serenissima began her career as the Harald Jarl, cruising the Norwegian coastline and fjords. Since 2003, when she was extensively renovated, she has been operating as a classic cruise ship. Previously known as the MS Andrea, she was upgraded again in 2013 and started her new life as the MS Serenissima. With her small size she can navigate into small, remote ports inaccessible to the big cruise ships and appears an impressive sight when moored. With her fleet of Zodiacs, she is capable of both destination and expedition cruising.
Itinerary
Day 1 - Portsmouth, England.
Embark the MS Serenissima in the afternoon. Transfers will be provided from Portsmouth Harbour Railway Station at a fixed time. Sail this evening for the Channel Islands.
Day 2 - Guernsey & Herm, Channel Islands.
Arrive this morning on Guernsey, the 'Island of Flowers'. There will be the option of a walking tour of St Peter Port including a visit to Castle Cornet, a 12th century battlement which guards the entrance to St Peter Port Harbour. Alternatively, enjoy a panoramic drive during which we will see the beautiful coastline and beaches and also visit the Little Chapel, built in 1914 as a miniature version of the famous basilica at Lourdes and covered in fragments of shattered china. Over lunch we sail the short distance to Herm, the smallest inhabited Channel Island and, at just one and a half miles long and half a mile wide, perfect for exploring on foot. You will have free time to explore, perhaps take a stroll over to Shell or Belvoir Beach. Alternatively, join our naturalists on the lookout for wildflowers and birds.
Day 3 - Tresco, Isles of Scilly.
Spend the morning on traffic free Tresco, walking its idyllic lanes from the beach to the famous sub-tropical Abbey Gardens. Defying the Atlantic weather, this miracle of a garden is home to more than 20,000 species of plants from over 80 countries. Enjoy time to wander at your own pace along the paths, maybe visit the Valhalla collection of ship figureheads from ships wrecked on the islands or relax in the café. Return to the MS Serenissima for lunch on board and an afternoon sailing.
Day 4 - Garnish Island & Bantry Bay, Ireland.
Sail this morning into the sheltered harbour of Bantry. From here we will take the short drive to Glengarrif to board local boats to Garnish Island and the beautiful Ilnacullin Gardens where the sheltered position and Gulf Stream is favourable to the growth of ornamental plants, many normally only found in sub-tropical or Mediterranean climates. We return by local boats sailing past "Seal Island", home to 250 common seals before enjoying lunch on board. This afternoon you may wish to stay on board, enjoy some free time in the small town or join the excursion to Bantry House, overlooking Bantry Bay. We will explore the house, one of the finest historic houses in Ireland along with the gardens.
Day 5 - Skellig Islands & Valentia Island.
Over breakfast we will arrive at The Skelligs, tiny islands just off the magnificent coast of the Dingle Peninsula. Weather permitting, we will sail around these mystical islands with their early Christian history. Skellig Michael is a World Heritage Site and atop this rugged pyramid that rises from the sea are the ruins of a monastery. Meanwhile at Little Skellig the sky can on occasion turn white as some of the 20,000 pairs of breeding gannets leave their roosts. Over lunch we sail around the famous Ring of Kerry and will anchor at the port of Knightstown on Valentia Island. Spend the afternoon exploring the island, perhaps take a coastal walk, visit the tropical gardens at Glanleam or join an island drive including the Cromwell Point Lighthouse.
Day 6 - Aran Islands.
Today we call into Inishmore and explore some of the early Christian sites. This island was a place of monastic study from the earliest Christian times. Also, see the dramatic stone fort of Dun Aengus, parts of which date back some 3,000 years. Later this afternoon we will cruise by the magnificent Cliffs of Moher. Rising to 213 metres and over five miles long they are home to an estimated 30,000 birds including Atlantic puffin, razorbills, guillemots and choughs.
Day 7 - Tory Island.
After a morning at sea we arrive at Tory Island, located off the northwest coast of Ireland and home to 150 or so Gaelic speakers. Although only 14 miles offshore, it feels like many more and island life here is full of traditions. Meet some of the local community in the village hall and enjoy some of their legendary storytelling, music and dance. Tory Island is also famous for its migratory birds; seabirds nest here in large numbers and a puffin colony nests on the northern cliffs. Look out for guillemots, kittiwakes, fulmars, storm petrels and manx shearwaters whilst the corncrake has become a main attraction on the island.
Day 8 - St Kilda, Scotland.
This morning we arrive in St Kilda, a remarkable uninhabited archipelago some fifty miles beyond the Outer Hebrides. Dominated by the highest cliffs and sea stacks in Britain, Hirta, St Kilda's main island was occupied on and off for at least two thousand years, with the last 36 Gaelic speaking inhabitants evacuated at their own request in 1930. Immediately after the evacuation, the island was bought by the Marquess of Bute to protect the island's thousands of seabirds including puffin and fulmars, and in 1957 it was bequeathed to The National Trust for Scotland. St Kilda is one of only two dozen UNESCO World Heritage Sites with dual status reflecting its natural and cultural significance. The local ranger will join us on board before our expedition staff lead a number of guided walks on the island. Later, cruise past two of the largest gannetries in the world at Stac Lee and Boreray. These impressive stacs rise 170 metres from the sea and are home to up to 60,000 breeding pairs of northern gannet.
Day 9 - Stornoway and Shiant Islands.
On leaving the island capital of Stornoway, we will head across the island to the beautiful west coast. Described as Scotland's Stonehenge, the Callanish Standing Stones date from around 3000 BC. There are a total of 32 stones in a circular and avenue design which stand like a petrified forest on the flat top of a peninsula which reaches out into East Loch Roag. We also visit the Dun Carloway Pictish Broch, probably built sometime in the last century BC, it would have served as an occasionally defensible residence for an extended family complete with accommodation for animals at ground floor level. Our final stop is the Gearrannan Blackhouse Village Puffin – a reconstructed settlement of traditional black houses which were made using dry stone masonry and have thatched roofs, distinctively weighted down with rocks. Visit the small museum, enjoy a display of a typical crofting activity such as weaving and take in the views at this dramatic site on the wild Atlantic coast. Sail this afternoon past the Shiant Islands, a group of little islands located a few miles off the shores of Lewis. If weather permits we will use the Zodiacs to explore the island closer as this is an excellent place to spot seals and hopefully white-tailed eagles.
Day 10 - Loch Scavaig & Canna.
Enjoy breakfast in lovely Loch Scavaig on the island of Skye. Just beyond is the freshwater Loch Corruisk with its breathtakingly beautiful view over the Cuillins. This is great walking country and our expedition team will run a series of hikes for all interests. For those who prefer a less energetic morning our Zodiacs will explore the coast looking out for seals. Enjoy lunch as we sail to Canna. Strategically placed between the mountains of Rum and the Outer Hebrides, the island of Canna, and its adjoining neighbour Sanday, are bound together like some rare text that reveals over 60 million years of Hebridean geology and history. They have an amazingly rich archaeological landscape with remains dating to all periods of settled occupation in Scotland.
Day 11 - Iona, Staffa & Lunga.
Arrive this morning at Iona which for more than 1000 years has been a place of deep spiritual significance and no less than 62 Kings of Scotland are buried here. St Columba came here from Ireland in 563 AD and early Christianity spread through northern Britain from this remote island community. After exploring the Abbey, time permitting you may take a short walk on the wild side to the 'Bay at the Back of the Ocean'. Later today we hope to drop anchor off Staffa, the south side where the perpendicular rock face features an imposing series of black basalt columns, known as the Colonnade, which have been cut by the sea into cathedralesque caverns, most notably Fingal's Cave. Weather permitting we will use our Zodiacs to explore closer before we sail to the Treshnish Isles, an archipelago of uninhabited volcanic islets northwest of Staffa. We will visit Lunga, the largest of the islands and of volcanic origin it has been described as a 'green jewel in a peacock sea'. Populated until the 19th century, the island still bears the remains of black houses and has prolific birdlife including storm-petrels, puffins, kittiwakes and Manx shearwaters.
Day 12 - Fairlie.
Disembark this morning. Transfers will be provided to Glasgow Central Station and Glasgow International Airport at a fixed time.
Dates and Prices
LIMITED AVAILABILITY REMAINING
Prices per person based on double occupancy
3

to

14

May 2019
Category
Price
2 Standard Stateroom
£4895
3 Classic Stateroom
£5095
4 Superior Stateroom
£5595
5 Deluxe Stateroom
£5795
6 Junior Suite
£6195
7 Owner's Suite
£6595
8 Serenissima Suite
£6595
10 Standard Single
£5195
Tour Reference Code: SCSE030519
PRICE INCLUDES: 11 nights aboard the MS Serenissima on a full board basis • House wine, beer and soft drinks with lunch and dinner on board • Expedition team • Shore excursions • Gratuities • Transfers • Port taxes.
Not Included: Travel insurance.
Deckplan
Serenissima
The charming MS Serenissima began her career as the Harald Jarl, cruising the Norwegian coastline and fjords. Since 2003, when she was extensively renovated, she has been operating as a classic cruise ship. Previously known as the MS Andrea, she was upgraded again in 2013 and started her new life as the MS Serenissima. With her small size she can navigate into small, remote ports inaccessible to the big cruise ships and appears an impressive sight when moored. With her fleet of Zodiacs, she is capable of both destination and expedition cruising.
Our View
"The islands around the edge of England, Ireland and Scotland are home to remote communities, wonderful wildlife and a history that dates back thousands of years. Difficult to visit independently, our cruise is devised to access some of these places where we can meet the locals be they farmers or landlords, puffins or seals. From the historic naval town of Portsmouth we visit the Channel Islands, Isles of Scilly, Skellig Islands, Aran Islands and the Hebrides on our quest to visit the outlying islands. We will find beautiful blooming gardens, walk through islands of wildflowers and watch in wonder as thousands of birds fill the sky as we cruise past their breeding grounds. We will also appreciate the history of the region from the archaeological sites of the Aran Islands to the more modern history of St Kilda. Join us as we take this wonderful opportunity to explore the islands on the edge."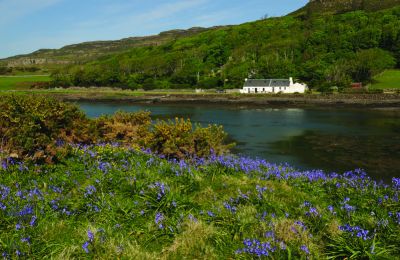 Also of Interest
An exploration of Scotland's beautiful landscapes aboard the MS Hebridean Sky
Hebridean Sky
Itinerary at a glance
Oban
Iona / Staffa / Lunga
Loch Scavaig / Canna
St Kilda / Stac Lee
Stornoway /Isle of Lewis / Shiant Islands
Scrabster
Orkney Islands.
Lerwick
Fair Isle
Aberdeen
Book with Confidence
Speak to one of our advisors on 020 7752 0000