Wonders of the Chilean Fjords, Patagonia & Antarctica
An exploration of the Land of Fire & Ice from Valparaiso to Ushuaia combined with an expedition to the Great White Continent aboard the MS Island Sky
Those who have a passion for the wilder places on our planet usually have Patagonia and Antarctica on their must do list and Chile, with its thousands of miles of coastline and abundant wildlife, is quite simply perfect for cruising. Our expedition starts in Valparaiso and, with our perfectly suited small ship we are able to enjoy all the wonders of this magical region including the Chilean Fjords and Patagonia, a rugged, yet hauntingly beautiful land of windswept pampas, hanging glaciers and cloud piercing peaks. It remains today as enticing and fascinating as it did to Magellan, Drake and more latterly Darwin.
Upon leaving Ushuaia, we head towards the vast wilderness of the sixth continent and will be followed by albatrosses as we sail first to the Falkland Islands for our exploration of these isolated islands thriving with wildlife and a fascinating history. We continue to South Georgia where we have ample time to explore what is one of the world's natural wonders with a remarkable concentration of wildlife. We will land on remote beaches, alive with great numbers of fur seals, elephant seals, wandering and sooty albatrosses, Macaroni and King penguins. Finally, we sail for the peninsula where enormous tabular icebergs rise from the sea, hillsides are covered with thousands of penguins and seals bask on icebergs.
Helping us understand all the wonders we shall encounter will be our experts and expedition team who will accompany us ashore, and our highly adaptable Zodiac craft will allow us to enter tiny inlets, explore fjords and marvel at Antarctica's magnificent icebergs. Whilst at sea or in between our landings you can pass the time looking for wildlife on deck, attending the series of lectures or simply relaxing on board.
Useful Links & Travel Advice
Please find a selection of useful websites to refer to for information from the Foreign & Commonwealth Office, on visa requirements, NHS travel health advice and other useful travel tips.
---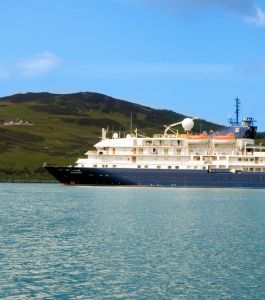 Island Sky
The MS Island Sky is one of our three flag ships and sister vessel to the MS Caledonian Sky and MS Hebridean Sky. All three vessels were built in the same ship yard in Italy at similar times and share the same excellent attributes that make them three of the finest small ships in the world.
Itinerary
Day 1 - London to Santiago, Chile.
Fly by scheduled flight.
Day 2 - Santiago.
Arrive this morning and transfer to our hotel for an overnight stay. This afternoon and evening is free for independent exploration.
Day 3 - Santiago to Valparaiso.
After breakfast in the hotel we will drive out to the Casablanca Valley which is now one of the country's premier wine areas and learn about the cultivation of grapes and visit one of the vineyards for a tasting and lunch. Afterwards we continue to Valparaiso and following an orientation tour including Fisherman's Wharf, the Plaza Soto Mayor and the Naval Academy head to the MS Island Sky for embarkation. Enjoy Welcome Drinks and Dinner as we sail this evening.
Day 4 - At Sea.
Enjoy a day at sea as we start our journey south.
Day 5 - Valdivia.
From the port of Niebla, this morning's tour takes us to the colonial city of Valdivia, one of the oldest European settlements in Chile. An excursion will include time at the Canelos Tower, built in 1774 and which the time of its construction was one of only two land entrances to the city, equipped with a wide portcullis and drawbridge. We will see the San Francisco Church before spending some time exploring the historical and anthropological museum and the bustling Mercado Fluvial. Return to the ship for lunch and an afternoon at sea.
Day 6 - Puerto Montt.
Over breakfast we land at picturesque Puerto Montt, a resort town in the Lake District. Settled by German colonists in the mid-19th century, much of its early MiddleEuropean styled architecture remains, rendering a slightly bizarre feel in such an obviously un- European setting. Leaving the ship we will head to the Vincente Perez Rosales National Park which is the oldest in Chile and contains three commanding volcanoes in Osorno, Calbuco and Puntiagudo. We will see the emerald Todos los Santos Lake at the foot of Mount Osorno as well as the mighty Petrohue River and the rapids that crash through lava channels creating a series of magnificent waterfalls. We will return to the ship via Puerto Varas, situated in a stunning location on Lago Llanquihue with a backdrop of the iconic Osorno volcano.
Day 7 - Chiloe Island.
Chile's second largest island, Chiloe Island was one of the first Spanish strongholds in the Pacific Southern South America. Once the island had been conquered, it was hard for indigenous uprisings to reconquer and as a result it became a major link in the Spanish trade route around Cape Horn. The island was also visited by Darwin aboard the HMS Beagle in 1831. Our visit ashore on this mainly forested island will include Castro, one of the oldest towns in the Americas, known for its unique wooden architecture, churches and stilted houses. Join an island drive which will include the wooden cathedral of St Francis and the historic old quarter.
Days 8 to 14 - Chilean Fjords, Punta Arenas & Torres del Paine National Park.
During the next seven days we will enjoy some of the most stunning scenery imaginable. This vast area of mountains, glaciers, islands, lakes and waterfalls is untouched by man except for a few fishing villages which perch at 'the end of the world'. We will make good use of our time exploring the beautiful protected waters, enjoying the renowned fjords of southern Chile which rival those of southeast Alaska in their raw beauty and prolific wildlife. We hope for calm weather when crystal clear reflections of vertical walls and hanging glaciers are broken only by the ripples of seabirds or maybe a passing dolphin. See how quickly you run out of suitable adjectives to describe all you are witnessing. Our route will be managed by our experienced Captain and Expedition Leader alongside the local pilots. As well as stunning scenic cruising, the area is ideal for Zodiac forays. As we continue our journey we hope to navigate the Kirke Narrows, a remarkable channel leading between lush, forested shores, so narrow it can only be sailed at low tide. Dropping anchor at Puerto Natales, we enjoy a full day in South America's largest national park, the Torres del Paine. This is one of the most spectacular places on earth, a vast uninhabited wilderness of glacier-draped mountains, windswept pampas, turquoise glacial lakes and verdant valleys. Look out for herds of guanacos (a smaller version of the llama), rheas, Patagonian hares, foxes and rich birdlife and see the stunning rock formations of the Horns of Paine. We also hope to operate Zodiac excursions ashore in some of the remote fjords we pass on our journey. At the southern town of Punta Arenas visit one of the penguin colonies to see the large groups of Magellan penguins that return each year to mate on this coast.
Day 15 - Cape Horn.
We will make our way around Cape Horn, one of the best known maritime landmarks in the world. Magellan was the first European visitor here in 1530 and prior to the opening of the Panama Canal it was an important staging post. Weather permitting we hope to use our Zodiacs to land and enjoy a walk to the monument. This afternoon we sail into the Beagle Channel. Here the mountains, still partly unmapped, drop as sheer, densely wooded cliffs into the channel and penguins, dolphins and South American sea lions abound in the channel. We will arrive in Ushuaia late this evening.
Day 16 - Ushuaia
Start our antarctic adventure this evening as we cruise down the Beagle Channel.
Day 17 - At sea.
Among the wildlife spotting opportunities as we sail south are albatrosses, prions and petrels that frequently follow the ship. Our expedition team will be out on deck looking for whales and dolphins that may also be seen in the area. During our day at sea our onboard experts will begin their presentations with informative and entertaining talks on the wildlife, history and geology of the Falkland Islands and Southern Ocean.
Days 18 & 19 - Falkland Islands.
The Falkland Islands are isolated and windswept, a haven for wildlife. We hope to land on New Island, the westernmost island with one inhabitant and 40 species of breeding sea birds including rock hopper penguins. Weather and wind conditions allowing, we may also land on Steeple Jason, the north western outpost with the world's largest colony of black browed albatross. We will make sure to visit some of the many historic sites on the island and to call at Port Stanley, the charming capital of the Falklands.
Days 20 & 21 - The Southern Ocean.
As we cruise towards South Georgia the richness of these waters will be evident in the marine mammal life, especially the fur seals on fishing forays. We have a good chance of spotting whales such as fins and minkies whilst the birds circling our stern will be outstanding, especially the large albatrosses and numerous breeds of petrels.
Days 22 to 24 - South Georgia.
We have two and a half days of expedition cruising in and around South Georgia, a paradise island with snow-clad mountain peaks rising 9000 feet and with 165 glaciers tumbling down towards the sea. We arrive early in the season when parts of the island are still covered by a thin layer of snow. For anyone interested in wildlife, South Georgia is a true oasis. The beaches will be covered by elephant seal bulls and females with feeding pups. They share the beach with a myriad of nesting King penguins. Most of the other sea birds have arrived and started nesting. This is also the time when the great arrival of the fur seals starts. Millions of fur seals will, over a few weeks, return to the beaches to breed. During our time here we hope to visit Salisbury Plain where we will find enormous elephant seals which crowd the beaches alongside thousands of pairs of King penguins. On Prion Island we visit the nesting place of the world's largest flying seabird, the wandering albatross and in Fortuna Bay we will see nesting light mantled sooty albatrosses and hope to witness their gracious courting flights. A few thousand King penguins nest here. Meanwhile in Grytviken we will visit the old whaling station and of course pay our respect at the grave of 'the boss' – Ernest Shackleton.
Days 25 & 26 - At sea.
The waters between South Georgia and the Antarctic Peninsula are rich with fin whales, where in good conditions we have seen as many as a hundred in a day. If not whale-watching, lookout for Antarctic Petrel, Kerguelen Petrel and one of the most beautiful birds of the Southern Ocean, the snow petrel. The icebergs will also become more plentiful as we sail south. Alternatively join the lecture programme as we learn more about the wildlife and history of the region.
Days 27 to 31 - Antarctic Peninsula and South Shetland Islands.
We have five days of exploration around the Peninsula which will include many of the best places for wildlife and magnificent scenery. Whilst we arrive with a planned itinerary the final schedule will be determined by our Captain and the Expedition Leader based on sea, weather and ice conditions. Using our Zodiacs we will make daily landings for unique close encounters with animals such as adelie and gentoo penguins, fur seals and petrels. We hope to visit the collapsed volcanic cone of Deception Island for a chance to visit Whalers Bay, Petermann Island, home to numbers of Adelie penguins, picturesque Neko Harbour, the Lemaire Channel where towering icebergs rise from the sea and Half Moon Island with its rookery of chinstrap penguins. We also hope to sail through the breathtaking Antarctic Sound, also known as 'iceberg alley', where massive icebergs drift north from the continent.
Days 32 & 33 - The Drake Passage
Two days to relax onboard and reminisce with your fellow travellers about all you have seen and experienced during our expedition. Enjoy a lecture, look for wildlife or simply relax as we make our way across the Drakes Passage toward Ushuaia. Named after the 16th century English seaman, Sir Francis Drake, the Drake Passage separates the southernmost tip of South America from Antarctica. This is a particularly good area to spot royal albatross and blue petrel and we will also be on the lookout for pods of sperm whales.
Day 34 - Ushuaia to Buenos Aires.
Disembark after breakfast and transfer to the airport for our scheduled flight to Buenos Aires. On arrival transfer to our hotel for an overnight stay. The evening is free for independent arrangements.
Day 35 - Buenos Aires to London.
After breakfast in the hotel we will transfer to the airport for our scheduled flight to London.
Day 36 - London.
Arrive this morning.
Dates and Prices
Prices per person based on double occupancy
16

November to

21

December 2019
Category
Price
Magellan Deck Standard Suites
£17995
Columbus Deck Superior Suites
£18995
Marco Polo Deck Premium Suites
£19995
Marco Polo Deck Corner Suites
£20495
Erikson Deck Deluxe Balcony Suites
£22495
Explorer Deck Owner's Balcony Suite
£23995
Explorer Deck Island Suite
£27995
Tour Reference Code: SCISKCOMBI
Price Includes: Economy class scheduled air travel, overnight hotel accommodation on bed and breakfast basis in Santiago, two nights hotel accommodation innd Buenos Aires, city tour in Buenos Aires, 31 nights aboard the MS Island Sky on a full board basis, house wine, beer and soft drinks with lunch and dinner, Noble Caledonia expedition team, shore excursions, gratuities, group transfers, port taxes, use of parka jacket and rubber boots on board the MS Island Sky.
Not Included: Travel insurance, visas.
Combination Cruise
This cruise combines the individual cruises The Chilean Fjords & Patagonia and Antarctica, South Georgia & the Falklands. Please note places are limited for this combined expedition
2019 Deckplan
Island Sky
The MS Island Sky is one of our three flag ships and sister vessel to the MS Caledonian Sky and MS Hebridean Sky. All three vessels were built in the same ship yard in Italy at similar times and share the same excellent attributes that make them three of the finest small ships in the world.
Book with Confidence
Speak to one of our advisors on 020 7752 0000