Bird Isles
An expedition from Portsmouth to Oban to discover Britain's seabird islands aboard the MS Island Sky
The seabird islands of the western British Isles are the envy of the birding world, yet it is not easy to sample the wonderful diversity of their character and come face-to-face with seagoing inhabitants. This unusual voyage will appeal to those who wish to explore our coastal waters, observe the marvellous seabird and marine life and walk across untouched coastal wilderness areas over the course of just a week. The focus of our expedition is the prolific birdlife but the region is also rich in historical and cultural heritage and with our naturalists and local guides we will discover some of the most remote and uninhabited islands that surround the coast of Britain together with inhabited islands such as St Agnes and Iona.
Cruising aboard the all-suite MS Island Sky, we will be able to enjoy expedition cruising at its best. Our exploration of inlets, estuaries and protected coastal waters will be made all the more enjoyable by the use of our Zodiac landing craft which enable us to explore remote places, such as Grassholm Island which is alive with seabirds and famous for its spectacular gannetry, making the otherwise inaccessible readily available. This is a wonderful opportunity to see some of our most beautiful places and we will be able to explore in small groups ashore ensuring a warm welcome and a cornucopia of stunning sights and sounds. This is not a cruise in the traditional sense, more an exploration with 100 or so fellow travellers who wish to enjoy the peace, beauty and tranquillity of our islands and we will visit some of the most enchanting including the Isles of Scilly and the Hebrides.
Useful links & Travel Advice
Please find a selection of useful websites to refer to for information from the Foreign & Commonwealth Office, on visa requirements, NHS travel health advice and other useful travel tips.
---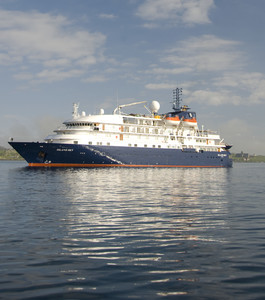 Island Sky
The MS Island Sky is one of our two flag ships and sister vessel to the MS Hebridean Sky. Both vessels were built in the same ship yard in Italy at similar times and share the same excellent attributes that make them two of the finest small ships in the world.
Itinerary
Day 1 Portsmouth, England.
Embark the MS Island Sky this afternoon. Transfers will be provided from Portsmouth Harbour Railway Station at a fixed time. Enjoy welcome drinks and dinner this evening as we sail.
Day 2 St Agnes & Annet Island, Isles of Scilly.
After a morning at sea we arrive in the Isles of Scilly at lunchtime. We spend the afternoon on St Agnes, the most south-westerly community in the UK. Surrounded by rocks and reefs this delightful tiny island offers marvellous coastal walks. The small island of Gugh lies across a narrow sandbar and here we find a single stone monolith called the 'Old Man of Gugh' which dates back to the Bronze Age. En-route we plan to sail past the nearby island of Annet, the second largest of the uninhabited islands and a bird sanctuary. We are not permitted to land but will cruise by to see the coastline alive with puffins, European storm petrels and Manx shearwater.
Day 3 Lundy Island.
We have scheduled a whole day on Lundy, a remote island in the Bristol Channel. Although small, just three miles long by half a mile wide, its isolation has made it a home for a range of wildlife as well as a home to a clutch of listed buildings and monuments. The towering cliffs and rocky shoreline are a haven for seabirds including puffin, gulls and Fulmar, whilst Sika deer, red deer and Soay sheep can also be seen as we walk along its traffic-free lanes and paths. Spend the day being as active as you wish, maybe explore the wide bays and coves by way of hanging valleys, see ancient burial chambers, climb the lighthouse or buy the island's 'puffin stamps' at the shop. If weather permits we may also be able to use our Zodiacs to explore from the sea.
Day 4 Skomer Island & Grassholm Island, Wales.
This morning we will arrive off the Pembrokeshire coast at Skomer Island and discover the coastline on a Zodiac cruise. One of the most important wildlife sites in Northern Europe, this island has fantastic birdlife including 6,000 pairs of puffins, countless numbers of guillemots, fulmar, kittiwakes and the elusive Manx shearwater and storm petrel. Over lunch we sail to nearby Grassholm; be on deck to view one of the world's largest gannetries with over 39,000 breeding pairs.
Day 5 Holyhead & Calf of Man, Isle of Man.
Over breakfast we arrive at Holyhead, adjacent to Anglesey with its spectacular sea cliffs. Here we will visit the RSPB's reserve at South Stack, a beautiful but fragile maritime sward and heathland which is home to a large population of guillemots and razorbills. If we are lucky, we might also see some choughs. Returning to the ship for lunch we hope to arrive in the late afternoon at the Calf of Man, a 600 acre island situated off the southern tip of the Isle of Man, and home to thousands of seabirds including Manx shearwater, kittiwake and razorbill. Meanwhile in the water we may be lucky to see dolphins and seals. If time permits we will use our Zodiacs to take a closer look.
Day 6 Iona & Lunga, Inner Hebrides, Scotland.
The Isle of Iona has been occupied for thousands of years and has been a place of pilgrimage and Christian worship for several centuries. It was to this flat, Hebridean island that St Columba fled from Ireland in 563 and established a monastery. Here his followers were responsible for the conversion of much of pagan Scotland and Northern England. No less than 62 Scottish Kings are buried in the Abbey. Visit the Abbey or perhaps walk along the white sandy beaches or go in search of the corncrake amongst the irises. After lunch we cruise northwest to the Treshnish Isles, an archipelago of uninhabited volcanic islets. The island of Lunga is the largest of the Treshnish Isles in Argyll and Bute. Of volcanic origin, Lunga has been described as a 'green jewel in a peacock sea'. Populated until the 19th century, the island still bears the remains of black houses. There is prolific birdlife on the island including storm-petrels, puffins, kittiwakes and Manx shearwaters.
Day 7 Oban.
Disembark this morning after breakfast. Transfers will be provided to Glasgow International Airport and Glasgow Central Railway Station at a fixed time.
Dates and Prices
SPECIAL OFFER – SAVE £400 PER PERSON FOR A LIMITED TIME ONLY
Prices per person based on double occupancy
19

to

25

May 2022
Category
Brochure Price
Special Offer Price
Magellan Deck Standard Suites
£3395
£2995
Columbus Deck Superior Suites
£3695
£3295
Marco Polo Deck Premium Suites
£3895
£3495
Marco Polo Deck Corner Suites
£4195
£3795
Erikson Deck Deluxe Balcony Suites
£4795
£4395
Explorer Deck Owner's Balcony Suite
£5195
£4795
Explorer Deck Island Suite
£5695
£5295
Magellan Deck Standard for sole occupancy
£4595
£4195
Columbus Deck Superior for sole occupancy
£4895
£4495
Tour Reference Code: SCISK190522
PRICE INCLUDES: Six nights aboard the MS Island Sky on a full board basis • House wine, beer and soft drinks with lunch and dinner • Noble Caledonia expedition team • Shore excursions • Gratuities • Transfers • Port taxes.
Not Included: Travel insurance.
Deckplan
Island Sky
The MS Island Sky is one of our two flag ships and sister vessel to the MS Hebridean Sky. Both vessels were built in the same ship yard in Italy at similar times and share the same excellent attributes that make them two of the finest small ships in the world.
Travelling with You
Dorothy Robertson

Born and bred in Melbourne, Australia Dot has a love of the outdoors, adventure and travel. The past twenty years she spent working in finance whilst raising two sons, travelling with them to all the corners of Australia and trips to North America, Vietnam, Malaysia, Thailand and PNG. She has been expedition guide since 2008 leading trips on the Kokoda Track in Papua New Guinea, Mt Rinjani on Lombok, kayaking and trekking in Komodo Marine National Park, Indonesia. In the past couple of years she hiked the Inca trail, Mt Blanc, West Highland Way and the Camino de Santiago. In 2014 an opportunity to work on an expedition ship has led Dot to a complete career change. She has since been working as a tour director, expedition team member, assistant expedition leader and zodiac driver in Japan, Indonesia, Pacific, New Zealand, Mediterranean and Australia's Kimberley. With an interest in history and culture and a passion for people she looks forward to sharing knowledge and experiences with fellow travellers.

Dorothy Robertson will be on the following tour dates:

19

to

25

May 2022

Craig Morton

Craig is from Glasgow, which he has called home for almost his entire life. However, he has taken every opportunity to escape the city and explore what the world has to offer. Craig has had the privilege of visiting many fascinating and beautiful places around the world, spanning seven continents and including both the Antarctic and Arctic. As a guide and Zodiac driver, he is motivated by the opportunity to facilitate and enhance other people's experiences in some of the world's most awe-inspiring environments. Craig has a strong background in marine ecology, science communication and environmental consultancy. He also has a strong interest in history, especially in relation to early polar exploration. With his marine ecology hat on, Craig has a particular interest in seabirds and jellyfish. His love of learning and taking on new challenges has led him to obtain two master's degrees; the first in Environmental Studies from the University of Strathclyde, and the second (with distinction) in Ecosystem-based Management of Marine Systems from the University of St Andrews.

Craig Morton will be on the following tour dates:

19

to

25

May 2022

Ian Pringle

Iain was born in Edinburgh, Scotland and grew up in a small village in neighbouring Fife. He now lives in Lincolnshire, England where he lives with his wife and two sons. He studied Ancient History and Archaeology at Newcastle University and after working for a number of years in outdoor retail, he has since been working as a commercial archaeologist and geophysicist, excavating all over England. He also spends several weeks each summer on a research excavation in Ardnamurchan, Scotland which has been excavating the area for the past thirteen years uncovering a number of historically important sites. In the austral summer of 2015/16, he worked at Port Lockroy in Antarctica for the United Kingdom Antarctic Heritage Trust. Here he was part of a four-person team maintaining the buildings, running the museum, shop and Post Office and surveying the penguin colony. He travelled back to Antarctica at the beginning of this year when he spent two months working as an expedition guide.

Ian Pringle will be on the following tour dates:

19

to

25

May 2022

Dr Susan Currie

Susan was born and brought up in North East England. After obtaining her Bachelor of Science degree in Geology from the University of Exeter and a Doctoral degree from the University of Cambridge she worked as a geologist in the UK offshore oil and gas industry and lived in Aberdeen, Scotland, for 27 years. She has published papers in a number of academic journals. In 2008 she took up an appointment as a senior geologist in the UK Government Department of Energy and Climate Change (DECC). While working there she continued to join frequent expedition cruises and in 2012 decided to make geology lecturing on expedition cruise ships her full-time profession. Susan made her first ship-based expedition in 2002 and since then she has completed seven seasons in the Antarctic, cruised extensively in the South Pacific and Australasia, and has enjoyed eight seasons cruising in the Arctic. Susan really enjoys introducing her chosen subject to non-geologists. She also served on the Fellowship and Validation Committee of the Geological Society of London and continues to give talks to different organisations on geology and climate change topics.

Dr Susan Currie will be on the following tour dates:

19

to

25

May 2022

Julia Benson

Julia grew up in the city of Bristol and moved to London where she spent many years working as a financial controller. Having always been fascinated by wildlife and the natural world, it was after a number of trips to the polar regions by ship that she was inspired to say goodbye to the corporate world and follow her dream to become a naturalist. Following her studies in Marine Zoology, she volunteered for various organisations involved in whale and dolphin research and marine conservation in UK and European waters, trained as a marine mammal observer and volunteered as a wildlife officer. This led to her working as a naturalist on dolphin watching boats in Wales and whale watching boats in Iceland. Having found her true calling, Julia loves to share her knowledge and passion for the marine environment and conservation with passengers and now works as a naturalist on small passenger ships.

Julia Benson will be on the following tour dates:

19

to

25

May 2022
Book with Confidence
Speak to one of our advisors on 020 7752 0000