Spring in the Scottish Isles
An island hopping expedition in the Hebrides aboard the MS Hebridean Sky
Brochure
View
Download
Order brochure
View All
If ever an archipelago was made for expedition cruising it is the islands off Scotland's west coast. You can travel the world visiting all manner of exotic and wonderful places, but remember that some of the finest scenery, fascinating history and most endearing people may be close to home. Nowhere is that truer than around Scotland's magnificent coastline, an indented landscape of enormous natural splendour with offshore islands forming stepping stones into the Atlantic. The sheer diversity of landscapes and lifestyles will amaze you, as will the spirit and warmth of the small communities we will encounter.
There is no better way to explore this endlessly fascinating and beautiful region than by small ship and with our naturalists and local guides we will explore the isles, and with our nimble Zodiac craft be able to reach some of the most remote and untouched places. With just over 100 travelling companions, the atmosphere is more akin to a private yacht trip journey through stunning scenery accompanied by spectacular sunsets and prolific wildlife. Learn something of the island's history, see their abundant bird and marine life, but above all revel in the timeless enchantment that these islands exude to all those who appreciate the natural world.
Useful links & Travel Advice
Please find a selection of useful websites to refer to for information from the Foreign & Commonwealth Office, on visa requirements, NHS travel health advice and other useful travel tips.
---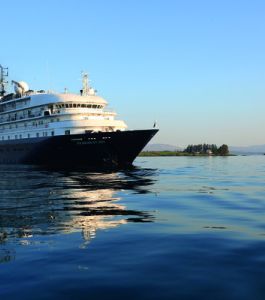 Hebridean Sky
The MS Hebridean Sky is one of our three flag ships and sister vessel to the MS Island Sky and MS Caledonian Sky. All three vessels were built in the same ship yard in Italy at similar times and share the same excellent attributes that make them three of the finest small ships in the world. Formerly known as the Sea Explorer, the vessel underwent a multi-million pound refurbishment in Sweden in Spring 2016 before being re-launched as the MS Hebridean Sky.
Itinerary
Day 1 - Fairlie, Scotland.
Embark the MS Hebridean Sky this afternoon in Fairlie. Transfers will be provided from Glasgow Central Railway station and Glasgow International Airport at a fixed time. Enjoy Welcome Dinner and Drinks and sail this evening.
Day 2 - Holy Loch & Rothesay.
This morning arrive in the Cowal Peninsula where we find the magnificent Benmore Botanic Garden situated in a mountainside setting. During springtime there is a blaze of colour as the 300 species of rhododendrons put on a spectacular display. Take time to walk the paths, see the Victorian Fernery and walk along Redwood Avenue, a line of 50 Sierra redwoods planted in 1862. During lunch we sail the short distance to the Isle of Bute where we will visit one of Britain's most astounding Victorian Gothic mansions, Mount Stuart House. After the original building was destroyed by fire the mansion was rebuilt between 1880 and 1912 using the finest craftsmen of the time. After viewing the house we will visit the wonderful grounds made up of over 300 acres of pasture, woodland and gardens combining exotic and native plants. Maybe enjoy one of the trails that pass through the woodland down to the shoreline or visit the Rock Garden and Kitchen Garden situated closer to the house. Alternatively, you may prefer to stay in Rothesay and explore the small town and its impressive 13th century castle.
Day 3 - Iona & Lunga.
Awake this morning at Iona which has been occupied for thousands of years and has been a place of pilgrimage and Christian worship for several centuries. It was to this flat, Hebridean island that St Columba fled from Ireland in 563 and established a monastery. Here his followers were responsible for the conversion of much of pagan Scotland and Northern England. No less than 62 Scottish Kings are buried in the Abbey. Visit the Abbey or perhaps walk along the white sandy beaches or go in search of the corncrake amongst the irises. During lunch sail for the Treshnish Isles, an archipelago of uninhabited volcanic islets. The island of Lunga is the largest of the Treshnish Isles in Argyll and Bute. Of volcanic origin, Lunga has been described as 'a green jewel in a peacock sea' and is a summer nesting-place for hundreds of seabirds.
Day 4 - Loch Scavaig & Canna.
This morning we will visit lovely Loch Scavaig on the island of Skye. Just beyond is the freshwater Loch Corruisk with its breathtakingly beautiful view over the Cuillins. This is great walking country and our expedition team will run a series of hikes for all interests. For those who prefer a less energetic morning our Zodiacs will explore the coast looking out for seals. Return to the ship for lunch and this afternoon we will visit the island of Canna and its adjoining neighbour Sanday which are bound together like some rare text that reveals over 60 million years of Hebridean geology and history. They have an amazingly rich archaeological landscape with remains dating to all periods of settled occupation in Scotland. Canna is run as a single farm and bird sanctuary by the National Trust for Scotland and enjoys the best harbour in the Small Isles, a hornshaped haven. The fertile soil and its diversity of habitats mean that the island has an incredibly rich plant life with 248 native flowering plants recorded. We will see Canna House and wander across grassy basalt plateaus to the 600-foot cliffs on the north shore.
Day 5 - Inverewe & Isle Martin.
This morning we will visit one of Scotland's premier gardens, Inverewe. This botanical garden in the north-west Highlands, presents an amazing collection of exotic trees and shrubs that are sheltered by well positioned windbreaks of native pine. After a guided tour of the gardens, we will return to the MS Hebridean Sky and set sail for Isle Martin. Eilean Mhartainn in Scots Gaelic, Isle Martin is an uninhabited island in Loch Broom, on the west coast of Scotland. During the 1980's and 1990's, it became the site of a reforestation experiment by ecologists with native woodlands planted throughout and these are now flourishing and improving soil fertility and biodiversity. Then in 1999 the island became one of the first handovers of land to community ownership. We will be offered a very warm welcome by volunteers from the community trust and learn about the work they do on the island; promoting the landscape, community and traditions.
Day 6 - Shiant Islands & Stornoway.
This morning we will board the Zodiacs for a cruise around the spectacular basalt cliffs of the Shiant Islands, a group of little islands located a few miles off the shores of Lewis. This is an excellent place to spot puffins, razorbills, guillemots, seals and hopefully white-tailed eagles. This afternoon we will call into Stornoway, the capital of Lewis, and our tour will take us across the island to the beautiful west coast and to Callanish. Described as Scotland's Stonehenge, the Callanish Standing Stones date from around 3000 BC. There are a total of 32 stones in a circular and avenue design. The stones stand like a petrified forest on the flat top of a peninsula which reaches out into East Loch Roag. Visit the excellent visitor centre to learn more about the site and venture out amongst the stones themselves to experience their mysterious atmosphere. Continue around the west coast to the site of Dun Carloway Pictish Broch. Probably built sometime in the last century BC, it would have served as an occasionally defensible residence for an extended family complete with accommodation for animals at ground floor level. We then head north to Gearrannan Blackhouse Village, a reconstructed settlement of traditional black houses where people and animals lived in close proximity. The houses are made using dry stone masonry and have thatched roofs, distinctively weighted down with rocks. Visit the small museum, enjoy a display of a typical crofting activity such as weaving and take in the views at this dramatic site on the wild Atlantic coast.
Day 7 - St Kilda & Stac Lee.
This morning arrive at St Kilda, a remarkable uninhabited archipelago some fifty miles beyond the Outer Hebrides. Dominated by the highest cliffs and sea stacks in Britain, Hirta, St Kilda's main island was occupied on and off for at least two thousand years, with the last 36 Gaelic speaking inhabitants evacuated at their own request in 1930. Immediately after the evacuation, the island was bought by the Marquess of Bute to protect the island's thousands of seabirds including puffin and fulmars and in 1957 it was bequeathed to The National Trust for Scotland. St Kilda is one of only two dozen UNESCO World Heritage Sites with dual status reflecting its natural and cultural significance. The local ranger will join us on board before our expedition staff lead guided walks on the island. Later, we will cruise past one of the largest gannetries in the world at Stac Lee. The impressive stacs rise 170 metres from the sea and are home to up to 60,000 breeding pairs of northern gannet.
Day 8 - Mingulay & Barra.
Today we explore the remote islands at the tip of South Uist including Mingulay and Barra. Mingulay, which is nearly 1600 acres is the largest of the group of islands south of Barra. Its towering cliffs and stacks face the Atlantic while the east side slopes gradually down to the sandy beach of Mingulay Bay. Despite there being a continuous population on the island for at least two thousand years, evacuation began in 1907 and the island was completely abandoned in 1912. Ruins of the village remain close to the shore which we will explore on walks with the expedition team. The islands are also a nature reserve with important breeding populations of razorbills, guillemots, puffins, fulmars and shags. This afternoon we will land on Barra and visit Castlebay which curves around the barren rocky hills of a beautiful wide bay. Here we find the 15th century Kisimul Castle, seat of the Clan Macneil and a key defensive stronghold situated on a rock in the bay.
Day 9 - Oban.
Disembark this morning after breakfast. Transfers will be provided to Glasgow International Airport and Glasgow Central Station at a fixed time.
Dates and Prices
SAVE £500 PER PERSON PLUS RECEIVE A COMPLIMENTARY UPGRADE TO THE NEXT CATEGORY. PLUS LIMITED NUMBER OF SUITES AVAILABLE WITH NO SINGLE SUPPLEMENT
Prices per person based on double occupancy
16

to

24

May 2019
Category
Brochure Price
Special Offer Price
Amundsen Deck Standard Suite
£4250
£3750
Byrd Deck Superior Suite
£4450
£3950
Mawson Deck Premium Suite
£4650
£4150
Mawson Deck Corner Suite
£4950
£4450
Scott Deck Deluxe Balcony Suite
£5450
£4950
Shackleton Deck Owner's Balcony Suite
£5750
£5250
Shackleton Deck Hebridean Suite
£6650
£6150
Amundsen Deck Standard for sole use
£4250
£3750
Byrd Deck Superior for sole use
£4450
£3950
Tour Reference Code: SCHSK160519
PRICE INCLUDES: Eight nights aboard the MS Hebridean Sky on a full board basis • Wine, beer and soft drinks with lunch and dinner • Shore excursions• Noble Caledonia onboard team • Gratuities • Transfers • Port taxes.
Not Included: Travel insurance.
Deckplan
Hebridean Sky
The MS Hebridean Sky is one of our three flag ships and sister vessel to the MS Island Sky and MS Caledonian Sky. All three vessels were built in the same ship yard in Italy at similar times and share the same excellent attributes that make them three of the finest small ships in the world. Formerly known as the Sea Explorer, the vessel underwent a multi-million pound refurbishment in Sweden in Spring 2016 before being re-launched as the MS Hebridean Sky.
Travelling with You
Lea McQuillan

Lea McQuillan is a marine biologist who has a keen interest in plants, birds and mammals. After completing an honours degree in Environmental Management, she worked on various international research projects including, coral reef habitat mapping on the second biggest barrier reef, which is in Belize. Lea also worked for the Santiago Museum on collecting invertebrates in macrocystis plants and marine biotype studies in the intertidal zone of southern coastal Chile. Working at the Charles Darwin Research Station and studying sponge taxonomy in the Galapagos Islands.

Following a return to Australia where Lea completed her Master of Science in Marine Biology, she worked for both the Department of Conservation and Land Management and the Western Australian Museum on various marine research projects for three years. A sea-change and career change coincided with moving from the research field into the tourism education field. Lea has now worked all over the world on various expedition ships. Lea is passionate about the marine environment and indeed the natural biodiversity and is eager to increase everyone's understanding of the natural environment, in particular, to promote and encourage marine conservation.

Lea McQuillan will be on the following tour dates:

16

to

24

May 2019

Dot Robertson

Born and bred in Melbourne I have always had a love of the outdoors and adventure. Getting out into the wilderness, exploring new places and meeting people from different cultures is my passion. For the past 25 years I have travelled to many places around the world, exploring everything from cities, wilderness, coastal regions and many historical sites.

A family history in both world wars first drew me to PNG. For the past seven years I have taken trekkers across the Kokoda Track to explore the history, experience the amazing environment and meet the wonderful people who live along the track. It is definitely an experience that stays with you and brings to life the battle fought by those courageous Australians during the Kokoda campaign.

Over the past few years I have also taken groups to hike Mt Rinjani on Lombok,walked the Inca trail, Mt Blanc, West Highland Way, Cuba and sea kayaking around the Komodo Islands.

In 2014 this work led to the opportunity as a tour director and expedition team member on the Caledonian Sky, a role that I totally embraced and absolutely love doing, carrying out numerous and varied roles and responsibilities.

Dot Robertson will be on the following tour dates:

16

to

24

May 2019

Pamela Le Noury

Coming from South Africa, Pam is a marine scientist, PADI dive instructor, zodiac skipper and sailor, and has worked in and on the ocean just about every day for the past 16 years. After leaving school she worked in the diving industry whilst studying a BSc in zoology and physiology, and ended up managing the dive school before starting up her own whale watching charter and boat business.

She has participated in several marine research cruises, has published 3 APPS for smartphones on sharks & rays and whales & dolphins and Antarctic Wildlife, and enjoys teaching people about the oceans and conservation through her travels. Pam started expedition cruising in 2008 and soon after closed her business to travel full time. She has been almost everywhere a small cruise ship can take you; 120 countries from the poles to the remote reaches of every ocean – loving life as a citizen of the sea. When not at sea – Pam is a beach bum in her home town of Umdloti.

Pamela Le Noury will be on the following tour dates:

16

to

24

May 2019

Graeme Snow

Better known as Snowy, Graeme is originally from Adelaide, South Australia, and has a professional background in electronic and telecommunications engineering. With a love of travel and adventure he joined the Australian Antarctic Division and over-wintered at Casey station Antarctica as a Radio Technical Officer in 1991. Following this, for 15 years Graeme worked in the Engineering section of the AAD, based in Hobart Tasmania, supporting Australia's Antarctic Program.

During this time he undertook numerous trips to many regions of the Antarctic and sub-Antarctic, including spending over two years working on extended research voyages in the Southern Ocean and around the Antarctic continent, providing technical support and participating as a field assistant in areas as diverse as glaciology, oceanography, penguin and sea-bird monitoring and research, seal and krill biology, and whale observations and acoustics.

This deep connection to the Antarctic and polar environments led Graeme to sharing his expertise and experience on tourist voyages and since 2006 he has participated in over 80 voyages in many remote regions of the world. He has also spent months working in safari lodges in the Okavango Delta in Botswana, Africa and over two years in the Southern Highlands of Papua New Guinea. In all he has traveled and worked in over 50 countries and all seven continents.

An experienced small boat operator and guide, Graeme's areas of special interest are ornithology and marine biology as well as a general interest in history.

Graeme Snow will be on the following tour dates:

16

to

24

May 2019

Bernabe Urtubey

Born in Argentina and currently living in Patagonia, all of his studies were orientated towards biology. During his Exchange Student time in Johannesburg, South Africa, Berna fell in love with nature and wildlife, travelling extensively around southern Africa, especially Zimbabwe, Zambia, Namibia, Mozambique, South Africa and Botswana.

In the past 17 years has been working as a Guide, Zodiac Driver, Lecturer and/or Expedition Leader to Antarctica, the Arctic and around South America.

South America is his home, with a vast knowledge of the Atlantic and Pacific costs, from Tierra del Fuego to Brazil and as far North as Panama and Colombia.

Berna's passions are the Polar Regions and travelling, making this his favorite place on Earth. During the excursions Berna will share his knowledge about wildlife, especially marine mammals, seabirds and the history of the area.

From 2006 and until 2009 he has worked as an External Consultant for UN in Tierra del Fuego Province in a major program called Coastal Management of the Argentine Patagonia. He has worked at Punta Tombo Magellanic Penguin Colony for several years as well, enjoying every moment around wildlife in its fullest.

During his little spare time, Berna is a Whale Watching, Tug and Pilot boat Captain around Peninsula Valdes, in the home of the Southern Right Whales.

Bernabe Urtubey will be on the following tour dates:

16

to

24

May 2019
Also of Interest
Book with Confidence
Speak to one of our advisors on 020 7752 0000