Castles & Gardens of the British Isles
An expedition from Portsmouth to Aberdeenaboard the MS Island Sky
Brochure
View
Order brochure
View All
For this exploration of the castles and gardens of the British Isles we are working with our Australian associates and experts in botanically themed tours, Botanica World Discoveries, and the all-suite MS Island Sky.
Our cruise is timed for when the shores of the UK and Ireland will be alive with colour, when many of the estates and gardens will be at their most appealing and the countryside will be lush and inviting. This, combined with the sheer diversity of the coastline, makes for a most appealing sea journey whether you be an avid gardener, birdwatcher or simply enjoy sailing past and visiting some of the most enchanting places in the world.
The gardens of Britain and Ireland have a unique quality and from the formal and manicured to the wilder and more natural, our itinerary includes some of our most beautiful and diverse gardens which in spring are a sight to gladden any heart. We visit some stunning Irish gardens which have a unique quality, the 'soft' weather and green mountain backdrops make for lovely views whether you are in the dramatic Wicklows or in the more gentle countryside of Waterford and also the splendid gardens of Gigha which defy the Atlantic elements so admirably.
Having arranged hundreds of small ship cruises around the British Isles, we have learned that everyone takes something different from the experience. We are indeed fortunate in having such marvellous places so close to home and now more than ever there is a great appreciation for the peace, beauty and culture of the British and Irish Isles which we will explore with the use of the onboard Zodiacs and the expert onboard team.
Useful links & Travel Advice
Please find a selection of useful websites to refer to for information from the Foreign & Commonwealth Office, on visa requirements, NHS travel health advice and other useful travel tips.
Voyage Highlights

• Cruise around the Isles of Scilly and explore the picturesque Tresco Garden
• Enjoy a special lecture by BBC presenter Monty Don in Dublin
• Visit Plas Brondanw, Portmerion and Bodnant Garden in Wales
• Visit Mount Stewart, a famous 18th century house and garden
• Explore the Isle of Gigha and the Isle of Iona
• See Duart Castle on the Isle of Mull
• Visit one of Scotland's premier gardens, Inverewe, in the Scottish Highlands
• Taste some whisky on the Isle of Jura
• Visit the historic Glamis Castle
---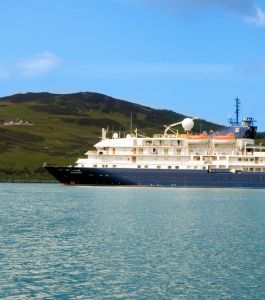 Island Sky
The MS Island Sky is one of our three flag ships and sister vessel to the MS Caledonian Sky and MS Hebridean Sky. All three vessels were built in the same ship yard in Italy at similar times and share the same excellent attributes that make them three of the finest small ships in the world.
Itinerary
Day 1 - Portsmouth.
Embark the MS Island Sky this afternoon. A transfer will be provided from Portsmouth Harbour train station to the port at a set time. Enjoy a Welcome Dinner on board this evening as we set sail.
Day 2 - Tresco, Isles of Scilly.
After a morning at sea this afternoon we explore the delightful island of Tresco in the Isles of Scilly. Tresco is leased by the Dorrien-Smith family, who have created a wonderful 40 acre sub-tropical garden near their Tresco Abbey home. Enjoy a relaxing stroll along the island's traffic-free lanes and wander along one of the lovely white sand beaches where the sea colour has more in common with the Aegean than the North Atlantic.
Day 3 - Waterford, Ireland.
From Waterford there will be a choice of tours today. The first option is to travel to Kilkenny, one of Ireland's most historic and attractive cities, and visit Kilkenny Castle and the design centre followed by a tour of the world-famous Waterford Crystal Factory. The second option is to travel to Mount Congreve Gardens, a vast and visually inspiring woodland garden set on the banks of the River Suir and later return to County Waterford for a visit to Lismore Castle, which features the oldest continually cultivated gardens in Ireland.
Day 4 - Dublin.
We arrive in Dublin Bay this morning and enter the mouth of the River Liffey from where there are a choice of three excursions. Travel by coach into the Wicklow Mountains and visit the gardens of Powerscourt, with its charming walled garden, striking terraces, fine statuary, varied trees, carefully designed walking paths and more. Then travel to Mount Usher, a lovely romantic garden on the banks of the River Vartry. Alternatively, visit Mount Usher Garden or a special private garden. Later on board enjoy a lecture by gardening writer and BBC Presenter, Monty Don.
Day 5 - Holyhead, Wales.
This morning we cruise into Holyhead to spend a full day exploring this spectacular part of Wales. Visit Portmeirion, an extraordinary Mediterranean style village designed and built by Sir Clough Williams-Ellis between 1925 and 1975. Choose from a tour of the village and its gardens or the gardens of nearby Plas Brondanw, the family home of Williams- Ellis. Afterwards drive through the famous Snowdonia region to Bodnant Garden, one of the most beautiful gardens in the United Kingdom. Spanning some 80 acres, the garden is set above the River Conwy and offers views to the Snowdonia range. Stroll through the Upper Garden, with its terraces and informal lawns, then continue into the Dell, the wild garden of the lower section formed by the valley of the River Hiraethlyn.
Day 6 - Belfast, Northern Ireland.
This morning enjoy a sightseeing tour of Belfast and this afternoon there is a choice of excursions, either visit the Titanic Exhibition or Mount Stewart, an 18th century house and garden in County Down. Planted in the 1920s by Lady Londonderry, the gardens today are owned by The National Trust and are of significant international importance. Here, a series of outdoor 'rooms' and vibrant parterres contain many rare plants that thrive in the mild climate of the Ards Peninsula. Enjoy time to explore the gardens as well as the opulent house, which boasts a fascinating heritage and contains world-famous artefacts and artwork.
Day 7 - Isle of Gigha and Isle of Jura, Scotland.
This morning visit the beautiful Isle of Gigha. Privately owned by its 120 inhabitants, the landscape consists of heathercovered hills, deserted sandy beaches, clear green seas and just the one single-lane road, which meanders between quaint cottages and farms. Here we will enjoy time to wander the gardens of Achamore House. Laid out by Sir James Horlick from 1944, this stunning garden boasts a wonderful collection of azaleas, rhododendrons and exotic plants. Returning to the ship for lunch, we will cruise to the Isle of Jura, where there will be an opportunity to visit the 200 year-old single malt Scotch whisky distillery.
Day 8 - Isle of Iona and Isle of Mull.
This morning we arrive at the Isle of Iona, a place of tranquillity where more than 40 Scottish Kings, as well as Kings from Ireland, France and Norway are buried. After exploring Iona Abbey, perhaps take a short walk to the Bay at the Back of the Ocean – named because the next westward stop is North America. During lunch we will set off to the Isle of Mull where you have two touring options. The first option is to visit a quaint private garden and the second option is Duart Castle, a 13th century clifftop castle set in the Millennium Wood.
Day 9 - Inverewe Gardens.
This morning we will drop anchor and use our Zodiacs to access one of Scotland's premier gardens, Inverewe. This botanical garden in the north-west Highlands, presents an amazing collection of exotic trees and shrubs that are sheltered by well positioned windbreaks of native pine. After a guided tour of the gardens we will return to the MS Island Sky and set sail during lunch for Aberdeen.
Day 10 - Aberdeen.
After breakfast drive through Royal Deeside, the picturesque valley of the River Dee and absorb the lovely scenery as we head to Crathes Castle, a 16th century castle famous for its splendid landscaped grounds and gardens. Return to the MS Island Sky for lunch before enjoying an afternoon visit to Pitmedden Garden with its elaborate parterres and herbaceous border. Moor overnight and enjoy a special Farewell Dinner this evening.
Day 11 - Aberdeen.
Disembark after breakfast. Transfers will be available to Aberdeen International Airport and Aberdeen Train Station at a fixed time.
Ship to Shore
Please note that we will be at anchor at the following ports and will use Zodiacs to tender ashore: Tresco, Gigha, Jura, Iona, Mull & Inverewe.
Dates and Prices
Prices per person based on double occupancy
29

May 2018 to

8

June 2018
Category
Price
Magellan Deck Standard Suites
£5120
Columbus Deck Superior Suites
£5320
Marco Polo Deck Premium Suites
£5680
Marco Polo Deck Corner Suites
£5995
Erikson Deck Deluxe Balcony Suites
£6595
Explorer Deck Owner's Balcony Suite
£6995
Explorer Deck Island Suite
£7495
Magellan Deck Standard for sole occupancy
£6495
Columbus Deck Superior for sole occupancy
£7095
Tour Reference Code: SCISK290518
PRICE INCLUDES: Ten nights aboard the MS Island Sky on a full board basis with house wine, beer and soft drinks with lunch and dinner on board • Onboard team • Shore excursions • Gratuities • Transfers • Port taxes.
Not Included: Travel insurance, visas.
Deckplan
Island Sky
The MS Island Sky is one of our three flag ships and sister vessel to the MS Caledonian Sky and MS Hebridean Sky. All three vessels were built in the same ship yard in Italy at similar times and share the same excellent attributes that make them three of the finest small ships in the world.
Voyage Highlights
• Cruise around the Isles of Scilly and explore the picturesque Tresco Garden
• Enjoy a special lecture by BBC presenter Monty Don in Dublin
• Visit Plas Brondanw, Portmerion and Bodnant Garden in Wales
• Visit Mount Stewart, a famous 18th century house and garden
• Explore the Isle of Gigha and the Isle of Iona
• See Duart Castle on the Isle of Mull
• Visit one of Scotland's premier gardens, Inverewe, in the Scottish Highlands
• Taste some whisky on the Isle of Jura
• Visit the historic Glamis Castle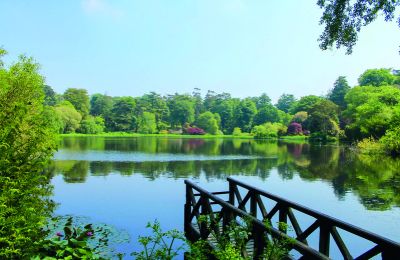 Also of Interest
Book with Confidence
Speak to one of our advisors on 020 7752 0000