9 nights
from £2895
Puglia & Beyond
A voyage from Sicily to Croatia aboard the Panorama II
New Search
Brochure
View
Order brochure
View All
Here is the perfect voyage for those who love Italy, travelling in the company of a small group of like minded travellers and sailing aboard small, private yacht-like vessels with a varied programme of interesting visits ashore. Sailing between Sicily and Dubrovnik, our itinerary will take us off the beaten track to many places that are beyond the reach of the mega-cruise ships. The centrepiece of our voyage is our four days spent sailing around the heel of Italy and discovering Puglia's many gems. Based on its strategic location, the region was colonised, invaded and conquered for centuries with each dynasty leaving its mark. From prehistoric dwellings and traditional trulli abodes to splendid Baroque architecture and 15th century palazzos, we will explore the region with local guides. Our voyage ends in the beautiful, azure waters of the Croatian coast with our calls in Split and Korcula before we end with an overnight mooring in the pearl of the Adriatic, Dubrovnik where you may choose to extend your stay before returning to London.
Useful Links & Travel Advice
Please find a selection of useful websites to refer to for information from the Foreign & Commonwealth Office, on visa requirements, NHS travel health advice and other useful travel tips.
---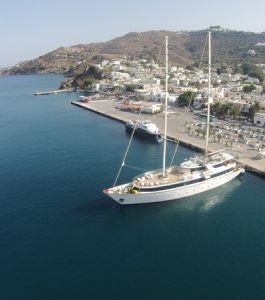 Panorama II
Launched in 2004, fully renovated in 2012 and upgraded again in 2015, the two-masted Panorama II is a 164 foot motor sailer accommodating just 49 guests. If you find large resort style vessels accommodating many thousands of passengers attractive then of course this isn't the vessel for you. However, if you prefer an informal and warm atmosphere more akin to a private yacht combined with an itinerary dedicated to both discovery and relaxation then you need look no further.
Itinerary
Day 1 - London to Catania, Italy.
Fly by scheduled flight. On arrival, transfer to the Panorama II and embark. Enjoy Welcome Drinks and Dinner this evening as we sail to Syracuse where we moor overnight.
Day 2 - Syracuse.
Syracuse was founded by the Greeks in 734 BC and by the 5th century was a political and military power throughout the Mediterranean and rivalled Athens as the largest and most beautiful city in the Greek world. On leaving the vessel we visit the Neapolis Archaeological Park where we find a well preserved Greek theatre with seats carved from limestone. Paradise Quarry, now an attractive garden and orange grove, was the primary source of that limestone and is the site of the curious 'Dionysus' Ear', a vast grotto with an amplifying resonance. We will continue to explore the island of Ortigia where we find the Temple of Apollo, considered to be Sicily's most ancient Doric temple and the Baroque Cathedral, erected over the remains of the Temple of Minerva. After lunch on board enjoy an afternoon at leisure to explore independently.
Day 3 - Crotone.
After a morning at sea we arrive in Calabria and the port of Crotone which is on the site of the ancient Greek City of Kroton. Whilst little remains of the Greek city it was one of the most important settlements of Magna Graecia, where Pythagoras set up a school in 530 BC and whose athletes were very successful at the Olympic Games. We will take a scenic drive inland this afternoon to Santa Severina, one of Italy's prettiest towns overlooking the Neto River valley. We will explore the majestic Carafa Castle was built by the Normans in 1076 and is surrounded by strong, crenellated walls with a moat on three sides and contains intricate underground labyrinths and stables, with the remains of Medieval frescoes. Also see the cathedral the beautiful Byzantine baptistery and a chance to wander the town's tangled streets. As we return to the ship we will stop at one of the vineyards that produce famous Calabrian wine, Ciro, for a tasting accompanied by typical Calabrian food.
Day 4 - Taranto.
Today we arrive in Puglia for our morning tour which will take us into Basilicata as we visit the UNESCO World Heritage Site of Sassi di Matera (stones of Matera). Situated in the old town of Matera, the Sassi are prehistoric dwellings dug into the rock itself and are suspected to be some of the first human settlements in Italy. The site comprises over 1,000 buildings including houses, churches, shops, workshops and monasteries covering over 1,000 hectares and we will learn more about the history of the town on a walking tour of the labyrinthine streets. Return to the ship for lunch and enjoy a free afternoon in Taranto. You may want to see the 15th century Aragonese Castle or the 11th century cathedral in the old town or cross the bridge to the newer town and visit the archeological museum. Return to the ship for dinner and sail this evening.
Day 5 - Otranto & Lecce.
From the port of Otranto we will drive to Lecce, often referred to as 'The Florence of the South' with its amazing collection of Baroque architecture including an abundance of churches and noble palaces decorated with the 'Leccese stone', a chalky stone ranging in colours which became the local style due to its ease to work with. A guided tour will include a visit to the beautifully decorated Santa Croce Basilica and Piazza Duomo, considered one of the finest and most impressive squares in southern Italy. After the tour, there will be an exclusive, private visit to the 15th century Palazzo Tamborino- Cezzi. The owner of the palazzo will personally take us on a tour, sharing interesting stories and anecdotes regarding his family and the palazzo itself. Enjoy a light lunch of local specialities before a concert of traditional music of the Salento region called La Pizzica, a popular Italian folk dance, originally from the Salento peninsula which later spread throughout the Puglia region. Return to Otranto for some free time to explore the town before sail this evening.
Day 6 - Monopoli.
Today we drive into the Puglian countryside which is scattered with 'trulli', limestone dwellings built with dome or conical roofs. We will enjoy a pleasant walk in Alberobello, a fairy-tale trulli village and a UNESCO World Heritage Site and see the St Anthony Church also built in trullo style. Afterwards we visit 'Cantina Albea' and its wine museum, home to pictures and old instruments used in the past for the production of wine and where we will enjoy a wine tasting along with a talk on the wine production. Return to the ship for lunch and this afternoon is free to return to the old town to explore independently or maybe take a swim from one of the nearby beaches.
Day 7 - Manfredonia.
Our final call in Italy is on the Gargano Promontory, a wonderful mix of beaches, lagoons and mountains. For centuries this region was isolated and modern development was thwarted when the peninsula became a national park in 1991. This morning we will follow the pilgrim trail to Monte Sant'Angelo where it is claimed archangel Michael made four appearances in the 5th century making this one of the earliest Christian shrines in Europe. We will visit the cave church dedicated to St. Michael, the Medieval baptistery 'Tomba di Rotari', and the church of Santa Maria Maggiore. Return to the ship for lunch and a leisurely afternoon on board sailing for Croatia.
Day 8 - Split, Croatia.
We have a full day in Split and this morning's walking tour will include the Diocletian Palace, St Dulmus Cathedral and the treasury and the Diocletian's cellars. Split, the second largest city in Croatia and 'the capital of Dalmatia', has gradually developed around the palace of the Roman Emperor Diocletian which was built more than 1700 years ago by the emperor as his retirement villa. Much of this large building is well preserved and the palace contains Split's old town within its walls, making it the only Roman palace that has been continuously inhabited since Roman times. This afternoon is free to explore independently and tonight you have the chance to dine ashore at one of the many seafront restaurants on the Riva.
Day 9 - Korcula, Croatia.
This morning we will call into Korcula and enjoy a guided walk along Korcula's crooked streets to the elegant squares which are flanked with Palaces of the old nobility and visit the house believed to be the birth place of Marco Polo. You will have the opportunity to choose from one of the local restaurants for lunch and afterwards there will be free time to explore further, return to the ship or maybe take a swim from one of the nearby beaches. Spend the late afternoon and evening cruising to Dubrovnik where we will moor overnight.
Day 10 - Dubrovnik to London.
Disembark this morning and transfer to the airport for our scheduled flight to London.
Dates and Prices
SPECIAL OFFER – SAVE £200 PER PERSON FOR A LIMITED TIME ONLY
Prices per person based on double occupancy
22

June 2018 to

1

July 2018
Category
Brochure Price
Special Offer Price
1 Lower Deck Forward Twin/Double
£3095
£2895
2 Lower Deck Twin/Double
£3395
£3195
3 Main Deck Twin/Double
£3595
£3395
4 Upper Deck Twin/Double
£4095
£3895
1 Lower Deck Forward Twin/Double for sole use
£3395
£3195
3 Main Deck Twin/Double for sole use
£3995
£3795
Tour Reference Code: SCP2220618
Price Includes: Economy class scheduled air travel, nine nights aboard the Panorama II, breakfast daily, lunches and dinners as stated in the itinerary, house wine, beer and soft drinks with lunch and dinner on board, Noble Caledonia Cruise Director, shore excursions, gratuities, transfers, port taxes.
Not Included: Travel insurance, dinner on day 8 and lunch on day 9.
Panorama II
Launched in 2004, fully renovated in 2012 and upgraded again in 2015, the two-masted Panorama II is a 164 foot motor sailer accommodating just 49 guests. If you find large resort style vessels accommodating many thousands of passengers attractive then of course this isn't the vessel for you. However, if you prefer an informal and warm atmosphere more akin to a private yacht combined with an itinerary dedicated to both discovery and relaxation then you need look no further.
Your Cabin

All the cabins on board Panorama II are designed for comfort and have a nautical feel with light fabrics and wood trimmings. Cabins range in size from 97 to 173 square feet and those located on the Upper and Main Decks are equipped with windows, while those on the Lower Deck have portholes. All cabins accommodate either a double bed or twin beds. Facilities include fully equipped marble bathrooms, individually-controlled air conditioning, music and satellite TV, mini-fridge, personal safety deposit box and hairdryer.

Your Space

The public areas include a main lounge and bar with comfortable sofas, a restaurant located on the Lower Deck and the Upper Deck al fresco dining area where meals can be enjoyed when weather permits. There is also a swimming platform enabling guests to swim when weather and anchorage conditions permit and the Upper Deck provides a generous semi covered or sun exposed space with sun loungers and chairs, ideal for relaxation and fantastic views.

Your Dining

Located on the Lower Deck, the indoor dining room seats all passengers in a single, unassigned seating and offers generous buffet space. The aft area on the Upper Deck provides a generous semicovered area where guests can enjoy meals al fresco with wonderful views, weather permitting. Food is served at the table or displayed on the hot and cold buffets stands. The menu is Greek and international, with a focus on local specialties. On each itinerary, we have included the opportunity for you to dine ashore independently allowing you to experience the local flavours.

Life Onboard

During the day, life on board focuses around the indoor lounge area, and the indoor dining room, as well as the open and inviting deck areas. These are natural gathering places and perfect for enjoying your meals al fresco, settling into a comfortable chair with a good book or socialising with your fellow passengers and enjoying the views. The swimming platform on Panorama II's stern enables you to swim off the yacht when weather and anchorage conditions permit. (only applicable for voyages around Greece).

Deck plans
Tour Extensions
1st to 3rd July 2018

If you would like to spend some time in Dubrovnik after your cruise we are offering a two night stay at a four star hotel. After disembarking, our extension will include a city tour before transferring to our hotel. The remainder of the time will be at leisure for you to enjoy all the magnificent city has to offer.

Prices per person based on double occupancy

| Category | Price |
| --- | --- |
| Twin | £295 |
| Single | £395 |

Price Includes: Two nights hotel accommodation on a bed and breakfast basis, city tour with lunch, gratuities, transfers.

Not Included: Travel insurance.
Book with Confidence
Speak to one of our advisors on 020 7752 0000