14 nights
from £9195
Baltic Renaissance
A voyage from Tilbury to Stockholm aboard the MS Island Sky
New Search
Brochure
View
Order brochure
View All
The long sunny days of a Baltic summer are legendary and the perfect time to witness the spectacle of colour and joy that the sun brings to this northern world which, bordered by diverse kingdoms and republics in a relatively contained area, is ideally suited to exploration by ship. The history of the region is fascinating, with countries vying for commercial and political influence for over a thousand years or more and we will explore its historic shores and look back over its colourful past from the Vikings and the Hanseatic era to more modern day events.
The cities of the Baltic offer a cornucopia of delights. Whether it be the grandeur of St Petersburg and its surrounding country estates, the newly independent Baltic states and their capitals with marvellously untouched Medieval quarters, or the sheer delight of small Scandinavian ports with their unique architecture and a freshness that is unique to the area.
For this exploration we are working with our American associates, Zegrahm Expeditions, who have chartered our very own MS Island Sky for the voyage. One of the finest small ships in the world, with just over 100 passengers, you can be assured of a high level of comfort and a relaxed voyage without the vast crowds that larger ships generate. Joining you on board will be an expert team who, together with the informative local guides, will add much to your experience and knowledge of this fascinating region.
Useful Links & Travel Advice
Please find a selection of useful websites to refer to for information from the Foreign & Commonwealth Office, on visa requirements, NHS travel health advice and other useful travel tips.
Voyage Highlights

• Discover the scenic beauty of Bornholm Island, graced with rolling countryside, charming villages, unique round churches and the impressive ruins of Hammershus Castle

• Step ashore in beautiful Visby; a World Heritage Site, this city of 'roses and ruins' was once the trading centre of the Hanseatic League

• Tour the historic districts of Gdansk, Riga, and Tallinn, which feature a treasure-trove of architectural styles

• Spend two days in St Petersburg—the Venice of the North—and enjoy a guided tour of the Hermitage Museum, Peterhof, and other important sites

• Enjoy a daylight transit of the 61 mile Kiel Canal, a fascinating example of 19th century engineering
---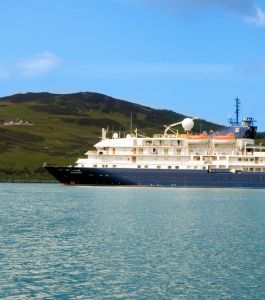 Island Sky
The MS Island Sky is one of our three flag ships and sister vessel to the MS Caledonian Sky and MS Hebridean Sky. All three vessels were built in the same ship yard in Italy at similar times and share the same excellent attributes that make them three of the finest small ships in the world.
Itinerary
Day 1 - Tilbury, England.
Embark the MS Island Sky early this afternoon in Tilbury. Transfers will be provided from Tilbury Town train station at a fixed time.
Day 2 - At sea.
Spend the day relaxing at sea and perhaps attend a lecture or two.
Day 3 - Sylt Island, Germany.
The beautiful, windswept, 24-mile-long island of Sylt (pronounced zoolt) is the northernmost point of Germany and part of the Frisian archipelago which stretches between Denmark and The Netherlands. Unique to the region is the architecture of the houses found in island villages; their thick reed roofs slope all the way down to the ground and blend with the surrounding vegetation. After lunch ashore there will be a choice of activities. Join a bicycle tour from the village of Kampen, a birding tour, or enjoy free time to explore Westerland, the charming capital of Sylt.
Please note that today we will be at anchor and the ship's Zodiacs will be used to transport us ashore.
Day 4 - Kiel Canal Transit.
Early this morning we begin our transit of the historic 61-mile-long Kiel Canal and sail from the North Sea into the Baltic. Kaiser Wilhelm I set the first foundation stone in place on June 3, 1887 in Brunsbuttel, and the final stone was laid by Kaiser Wilhelm II on June 21, 1895, in Holtenau. Today, the Kiel Canal is one of the busiest man-made waterways in the world.
Day 5 - Bornholm Island, Denmark.
After breakfast step ashore on serene Bornholm Island, with sugar-white sand beaches, dramatic cliffs, thick forests, and heather-clad hills. Visit the ruins of Hammershus Castle, Scandinavia's largest Medieval fortress; the unique, round 12th century churches, Osterlars and Nylars; and the charming half-timbered fishing hamlet of Gudhjem. You may also choose to visit art studios renowned for their glass blowing and pottery.
Please note that today we will be at anchor and the ship's Zodiacs will be used to transport us ashore.
Day 6 - Gdansk, Poland.
Enjoy a full day in this city whose history spans nearly 1,000 years. Stop at the Solidarity Monument in front of the Gdansk shipyard, then view the exhibition, Roads to Freedom, a fascinating audio-visual portrayal of those important, world-changing events. A walking tour through the lively Old Town reveals a magnificent collection of Gothic, Renaissance, and Baroque buildings and monuments. Pass through the Golden Gate and walk down Long Street to the 15th century Palace of Artus, where Neptune's Fountain commemorates Gdansk's Hanseatic past. We will also visit Medieval St. Mary's Church, the world's largest brick church. After lunch on board, there will be time at leisure for further exploration.
Day 7 - Klaipeda, Lithuania.
Today we will drive to the amber centre of Palanga. A stroll through the Botanical Park with its 500 varieties of trees and bushes takes you to the Amber Museum, housed in a 19th century neo-Renaissance-style mansion. Next we will drive to the Old Town for a walking tour. From beautiful Theatre Square, explore the narrow streets that meander between the charming half-timbered houses and shops. Return to the ship for lunch and spend a relaxing afternoon at sea as we sail to Visby.
Day 8 - Gotland Island, Sweden.
Disembark this morning at Gotland Island, the largest island in the Baltic. The splendid city of Visby, a World Heritage Site, is famous for its intact Medieval architecture, especially the 44 guard towers built as part of the city walls in the 11th and 12th centuries. Drive to Almedalen, a green oasis in the city centre, then walk past lovely Medieval granaries and the city's oldest building, the Powder Tower. Visit the Botanical Garden, known for its exotic plant collection, and take a ride up to a splendid panoramic viewpoint of the city and its spires. Continue your tour on foot along charming cobblestone streets, to visit the impressive St. Mary's Cathedral and the Gotland Museum with its excellent Medieval collections. Return to the ship for lunch and set sail for Riga.
Day 9 - Riga, Latvia.
Your day in Latvia showcases the riches of this 800-year-old Hanseatic river port. A walking tour takes you to multiple landmarks, including the Blackheads House, one of the oldest buildings in Riga; St. Peter's Church, a superb Gothic masterpiece; the 15th century Three Brothers merchant houses; and both St. Jacob and St. John churches. We will also visit the 13th century Dome Cathedral, whose organ concerts are legendary. We continue our exploration by bus, driving past lovely parks along the City Canal lined with the stunning Art Nouveau architecture built in 1899 during the Jugendstil movement. There is free time this afternoon to explore Riga independently.
Day 10 - Tallinn, Estonia.
We will arrive late morning and set off to explore old town Tallinn, a visual feast of soaring spires, towers, and turrets. After a renaissance in restoration and reconstruction, Tallinn proudly proclaims itself the finest preserved city in the Baltic. In the upper Old Town, visit Palace Square and the magnificent cupola-crowned Alexander Nevsky Cathedral. In the lower Old Town, visit the Town Hall Square, once a Medieval marketplace; one of the oldest pharmacies in Europe, founded in 1422; and stroll along St. Catherine's Passage in the Latin Quarter. We will also visit Kadriorg Palace and Park, built by Peter the Great as a summer residence.
Days 11 & 12 - St Petersburg, Russia.
Arrive in splendid St. Petersburg in the late morning and enjoy two days of exploration. Visit St. Isaac's Cathedral and the Winter Palace which houses Catherine the Great's incomparable Hermitage Museum. Enjoy an advanced entry and special guided tour which includes the Gold Room—a dazzling display of jewellery, as well as the famous Scythian and Greek gold. Drive across the Neva River to the burial place of the tsars, Peter and Paul Cathedral, its 18th century spire dominates the skyline. Visit the spectacular Church of the Resurrection and drive along Russia's most famous street, the Nevsky Prospect, lined with magnificent palaces, churches, and theatres. A scenic drive takes you to the palace and gardens of Peterhof, a grand summertime residence built by Peter the Great.
Day 13 - Helsinki, Finland.
The capital of Finland since 1812, Helsinki is a cosmopolitan city with a small-town feel. A city tour reveals the beautiful neoclassical architecture of Senate Square and allows you the opportunity to stroll through picturesque Market Square, where numerous vendors offer a variety of Finnish foods and souvenirs. Alternatively choose to tour Suomenlinna Fortress, a UNESCO World Heritage Site built by Sweden in 1748 to protect Helsinki's harbour. There is free time this afternoon to explore Helsinki independently.
Day 14 - Turku.
Today we will visit Turku, the oldest city in Finland and its one-time capital. Our tour includes the 13th century castle and cathedral, the handicrafts museum and the lively market. Conditions permitting, we will board Zodiacs to cruise among verdant islands and rocky outcroppings of the scenic Turku archipelago.
Day 15 - Stockholm to London.
Disembark after breakfast and transfer to the airport for your scheduled flight to London.
Dates and Prices
Prices per person based on double occupancy
16

to

30

July 2017
Category
Price
Magellan Deck Standard Forward Suites
Not Available
Magellan Deck Standard Suites
£9195
Columbus Deck Superior Suites
£9995
Marco Polo Deck Premium Suites
£12695
Marco Polo Deck Corner Suites
£13895
Erikson Deck Deluxe Balcony Suites
£16595
Explorer Deck Owner's Balcony Suite
£18365
Magellan Deck Standard for sole occupancy
£10045
Columbus Deck Superior for sole occupancy
£12795
Tour Reference Code: SCISK160717
Price Includes: Economy class scheduled air travel from Stockholm to London, 14 nights aboard the MS Island Sky on a full board basis including wine, beer and soft drinks with lunch and dinner, shore excursions, gratuities, onboard Zeghram team, transfers, port taxes, group visa for Russia.
Not Included: Travel insurance.
All Decks

Explorer Deck

Erikson Deck

Marco Polo Deck

Columbus Deck

Magellan Deck
Island Sky
The MS Island Sky is one of our three flag ships and sister vessel to the MS Caledonian Sky and MS Hebridean Sky. All three vessels were built in the same ship yard in Italy at similar times and share the same excellent attributes that make them three of the finest small ships in the world.
Your Suite

On board there are 57 exceptionally spacious and well designed suites. All feature a sitting room area and some have private balconies. The feeling of luxury is enhanced by the wood panelling and brass, which predominates throughout the vessel conveying the atmosphere of a private yacht.

The passenger accommodation is arranged over five decks and all suites have outside views. Each affords considerable comfort with en-suite bathroom featuring marble-topped vanity unit with sink and walk-in shower, a large wardrobe, dressing table with large mirror and stool and excellent storage. There is a mini-fridge, flat screen television with inbuilt DVD/CD player and a telephone in each suite. Bottled water, dressing gowns and slippers are also provided for your comfort. Other facilities include a programmable electronic safe, hairdryer, assorted Molton Brown toiletries, air-conditioning and heating. The suites on each deck have their own colour theme. Soft hues and blended tones enhance the traditional maritime style making the passenger accommodation an inviting and relaxing place to be.

Your Space

The spacious and finely decorated public rooms include a large lounge on the Columbus Deck featuring a selection of seating options from individual armchairs and sofas to side cushioned benches. Daily briefings given by the Cruise Director and talks from Guest Speakers and expedition staff take place in The Lounge which is fitted with the highest standard of presentation equipment including multiple screens. For your convenience, it is also possible to follow the onboard lectures from the comfort of your suite.

In addition to the main Lounge on the Columbus Deck, there is also The Club, located on the Marco Polo Deck which features the main bar where the onboard pianist plays periodically throughout the day. The Club also features a 24-hour tea and coffee station. Towards the aft of the ship on the Marco Polo Deck is The Library. Well stocked with reference books pertaining to the destinations the vessel is visiting and a selection of essential reads, you will not find yourself short of excellent literature on board. A selection of games and two computers complete with internet access can also be found in The Library. Daily newspapers and magazines are also placed in the library depending on local availability.

The main dining room which can seat all guests at one sitting is located on the Magellan Deck and outside there is a rear Lido Deck located on the Erikson Deck, complete with deck tables and chairs where meals are served in warm weather under shade. Further to this on the top Explorer Deck the observation area complete with sun loungers is ideal for sun bathing, relaxing with a book or catching up with fellow travellers. There is also a small hairdressers on board with appointments made on request. For your comfort, there is also a clinic with Doctor and a lift which serves all decks.

As is the joy of small ship cruising, we hope to offer the opportunity to visit the Captain and Officers on the Bridge to check the progress of the vessel (subject to weather or security conditions).

Dining

It is quite a task to create a dining experience as that found on board our vessels when you are cruising in far-flung corners of the globe, indeed it takes a team of highly talented chefs to deliver fresh, varied dishes no matter where you are at sea. Fortunately, our catering teams are well adapted to the world of small ship cruising where no two days are the same and the menus are often scheduled and tailored around the days' excursions.

With only one sitting and a maximum of just over 100 passengers, the cuisine on board all three vessels is of a consistent superior quality that befits such vessels. Where possible and when it meets their high standards, our accomplished chefs will obtain local produce in markets. Such purchases enhance the well stocked larders and enable the chefs on board to exhibit their culinary skills and bring a local touch to the varied menus, emphasising the international expertise of the chefs on board. Afternoon tea and pre-dinner canapes take place every day in either the comfort of the Lounge or out on the Lido deck when the weather is favourable. Tea and coffee are also available 24 hours a day. Special diets can be catered for with sufficient notice.

In keeping with the informal atmosphere on board, when dining you are able to choose your seating arrangements at your leisure. Whether that be joining a table of four to six other passengers outside on the Lido Deck in the evening's sunshine or whether you prefer to enjoy meals in the à la carte restaurant. For those travelling alone, our onboard friendly restaurant staff will take care to ensure you are seated with other like minded travellers. In the main elegant dining room, breakfast is served buffet-style, with certain items cooked to order on request. Lunch and dinner are à la carte with an excellent choice of dishes, with the menu reflecting the daily catch or local delicacies. To enhance your dining experience even further a selection of wines are included with both meals and there is also a comprehensive wine list with a wide selection of new and old world wines from which to choose.

The onboard catering and restaurant staff are experienced at sea and enthuse a passion for superb service. Whether it be ensuring you have an outdoor blanket as you enjoy the crisp sea breeze on the Lido Deck or sharing their knowledge of the characteristics of the days' wine selections, you will experience a service on board like no other. You may also enjoy sumptuous barbeques on deck whilst at times, the chef will make your dish to order at special pasta or stir fry stations.

Life Onboard

If large resort-style vessels accommodating many thousands of passengers are your ideal, then our ships are not for you as you will not find endless entertainment, round the clock buffets and the people management which is so much a part of today's big ship on board style. However, if like us you prefer a more peaceful life at sea you will find our flagships the perfect vessels.

When choosing your next voyage the choice of vessels is astounding. You can select a ship carrying in excess of 4000 passengers with impersonal service or join us aboard the MS Caledonian Sky, MS Island Sky or MS Hebridean Sky where peace, high quality service and attention to detail are the order of the day. We promise there will be no organised entertainment, fancy dress, deck games or any of the usual big ship experiences. Instead, the atmosphere is warm and convivial and more akin to a private yacht or country hotel in which you can learn more about the wonders of nature, culture and ancient civilisations in the company of like-minded people. A little music in the lounge or bar after dinner, Guest Speakers and informative port briefings from our Expedition Leader or Cruise Director and of course good food with wine included at lunch and dinner, all contribute to make any voyage aboard these wonderful vessels a memorable and joyful experience. After a day ashore you will return to the comfort and peace of an exceedingly comfortable ship.

The daily programme on board is in the capable hands of our Cruise Director or Expedition Leader and staff who coordinate with the Captain and Officers to make the most of each day. Briefings and talks will be provided throughout the voyage together with a 'Daily Programme' that is distributed every evening to your suite outlining the next day's activities. Dress on board is casual and relaxed and there will be no 'black tie' evenings.

For your comfort

The MS Island Sky is equipped with the latest safety, navigation and communications equipment along with roll stabilizers to minimize the ship's motion. During your voyage we hope to offer the opportunity to visit the Captain and Officers on the Bridge to check the vessels progress by charts and learn more about your journey. There is also a dedicated channel on your television in your suite showing the routing of the vessel along with technical information and estimated times of arrival and departure from port. On board you will also find a clinic and Doctor and a lift that serves all decks. Smoking on board is restricted to a specific area on deck.

Inclusions

Unlike many other cruise vessels, onboard the MS Island Sky you do not need to worry about tipping staff as we have included this in your holiday price. In addition we tip all our guides and drivers along the way, thereby taking away the hassle of always having to remember to have some small change with you. We also include excursions and drinks with meals onboard.

360's

Island Sky Balcony

Island Sky Bathroom

Island Sky Bridge

Island Sky Cafe

Island Sky Club

Island Sky Magellan Deck Cabin

Island Sky Restaurant

Island Sky Lounge

Island Sky Library

Cabin Plans

Ship Directory
Deck plans

All Decks

Explorer Deck

Erikson Deck

Marco Polo Deck

Columbus Deck

Magellan Deck
Voyage Highlights
• Discover the scenic beauty of Bornholm Island, graced with rolling countryside, charming villages, unique round churches and the impressive ruins of Hammershus Castle
• Step ashore in beautiful Visby; a World Heritage Site, this city of 'roses and ruins' was once the trading centre of the Hanseatic League
• Tour the historic districts of Gdansk, Riga, and Tallinn, which feature a treasure-trove of architectural styles
• Spend two days in St Petersburg—the Venice of the North—and enjoy a guided tour of the Hermitage Museum, Peterhof, and other important sites
• Enjoy a daylight transit of the 61 mile Kiel Canal, a fascinating example of 19th century engineering
Also of Interest
A voyage from Sweden to Finland aboard the MS Serenissima
Serenissima
Gothenberg
Elsinore, Denmark / Copenhagen
Christianso / Bornholm Island
Gdansk (Gdynia), Poland
Klaipeda, Lithuania
Riga
Parnu, Estonia
Saaremaa, Estonia
Stockholm, Sweden
Mariehamn, Aland Islands, Finland
Tallinn
St Petersburg
Helsinki , Finland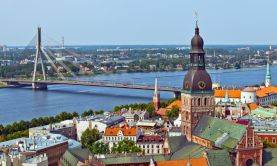 Book with Confidence
Speak to one of our advisors on 020 7752 0000