14 nights
from £6495
Spring in the Gardens of the Mediterranean
A springtime voyage from Naples to Barcelona aboard the MS Island Sky
New Search
Brochure
View
Order brochure
View All
Our springtime journey through the Mediterranean has been planned for those who appreciate an interesting mix of history, gardens and landscapes. We will steer clear, whenever possible, of the over-crowded sites and mega resort ships, yet include some of the most interesting and beautiful places in the ancient world. It is the most perfect time of year: verdant gardens and landscapes awash with blossoms make for an idyllic journey aboard the wonderfully comfortable MS Island Sky.
---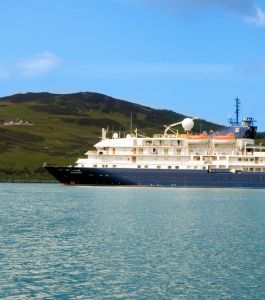 Island Sky
The MS Island Sky is one of our three flag ships and sister vessel to the MS Caledonian Sky and MS Hebridean Sky. All three vessels were built in the same ship yard in Italy at similar times and share the same excellent attributes that make them three of the finest small ships in the world.
Itinerary
Day 1 - London to Naples, Italy.
Fly by scheduled flight. Arrive this afternoon and transfer to the MS Island Sky.
Day 2 - Naples & Ischia.
Arrive this morning in Naples. There will be a choice of excursions today and you may choose to take the ferry and spend the day on the garden island of Ischia. A tour of the island will focus on La Mortella, a wonderful garden designed by architect Russell Page for Lord and Lady William Walton. We will have lunch at a local restaurant before enjoying free time to explore the main town. Alternatively enjoy a day in Naples where a morning tour will take us to Herculaneum. Return to the ship for lunch and enjoy an afternoon at leisure in Naples.
Day 3 - Amalfi.
From our anchorage off Amalfi we will go ashore this morning to visit the nearby beautiful gardens of the Villa Cimbrone in Ravello. The villa was something of a Bohemian retreat in its early days and has had many illustrious former guests. Return to Amalfi and enjoy a free afternoon at lesiure.
Day 4 - Civitavecchia.
Today we travel inland to visit two wonderful houses and gardens in Lazio. We will visit Castello Ruspoli which is owned by Princess Claudia Giada Ruspoli. Originally part of the papal estates, the castle was built in 847 AD by Benedictine monks. The garden, which still retains its original form, must be considered one of the most beautiful parterres in Italy. After lunch we continue to the beautiful gardens of Villa Lante Della Rovere. In the eyes of many, Villa Lante is the consummate example of the best period in the history of garden design: the Mannerist phase of the Italian Renaissance.
Day 5 - Elba.
Arrive this morning at the enchanting island of Elba, best known as Napoleon's island of exile from 1814 to 1815. Departing the island's busy capital Portoferraio we set out for a delightful drive exploring the southern region of this charming island with superb views over the coastline. The first stop will be Villa San Martino, the summer residence of Napoleon Bonaparte, which has since been transformed into a museum. Continue to Porto Azzurro, a delightful town which is dominated by an ancient Spanish fortress and a picturesque harbour, before carrying on along the coast to the 17th century country wine farm, La Chiusa, beautifully nestled in a vineyard estate surrounded by olive trees and overlooking the ocean. Experience the estate's interesting cellar to learn how the wine is handled and produced. A delicious sampling of the local wine will be served in the garden facing the sea. Return to the MS Island Sky for lunch and enjoy an afternoon at leisure in Portoferraio.
Day 6 - Livorno.
We will spend the day in the Tuscan countryside and Chianti wine region. This morning we will visit the 15th century Villa Poggio Torselli built by the Machiavelli family and known as the "Queen of Chianti Villas". The gardens here are made up of parkland and a terraced Italian style garden with a verdant expanse of vineyards, olive trees, roses, cypress and lemon trees. After our visit we will enjoy a lunch of local specialities and wines at a nearby villa before returning to the MS Island Sky. Alternatively spend the morning in the lovely town of Lucca.
Day 7 - Calvi.
Calvi is the capital of the prosperous Balagne region of the island. Enjoy the vista of the surrounding green hills which form a natural amphitheatre and is known as the 'Garden of Corsica'. A guided tour will lead us through the alleyways and cobbled streets before continuing to the imposing citadel. This afternoon there will be an opportunity to explore the flora of Corsica with a visit to the seven hectare Parc de Saleccia.
Day 8 - San Remo.
This morning enjoy time to explore the twisting labyrinth of lanes in the old town that lead up from the waterfront or maybe walk along the promenade to the gardens at Villa Ormond. This afternoon we will enjoy a choice of tours, maybe travel inland to the Medieval town of Dolceaqua which is made up of two villages connected by a Medieval humpback bridge which inspired Monet who defined it as "a jewel of lightness". Our walking tour will take us through the picturesque alleys to the Doria Castle and we will also enjoy a tasting of the village's famous Rossese red wine and olive oil in a local taverna. Alternatively take the journey to the French border and the Hanbury Gardens which were established in 1867 by Sir Thomas Hanbury as a coastal woodland garden at his property in Ventimiglia. After falling into disrepair they were restored by the University of Genoa in 1987 who maintain the 18 hectares of Mediterranean and exotic plants.
Day 9 - Menton, France.
Arrive this morning on the French Riviera in the small town of Menton. Spend the morning at the Val Rahmeh Botanical Gardens. Established in the late 19th century by Lord Radcliffe the garden contains subtropical and tropical plants including Sophora toromiro (a species of small trees since disappeared from Easter Island) exceptional olive trees (more than 400 years old) and collections of exotic plants. Returning to the ship for lunch you may wish to revisit the town for the afternoon or relax on board. Alternatively visit the Serre de La Madone, designed in the 1920s by Lawrence Johnston. Spread over nine hectares the garden is divided into compartments by hedges and walls and includes plants sourced from his travels around the world.
Day 10 - Nice.
Drive this morning along the dramatic road to St Jean Cap Ferrat which is home to some of the most sumptuous villas on the French Riviera and where we find the Rothschild Foundation and Gardens at Villa Ile de France. We will explore the villa which houses a priceless art collection. Return to the ship for lunch and this afternoon either explore Nice independently or join us as we explore two of the area's finest museums in the exclusive Cimiez Hill District. We will begin with a visit to the Musee National Marc Chagall. Established by the artist himself, the collection features the most important permanent exhibition of his work. We will continue to the Musee Matisse which is housed in the 17th century Arena Villa. The exquisite collection details the great master's development from the late 19th century through to 1954.
Day 11 - Hyeres.
Our journey along the French Riviera continues in Hyeres, which developed as a winter destination and health resort for wealthy Britons in the 18th and 19th century with Queen Victoria giving the royal seal of approval in 1892. The pleasant climate makes it home to some wonderful gardens that we will explore or a morning tour including Castel Sainte Claire which overlooks the old town and the terraced park at Saint Bernard with wonderful views along the coast.
Day 12 - Le Ciotat.
Today we will anchor off the picturesque Provencal port of Le Ciotat where we have a morning free to explore independently. After lunch on board we spend the afternoon at the hilltop Medieval village of Le Castellet exploring the winding streets and enjoying a wine tasting.
Day 13 - Sete.
Enjoy a full day tour to the fortified city of Carcassonne which is for most the perfect idea of a Medieval castle. There will be a guided walking tour and free time before returning to the ship with lunch en-route. Alternatively, spend the morning at La Bambouseraie, a private botanical garden founded in 1856 by keen botanist Eugene Mazel and featuring exotic and rare plants, huge oak and cypress trees, giant bamboos and magnolias and Victorian greenhouses. Return to the ship for lunch and enjoy the remainder of the afternoon at leisure.
Day 14 - Palamos, Spain.
Our first call in Spain will be on the Costa Brava and the old fishing port of Palamos. This morning we will head out to the 17 hectare Cap Rog Botanical Gardens situated on the cliffs with wonderful views of the coastline. The terraced gardens contain over 1000 botanical species and spread from the house on the cliffs down to the sea.
Day 15 - Barcelona to London.
Disembark after breakfast and transfer to the airport for our scheduled flight to London.
Dates and Prices
Prices per person based on double occupancy
1

to

15

May 2018
Category
Price
Magellan Deck Standard Suites
£6495
Columbus Deck Superior Suites
£6695
Marco Polo Deck Premium Suites
£6995
Marco Polo Deck Corner Suites
£7395
Erikson Deck Deluxe Balcony Suites
£8795
Explorer Deck Owner's Balcony Suite
£8995
Explorer Deck Island Suite
£9995
Magellan Deck Standard for sole occupancy
£6895
Columbus Deck Superior for sole occupancy
£7295
Tour Reference Code: SCISK010518
Price Includes: Economy class scheduled air travel, 14 nights aboard the MS Island Sky on a full board basis, wine, beer and soft drinks with lunch and dinner, shore excursions, gratuities, onboard team including Guest Speaker, transfers, port taxes.
Not Included: Travel insurance.
Ship to Shore: Please note that we will be at anchor at the following ports and will use local boats/Zodiacs to tender ashore: Amalfi, San Remo, Menton, Hyeres and La Ciotat.
Deckplan up to February 2018

Deckplan from March 2018
Island Sky
The MS Island Sky is one of our three flag ships and sister vessel to the MS Caledonian Sky and MS Hebridean Sky. All three vessels were built in the same ship yard in Italy at similar times and share the same excellent attributes that make them three of the finest small ships in the world.
Your Suite

Your Suite

On board there are 59 exceptionally spacious and well designed suites. All feature a sitting room area and some have private balconies, whilst those on the Marco Polo Deck feature tinted, sliding glass doors allowing greatly enhanced viewing opportunities from your suite and quick access to the deck when a pod of whales or dolphins is spotted. The feeling of luxury is enhanced by the wood panelling and brass, which predominates throughout the vessel conveying the atmosphere of a private yacht.

The passenger accommodation is arranged over five decks and all suites have outside views. Each affords considerable comfort with en-suite bathroom featuring marble-topped vanity unit with sink and walkin shower, a large wardrobe, dressing table with large mirror and stool and excellent storage. There is a mini-fridge, flat screen television with inbuilt DVD/CD player and a telephone in each suite. Bottled water, dressing gowns and slippers are also provided for your comfort. Other facilities include a programmable electronic safe, hairdryer, assorted Molton Brown toiletries, air-conditioning and heating. The suites on each deck have their own colour theme. Soft hues and blended tones enhance the traditional maritime style making the passenger accommodation an inviting and relaxing place to be. The comfortable beds in each suite can be configured as either double or twin.

The impressive Island Suite located on the Explorer Deck features an extra large balcony stretching the length of the suite. Additional features of this marvellous suite include complimentary internet usage, complimentary minibar stocked with your preference of beverages and complimentary laundry.

Your Space

Your Space

The spacious and finely decorated public rooms include a large lounge on the Columbus Deck featuring a selection of seating options from individual armchairs and sofas to side cushioned benches. Daily briefings and talks given by the Noble Caledonia onboard team take place in The Lounge which is fitted with the highest standard of presentation equipment including multiple screens. For your convenience, it is also possible to follow the onboard lectures from the comfort of your suite.

In addition to the main Lounge on the Columbus Deck, there is also The Club, located on the Marco Polo Deck which features the main bar where the onboard pianist plays periodically throughout the day. The Club also features a 24-hour tea and coffee station. Towards the aft of the ship on the Marco Polo Deck is The Library. Well stocked with reference books pertaining to the destinations the vessel is visiting and a selection of essential reads, you will not find yourself short of excellent literature on board. A selection of games and two computers complete with complimentary internet access can also be found in the Library. Daily newspapers and magazines are also placed in the library depending on local availability. Throughout the vessel you will find a fine selection of artwork and photography, many of which have been drawn or taken by members of our expedition team.

The main dining room which can seat all guests at one sitting is located on the Magellan Deck and outside there is a rear Lido deck located on the Erikson Deck, complete with deck tables and chairs where meals are served in warm weather under shade. Whilst heaters and blankets make dining al fresco comfortable in cooler climates. Further to this on the top Explorer Deck the observation area complete with sun loungers is ideal for sun bathing, relaxing with a book or spotting wildlife. The walk around promenade on the Marco Polo Deck provides a unique circular view of the passing seascapes. There is also a small hairdressers on board offering a small selection of beauty treatments. For your comfort, there is also a clinic with doctor onboard and a lift which serves all decks.

As is the joy of small ship cruising, we hope to offer the opportunity to visit the Captain and Officers on the Bridge to check the progress of the vessel (subject to weather or security conditions).

Your Dining

Your Dining

It is quite a task to create a dining experience as that found on board MS Island Sky when you are cruising in far-flung corners of the globe, indeed it takes a team of highly talented chefs to deliver fresh, varied dishes no matter where you are at sea. Fortunately, our catering teams are well adapted to the world of small ship cruising where no two days are the same and the menus are often scheduled and tailored around the days' excursions.

With only one sitting and a maximum of just over 100 passengers, the cuisine on board is of a consistent superior quality. Where possible and when it meets their high standards, our accomplished chefs will obtain local produce in markets. Such purchases enhance the well stocked larders and enable the chefs on board to exhibit their culinary skills and bring a local touch to the varied menus, emphasising the international expertise of the chefs on board. Afternoon tea and pre-dinner canapes take place every day in either the comfort of the Lounge or out on the Lido Deck when the weather is favourable. Tea and coffee are also available 24 hours a day. Special diets can be catered for with sufficient notice.

In keeping with the informal atmosphere onboard, when dining you are able to choose your seating arrangements at your leisure. Whether that be joining a table of four to six other passengers outside on the Lido deck in the evening's sunshine or whether you prefer to enjoy meals in the à la carte restaurant. For those travelling alone, our onboard friendly restaurant staff will take care to ensure you are seated with other like-minded travellers. In the main elegant dining room, breakfast is served buffet-style, with certain items cooked to order on request. Lunch and dinner are à la carte with an excellent choice of dishes, with the menu reflecting the daily catch or local delicacies. To enhance your dining experience even further a selection of wines are included with both meals and there is also a comprehensive wine list with a wide selection of new and old world wines from which to choose.

The onboard catering and restaurant staff are experienced at sea and enthuse a passion for superb service. Whether it be ensuring you have an outdoor blanket as you enjoy the crisp sea breeze on the Lido Deck or sharing their knowledge of the characteristics of the days' wine selections, you will experience a service on board like no other. You may also enjoy sumptuous barbeques on deck whilst at times, the chef will make your dish to order at special pasta or stir fry stations.

Click on image above to view a sample menu.

Life Onboard

Life Onboard

If large resort-style vessels accommodating many thousands of passengers are your ideal, then our ships are not for you as you will not find endless entertainment, round the clock buffets and the people management which is so much a part of today's big ship on board style. However, if like us you prefer a more peaceful life at sea you will find our flagships the perfect vessels.

When choosing your next voyage the choice of vessels is astounding. You can select a ship carrying in excess of 4000 passengers with impersonal service or join us aboard the MS Caledonian Sky, MS Island Sky or MS Hebridean Sky where peace, high quality service and attention to detail are the order of the day. We promise there will be no organised entertainment, fancy dress, deck games or any of the usual big ship experiences. Instead, the atmosphere is warm and convivial and more akin to a private yacht or country hotel in which you can learn more about the wonders of nature, culture and ancient civilisations in the company of like-minded people. A little music in the lounge or bar after dinner, Guest Speakers and informative port briefings from our Expedition Leader or Cruise Director and of course good food with wine included at lunch and dinner, all contribute to make any voyage aboard these wonderful vessels a memorable and joyful experience. After a day ashore you will return to the comfort and peace of an exceedingly comfortable ship.

The daily programme on board is in the capable hands of our Cruise Director or Expedition Leader and staff who coordinate with the Captain and Officers to make the most of each day. Briefings and talks will be provided throughout the voyage together with a 'Daily Programme' that is distributed every evening to your suite outlining the next day's activities. Dress on board is casual and relaxed and there will be no 'black tie' evenings.

For your comfort

For Your Comfort

MS Island Sky is equipped with the latest safety, navigation and communications equipment along with roll stabilizers to minimize the ship's motion. During your voyage we hope to offer the opportunity to visit the Captain and Officers on the Bridge to check the vessels progress by charts and learn more about your journey. You will also find on your suite television a navigation channel showing the routing of the vessel as well as the view from the Bridge. On board you will also find a clinic and doctor and a lift that serves all decks. Smoking on board is restricted to a specific area on deck.

360's

Island Sky Balcony

Island Sky Bathroom

Island Sky Bridge

Island Sky Cafe

Island Sky Club

Island Sky Magellan Deck Cabin

Island Sky Restaurant

Island Sky Lounge

Island Sky Library

Cabin Plans

Cabin Plans

Ship Directory

Ship Directory

Please find below further details pertaining to the vessel or click on the booklet to download.

We are delighted you have chosen the MS Island Sky for your upcoming voyage. The 118-passenger, all-suite vessel is one of the finest small ships in the world and benefits from unusually spacious accommodation, public areas and outside decks.

You will find the atmosphere on board akin to a private yacht or country hotel with a little music in the lounge or bar after dinner, talks from our onboard team and informative port briefings from your Cruise Director or Expedition Leader. After a day of exploration ashore, you will return to the comfort and peace of a well-run and exceedingly comfortable ship.

Along with the Captain and officers and the Noble Caledonia team, our crew of 70 are dedicated to offering you the best possible experience during your time on board.

We hope this information booklet answers any questions you may have pertaining to the vessel and wish you a pleasant voyage.

ADAPTORS

Adaptors for hairdryers, mobile phones etc. can be obtained from the Reception Desk, located on Deck 3 midships. These should be returned to Reception at the end of the cruise and are the property of the MS Island Sky.

AIR-CONDITIONING

The entire ship is air-conditioned. All cabins feature individual temperature controls. In order to keep the air-conditioning system working efficiently, please keep doors closed when in use.

ANNOUNCEMENTS

The ship uses a public address system to advise guests of all important information and activities during the cruise. Announcements can be heard throughout the public areas of the ship and in all cabins.

CABINS

On board there are 59 exceptionally spacious and well designed cabins. All feature a sitting area, en suite bathroom with marble topped vanity unit and walk-in shower, spacious wardrobe, dressing table.

Cabins on Explorer (Deck 6) and Erikson (Deck 5) have private balconies.

Cabins on Marco Polo Deck (Deck 4) have tinted sliding doors for enhanced views and quick access to the deck if any wildlife is spotted.

All cabins have the following facilities: • Dressing gowns and slippers • TV • Electrical outlet • Hair dryer • Heating and air-conditioning (individually controlled) • Mini bar & Fridge – upon request it can be filled with soft drinks and beer for purchase. The mini bar is stocked on arrival and replenished daily. Price list can be found in the cabin. • Safe • Molton Brown toiletries: hand soap, shower gel, shampoo, hair conditioner and body lotion • Telephone

Each cabin has two twin beds that can be reconfigured to form a double bed upon request. Please advise the Reservation Department or the Reception if you want a double bed. Cabins are serviced each morning by your cabin attendant and again in the evening when the beds are turned down. Please note that on MS Island Sky, all cabins have a shower but none have baths.

COMMUNICATIONS

If you wish to contact the ship please call 001 954 672 6785. This is a US number so calls to this number are charged at an international rate. There is a phone in your cabin, which has access to an outside line. Outgoing call costs will be advised on board. You can make cabin-to-cabin calls free of charge (see section on Telephone Calls). You can contact the ship by email at rec@is.salenship.com please indicate passenger name and cabin number as the subject.

There are two computers with complimentary internet access in The Library. In addition Wi-Fi is available in The Library, public areas and in passenger cabins. In order to access the Wi-Fi you will need to bring your own laptop, tablet etc and purchase an internet card which are available to buy at reception. Depending on the ship's location, please note that there may be times when the connection is very slow or is disrupted and the same level of connectivity that you enjoy at home cannot be expected on board. Please also follow the instructions about logging off carefully in order not to waste any minutes.

DAILY PROGRAMME

A Daily Programme, detailing the following day's arrangements as well as any specific information about the day's activities is produced on board and delivered to your cabin daily.

DIETARY REQUIREMENTS

If you have any dietary requirements such as vegetarian, low salt, gluten free and low cholesterol, please notify the Reservations Department. We regret that these, and any other special dietary needs, cannot be guaranteed. If you have any specific or special foods that you require we recommend that you take some with you although we will endeavour to accommodate your needs. Once on board, please speak to the Chef or the Maitre D' at dinner on your first night on board to reconfirm your needs.

DINING AND DRINKING

Breakfast, Lunch and Dinner are served in the Restaurant. During good weather, early riser's coffee, breakfast, lunch and dinner may also be served on The Lido Deck. Afternoon tea is served in The Club or in The Lounge depending on activities. Complimentary tea, coffee and biscuits are available self-service 24 hours a day in The Club. House wine, beer and soft drinks are included at lunch and dinner. MS Island Sky operates an open seating policy which greatly enhances the convivial atmosphere on board. The Restaurant has table configurations of 8, 6, 4 and some 2's. Room service is not available on board. As we operate an open seating policy, we regret that reservations cannot be made. Please note that passengers are not permitted to consume their own supplies of alcohol on board. Water is safe to drink on board and is treated with chlorine. A complimentary bottle of water is provided in your cabin upon embarkation and can be replenished upon request.

Special dietary requests such as vegetarian, low salt and low cholesterol should be made with Noble Caledonia in advance. However, we recommend that you contact the Maitre D' once on board to reconfirm such requests. We regret that these, and any other special dietary needs, cannot be guaranteed. If you have any specific or special foods that you require we recommend that you take some with you.

DISABLED FACILITIES

There is a elevator/lift, but the ship does not have facilities for disabled or wheelchair dependent passengers. Additionally, most shore excursions involve some walking and some excursions are walking tours only. There is no chair lift on board and access to the ship is by gangway.

DISEMBARKATION

Your Cruise Director / Expedition Leader will provide you with detailed disembarkation information prior to the end of your cruise. This will include transfer information (where applicable). If you should have any specific queries, please do not hesitate to contact the Cruise Director / Expedition Leader as soon as possible after embarkation.

DRESS CODE ON BOARD

The dress code on board is defined as casual. During the day, comfortable and casual attire is appropriate. The evenings are smart casual. Jackets and ties are not required. However, we kindly ask you to refrain from wearing shorts during evening meals in the Restaurant. You may wish to wear something a little dressier for the Welcome and Farewell Dinners, for example, a jacket and tie for gentlemen and a dress for ladies. No "black tie" is necessary. It is recommended to wear footwear at all times whilst on board.

ELECTRICITY

Voltage is 110V/60Hz (American standard) and a 220V razor socket. This is only suitable for low voltage electrical appliances, e.g. mobile phone or camera charger. We recommend that you bring a two-pin American adaptor for the 110v plug. Please note that the use of personal hairdryers, clothing irons, coffee makers, curling tongs, etc. in the cabins is strictly forbidden as they may damage the ship's electrical system. Hairdryers are provided for your convenience in the top right hand drawer of your dresser. If you require electrical medical equipment, please notify the Reservation Department as soon as possible.

GOING ASHORE

Wait in public areas or in your suite until an announcement is made with instructions to disembark. Sailing times for each port are listed in the Daily Programme. Please note sailing times and ensure that you return back to the vessel at least 30 minutes prior to departure. In some ports a passport or port landing card must be carried when going ashore. This will be announced over the PA System if required. If the ship is in a remote area and you hear a continuous blast of the ship's horn then please return immediately to the landing site. When leaving the ship at any time while in port always ensure you have checked IN/OUT at the gangway.

HAIR & BEAUTY SALON

MS Island Sky has a hairdresser providing haircuts and hairstyling. Some beauty treatments and massage are also available. Appointments for hair styling can be made on board only by dialling 9 / 301 from you cabin or at the Reception Desk. Fees for all treatments are available at Reception and will be charged to your onboard account. Each cabin is equipped with a hairdryer, this can be found in the right hand top drawer of the dresser.

HEALTH & HYGIENE

In order to maintain health standards you will find hand sanitizers at key positions around the ship particularly at the entrance to restaurants and near the gangway. We kindly ask you to use these regularly.

LAUNDRY SERVICE

Laundry service is available on board. Laundry bags and a price list can be found in the wardrobe in your cabin. Please complete the laundry list and leave it together with the bag of dirty laundry on your bed. Your laundered items will be returned within 24 hours. There are no public launderette or ironing facilities on board. In the interest of safety we ask that you do not use an electric iron in your suite. An ironing service is available at reasonable cost. Dry cleaning facilities are not available on board. In the interest of the environment, towels will not be automatically changed every day. We ask that you put used towels on the bathroom floor if you wish them to be changed for fresh towels. Towels left hanging on the towel rack will not be changed.

LIFT

All passenger decks can be reached by lift/elevator. Please do not use the elevator in the case of a fire or an emergency.

LOST PROPERTY

Before you disembark the ship, please check your cabin to ensure you do not leave anything behind. On board the ship, any liquids, cosmetics, paper(s) and perishable items left behind will be disposed of immediately. Any books left on board the ship will be incorporated into the ship's library or donated to charity. Other items left behind on the ship will be kept on board for 1 month or 2 cruises (whichever is the longer period), and after this period, any unclaimed items will be given to a local charity at the next main port the ship visits. If you discover you have left any items behind, please contact Noble Caledonia within 21 days of disembarking. If we are able to recover your item(s) we will contact you to arrange delivery or collection, and any costs incurred will be at your own expense.

MAIL

Although reception staff are happy to post letters on your behalf, they may not be able to do so straightaway or at the port of call at which you make such a request. Some postal services are unreliable and many letters or postcards that you ask to be delivered on your behalf may be delayed or even lost en route. Under no circumstances can we be held liable for such occurrences.

MEDICAL FACILITIES

Medical services are available 24hours a day. There is a doctor on board, and crew members are trained in first aid. Cabin visits by the ship's doctor are available. Please note that all consultations and services are charged for. To arrange an appointment with the ship's doctor please contact Reception by dialing 9/301* or in an emergency 500. It takes some people longer to find their sea legs. Sea sickness tablets are available from Reception, and should be taken at least one hour prior to departure.

MINI BAR

For your convenience a Mini Bar facility has been set up in your suite on a chargeable basis. Items consumed during the cruise will be charged to your onboard account. Your Stewardess will restock your mini bar on a daily basis and replenish consumed items. The mini bar price list is placed in the cabinet of your mini bar. The final statement will be delivered to your cabin in the early morning of your disembarkation.

NEWS

News channels are available on your cabin TV and in addition daily news bulletins can be found at Reception and in The Library.

NOBLE CALEDONIA TEAM

Throughout your cruise you will be accompanied by your Noble Caledonia team who will be happy to assist you with any queries or requests you may have.

ONBOARD ACCOUNT

All passengers will have their own "ship account" which allows you to sign a receipt for any expenses and then settle your bill at the Reception Desk at the end of the cruise. You will need to register your card at Reception shortly after sailing. If you are sharing a suite with a friend and would like separate bills, please inform Reception. Prices on board are shown in British Pounds. All final accounts will be presented in British Pounds. Your ship's account can be paid by: • Credit Card (Visa, MasterCard or American Express). A 2% charge will be applied to all payments made by credit card. By their bank. • Cash (British Pounds, Euros or US Dollars). • Travellers' Cheques (British Pounds, US Dollars or Euros). Debit cards and prepaid credit cards are not normally accepted.

PASSPORTS

All Passports are collected by the Purser upon embarkation. Passports are necessary to facilitate immigration formalities at each port of call and are returned at the end of the cruise.

PUBLIC AREAS

The Club – Located on Deck 4 aft, The Club features the main bar and a 24 hour tea and coffee station. A quiet place to meet friends or relax during the day. In the evening our onboard resident pianist plays before and after dinner.

The Library – Located on Deck 4 aft. In The Library you can find a well stocked selection of reference books pertaining to the destinations. Fiction books, games and playing cards are also available for your pleasure. Novels brought on board may be exchanged with other books in the paperback library. Should you wish to donate any books which you may have brought with you, we will be happy to add these for the pleasure of future guests. Reference books may not be removed from the ship. In addition, a selection of DVDs are available to play on your cabin TV. Please take the empty DVD box to Reception to collect the DVD disk. Please return all borrowed materials as soon as you have finished using them.

The Lounge – Located on Deck 3 aft. Daily Briefings by the Cruise Director or Expedition Leader are given in The Lounge which is fitted with multiple screens and presentation equipment. Informative talks from the Guest Speaker or Expedition Team are also given here.

Observation Deck & Sun Bathing – On the Explorer Deck, Deck 6, there is an area for sun loungers ideal for sunbathing as well as a forward facing observation platform.

Promenade Deck – MS Island Sky has a walk around Promenade Deck, on Deck 4. We kindly ask for your consideration to those guests whose cabins are located on and beneath the Promenade Deck. Please use the deck for walking / jogging between the hours of 08h30 – 21h00.

QUESTIONNAIRE

Your comments are important to us therefore before your cruise ends, you will receive a questionnaire. We are always looking for ways to improve your holiday experience and appreciate the time you take to complete the questionnaire. Kindly hand your completed questionnaire in at Reception.

SAFE

There is a safe in every suite located in the closet. The safe can be programmed with your own code, instructions can be found inside the closet door. We recommend that you leave money and other valuables in the safe. Kindly remember to remove all items from the safe before disembarking the ship at the end of your cruise.

SAFETY DRILL & SAFETY

International Maritime Law requires a lifeboat safety drill to take place prior to sailing. All guests must attend this compulsory and important exercise. Please listen for the announcements. During the drill, all ships services will be suspended. Your assigned lifeboat station, location of your life jacket and the signal for lifeboat and fire drills are clearly explained on the emergency card posted on the back of your suite's door. Life jackets are located in your suite. During the safety drill you will be shown how to wear the life jacket. It is essential that you take certain safety precautions while on board: • Walk, never run and be especially careful on wet and slippery decks. • Ladies are advised to wear low heeled shoes especially on deck. • Footwear should be worn at all times. • Hold on to the handrails in passageways and stairways.

SHIP'S ID CARD

These personal ID cards with essential information are issued to each guest during embarkation. Please ensure you remember to check in and out at the gangway with the crew member on duty in order to ensure that you are on board prior to sailing.

SMOKING POLICY

The MS Island Sky offers a smoke-free cruise environment. Smoking is not permitted inside the ship, including the balcony areas. Smoking is only permitted in the designated area outside on Deck 4 aft. Please never throw any cigarette ends overboard – the breeze could carry the smouldering end back on board and start a fire. We thank you for your cooperation in this matter.

TELEPHONE CALLS

Calls to other cabins can be made free of charge by dialing the cabin number. Lift the handset and dial the cabin number. If you wish to make an outside call, please check at Reception to purchase a prepaid telephone card and instructions. Costs are available from Reception and charges are automatically billed to your onboard account.

TELEPHONE DIRECTORY
THE CLUB Ext: 401
RECEPTION Ext: 9/301
RECEPTION AFTER HOURS Ext: 500/501
THE RESTAURANT Ext: 211
SUITE STEWARD/ESS Ext: 9/301
IN CASE OF AN EMERGENCY Ext: 500/501
HOSPITAL Ext: 201

TELEVISION

All suites are equipped with a flat screen television with a built-in DVD player which can also play CD's. DVD's are available to borrow from The Library, please take the empty DVD box to Reception to collect the DVD disk. DVDs are configured to Region 2.

TOILETRIES

Molton Brown shampoo, hand soap and shower gel are provided in your bathroom. If you have forgotten anything ie. toothpaste, please ask Reception, who have a selection of items available for purchase.

VISITORS

For the safety and security of all passengers no visitors are allowed on board the ship.

VISITING THE BRIDGE

At times Bridge visits may be possible. If visiting the Bridge, please note this is a working area and access may sometimes be restricted.

WAKE UP CALL

Wake up calls can be requested through the Reception Desk by dialling 9 or 301 before 11pm.

WATER

Currently the MS Island Sky uses 54,000 bottles of water a year. In order to reduce the damage caused to the environment by waste plastic, we are replacing plastic bottled water where possible with reusable water bottles. The water bottles are for your use during the cruise and we kindly ask you leave them in your cabin at the end of the cruise. The bottles can be filled from the tap – the tap water is safe to drink – or from the water station in The Club. Some bottled water will be available in your cabin on arrival and can be replenished upon request.

ZODIAC OR LOCAL BOATS TO TENDER ASHORE

Some destinations may require the use of the ship's Zodiacs or local tender boats to go ashore. Guests will be advised where and when to meet the Zodiac or local tender boat to go ashore. Please ensure that your hands are free at all times and accept the assistance given by the crew on board the MS Island Sky when boarding tenders / Zodiacs. A Zodiac safety briefing will be given.

Please note:

The above information is accurate and correct to the best of our knowledge at the time of publishing. Noble Caledonia accepts no responsibility for any errors or omissions and none of the facilities or features of the vessel described herein which are not specifically described in our advertisements and on your holiday invoice as being included in your holiday price will be deemed to be included in your holiday package. If you would like further information about the vessel or about any of your holiday arrangements, please do not hesitate to contact us.

Deck plans

Deckplan up to February 2018

Deckplan from March 2018
Onboard Team
Rosemary Legrand

Rosemary is a former nursery owner and daughter of the late George Hyde, who was a hybridist of azaleas and rhododendrons. Many of his award winning hybrid plants can be seen at the Royal Horticultural Society's gardens at Wisley, Surrey, the de Rothschild rhododendron gardens at Exbury, Hampshire, and the National Trust Gardens at Kingston Lacy in Dorset.

Rosemary had the honour of presenting H M The Queen with a collection of her late Father's azaleas named after the Queen's former Head Gardener, Fred Nutbeam, at Chelsea Flower Show in 1996.

Her enjoyment of photography is used to great effect in creating the atmosphere of the gardens she discusses in her range of illustrated talks. She has travelled extensively to gardens in many parts of the world to amass a substantial library of pictures.

Rosemary is an experienced public speaker and has given presentations to a wide range of organisations since 1992. She is on the RHS Speakers Register, is a NADFAS Area Speaker, and wrote a number of contributions for the book, 1001 Gardens you must see before you die, and a recent article for the Royal Horticultural Society Rhododendron, Camellia and Magnolia 2014 Year Book.

Rosemary Legrand will be on the following tour dates:

1

to

15

May 2018
Tour Extensions
27th April to 1st May 2018

The Itinerary

Day 1 London to Frascati. Fly by scheduled flight to Rome. On arrival transfer to our hotel for a four night stay. Settle into your room before meeting for dinner tonight.

Day 2 Villa Landriana. After breakfast we head for the city of Ardea to visit the magnificent Gardens of Landriana which are considered one of the most impressive gardens in Italy. Created in 1956, the 10 hectares of garden space were created by an English landscape designer named Russell Page who divided the garden into 32 different "rooms" with specific characteristics, such as the valley of ancient roses, the orange garden and the blue lawn. Return to the hotel for a free afternoon before meeting tonight for dinner.

Day 3 Tivoli. Today we visit two magnificent villas in Tivoli. The Villa Adriana is an exceptional complex of classical buildings created in the 2nd century A.D. by the Roman Emperor Hadrian. We will have time to enjoy some lunch in the town of Tivoli before we continue to Villa d'Este, masterpiece of the Italian Garden and a UNESCO World Heritage Site. Return to the hotel this afternoon and enjoy a free evening.

Day 4 Frascati. Enjoy a full day at leisure. We will meet tonight for dinner.

Day 5 Frascati to Naples. After a leisurely breakfast in the hotel we will check-out and drive to the MS Island Sky, stopping en-route for lunch.

Prices per person based on double occupancy

| Category | Price |
| --- | --- |
| Twin | £765 |
| Single | £995 |

Price includes: Four nights accommodation at the Grand Hotel Villa Tuscolana on a bed and breakfast basis, dinner on days 1, 2 and 4, lunches on days 2, 3 and 5, excursions, Tour Manager, gratuities.

Not Included: Travel insurance.
Book with Confidence
Speak to one of our advisors on 020 7752 0000