New Zealand Family & Friends
Good evening everyone! It's currently 10.25pm on Wednesday 17th June. I hope everyone reading this is feeling fit and healthy. I'm starting to discover muscles I never knew I had from working in my new role. I had my first proper delivery run on Friday evening, when I was called in as a late replacement. Firstly you load your ambient goods, then closer to departure time you load your chilled and frozen goods. Obviously you load in such a way that you can take the crates off the top of the piles in the order you deliver them. You can imagine my feelings when I found myself in the dark, it started to rain, and the powers-that-be decided to close the M20 on me between Hythe and Ashford. The satnav we are supplied with started to become very confused, but I was fortunate in that I did know an alternative route. Yesterday I carried out my first 'official' delivery round, and I visited parts of Kent that I've never been to before. The likes of Pluckley, Sandhurst, Cranbrook and others were all new to me. I realise now why Kent is called the Garden of England. The only part I recognised was driving through Tenterden and Rolvenden, for reasons that some of you will undoubtedly work out. My only major error was that, having completed my last delivery, I set the satnav for "home". I had presumed that would be the loading bay of the superstore where I had begun, but sadly it had been accidentally set for elsewhere. The supermarket is able to log-in and view your dashboard camera and they could see that I was going in the wrong direction. I was asked if I liked The Beatles' music when I eventually returned. I thought this was a strange question, but then the punchline came of, "well you seemed to enjoy your Magical Mystery Tour!" I have now learnt the address of where I should return to for future reference.
In other news since I last wrote, I had the electricians return today to complete the unexpectedly large amount of work that the house required. Sadly, the kitchen lights are now so bright that I can see all the parts I missed when I thought I had thoroughly cleaned it. A man's work is never done! I also took advantage of being allowed a 'support bubble' as per the latest government guidelines and had a good friend come to visit me at the weekend. It was wonderful to be able to talk to someone face-to-face again for the first time since mid-March. The weather was mixed on Saturday, but glorious on Sunday. Finding places that are open is a rather difficult task at the moment. My friend, Hazel, is a keen naturalist, and so I checked that the RSPB reserve at Blean Woods, near Canterbury, was open and we ventured up there. A long and enjoyable walk ensued with me being the irritating child and asking what every bird call was. On the way back to Hythe we paused at Sandling railway station and walked along the footpath that follows the route of the disused branch line that used to run to Sandgate. Steps have been laid to take you over the path of Hayne Tunnel and the views as the light shown through the trees were beautiful. Finally, having dodged the showers, we stood on the damp shingle on Hythe seafront and treated ourselves to an ice cream.
Sunday involved orchid spotting. Hazel had heard that a rare Monkey Orchid (Orchis simia), had been seen in a meadow near Elham. I've never had a clue about wild flowers, but I could certainly appreciate that the meadow was extremely colourful with swathes of Pyramidal Orchid (Anacamptis pyramidalis) among others. After some searching we found a couple of the Monkey Orchids and even I could tell, just about, that they were different from all the others. After that success, we headed back to Hythe and walked from Palmarsh to West Hythe, on a route I had previously surveyed. We passed by a large wooden box on a telegraph pole, which housed a family of kestrels. The chicks were happy to poke their faces out of the box for a photo. Our attention was also drawn to a yellowhammer, calling from a nearby tree. We then reached the Royal Military Canal at a point where there is a bar offering a take-away service (as I said, I had carefully surveyed the route before) and with a refreshing drink in hand we continued along the northern towpath of the canal until we reached the fence that marks the boundary of the Port Lympne Safari Park. I had promised Hazel we'd see some interesting wildlife on our walk, but I don't think she expected giraffes. They looked very content and I followed the recommendation on the sign and made a text message donation to the Safari Park. With that, Hazel headed home and I had an early night ahead of my 4.30am start on Monday.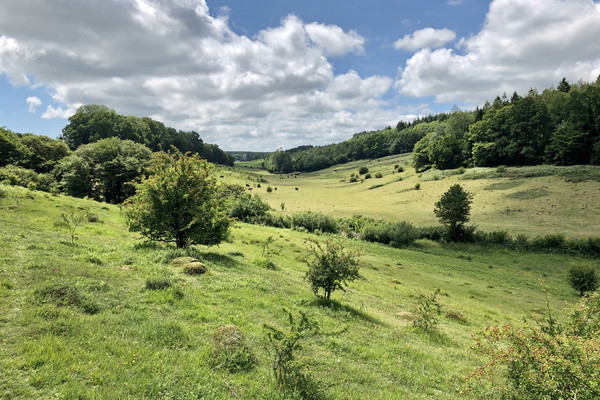 Searching for orchids in the Garden of England
I must also mention a few words of thanks and gratitude for the reaction to my last blog. I realise that many of you had presumed that I was simply furloughed and just meandering along waiting for the cruise industry to start again. I didn't want to say anything until I had found alternative work, so it was a relief to be able to explain the current situation. I have every confidence that we will be up and running again sooner rather than later. Yesterday I had very lengthy phone conversations with (Noble Caledonia legend) Chantal Cookson and (Head of Fleet Operations) Mike Deegan. Both were very positive and also delighted to hear that I had found something to keep me going until we can re-commence sailing. It was only a phone call, but when people you admire and respect reach out to you, then it really does make a difference.
Now, where was I… ah yes, in New Zealand. I have just finished writing the new quiz, which I have decided to theme on New Zealand to tie in with this couple of blogs.
When I first told a friend I was going to New Zealand, they said that I must remember that, when I arrive there, I should turn my watch forward 13 hours and back 50 years. This had rather stuck in my mind, but when I finally made it to New Zealand I realised it was true, but not how I'd imagined. I thought the implication was that New Zealand had not grasped modern technology and such things. Instead, it was that what are now often sadly considered old-fashioned values were still prevalent in society. Neighbours talk to each other, people help each other out, no-one is in too much of a rush, everyone is polite and they all look out for one another. It put into context that in the first house I bought, a terraced house in Littlehampton, I lived there for nine years and didn't even know a single one of my neighbours.
As mentioned in the previous blog, I made a brief visit to New Zealand in 2010/11. I was aware that I had some distant New Zealand relatives, but I had been told that the matriarch of the New Zealand branch of the family was away at the time, and I also knew that I wouldn't have time to see them anyway. When I returned on my third Noble Caledonia cruise in 2014/15, I was determined to change that.
My immediate family is very small on my mother's side. At this time, I have just the one uncle and a grandmother. My grandma, who will be 95 this year, is an only child. Therefore, I have to go all the way back to my great-grandparents and see if they have any brothers or sisters in the hope of finding any cousins on that side. Whilst I am still to research my grandma's mother (who is the only great-grandparent I met, as she passed away when I was five years old), I have managed to find out about my great-grandfather. He was the second of six children – Jo, Dick, Kathleen, Doris, Lloyd and Keith. The youngest of those, Keith, was born in February 1900.
Gosh, I got that far writing this blog and had a quick scan through the photos and felt emotional just thinking about what I want to write about. It's now gone midnight but I promised Laura I would have this sent to her before I go to sleep… Whilst in New Zealand, I was given a copy of the double-sided sheet that was handed out at Keith's funeral in 1975. The phrasing still makes me laugh to this day, "He was the youngest of six and there began a chequered life. He attended Bristol Grammar School which was not a happy arrangement and at the age of fourteen he was sent to West Buckland, a boarding school in Devon. In 1918, he joined the Royal Flying Corps and earned his pilot's wings just as the war ended. At this time he decided Canada was calling. He spent three years in lumber camps out of Regina and Winnipeg, returned to England for his brother's wedding, then back to Canada and Australia called. He sailed from Vancouver in 1924, the ship called in at Auckland, and he decided to disembark and stay".
I can only feel green with envy that it was possible to do that in those days. I think of all the protocols and documentation we have to go through in advance of every port of call. Imagine if one of our passengers came by Reception on arrival in a port and said that they fancied disembarking and never going home. The local authorities would go into meltdown! Fortunately, Keith encountered no such problems. He settled down and married in 1926, passing the exam to become the skipper of the Auckland-Birkenhead ferry. A year later, on 11th May 1927, Keith's wife, Mabel, gave birth to Margaret. Margaret became this famous "Cousin Margaret" that I had known about all my life. Technically she is my Grandma's (first) cousin, and therefore my first-cousin-twice-removed. Grandma gave me her phone number and said that I should call her when I returned to New Zealand in December 2014 for the 'Caledonian Sky' Christmas & New Year cruise. Margaret has had four children: Richard, Erik, Christo and Kate. Erik lives in Vancouver and Margaret would spend alternate Christmases with him and his wife, Val, which was why she was not in New Zealand on my first visit in 2010/11. However, this time I knew she would be there. I remember the day distinctly. It was Saturday 10th January 2015 and we docked in Mount Maunganui. That morning I had welcomed a former colleague from my 'Spirit of Adventure' days, Sian and her son Arion, on board. I hadn't seen Sian for nearly ten years and was so thrilled to see her again now she has settled in New Zealand. That is the beauty of working at sea. You meet so many people from all over the world. Admittedly, you only find out who your true friends are a year or so after you move to another ship, but Sian is one of the best and as mentioned in the quiz, I was thrilled to be able to take her and her children away for a summer getaway back in late January this year.
Sian and Arion visiting me on Caledonian Sky
Later that day, I stood incredibly nervously at the gangway of 'Caledonian Sky' waiting for Cousin Margaret to appear. I had no idea who she was bringing with her, and it included two of her children, Richard and Kate, their respective partners, and Kate's son, Patrick. As you can imagine, I felt overwhelmed to meet these amazing relatives who I'd only occasionally heard about until recently. At the time I was 37 and Patrick was just 14. It felt incredible to meet someone on the other side of the world who had the same great-great-grandparents as me. I couldn't help but wonder what our great-grandfathers, Dick and Keith, would have thought if they'd been told in 1915 that in one hundred years' time their respective great-grandsons would meet for the first time in New Zealand. My other memory of that day is being slightly ashamed that they had come all the way from Rotorua and I couldn't offer them any lunch as all the passengers had gone the opposite way to enjoy a full-day excursion to Rotorua. As it was only my third Noble Caledonia cruise I didn't feel in a position to ask the galley to cook for us!
As I mentioned last time, once I disembarked 'Caledonian Sky' I spent a few days with Captain Frank Allica and his family. I did my day-trip on the 'Northern Explorer' train from Auckland to Wellington, and a couple of days later I hired a convertible car and drove to Rotorua to spend longer with the family I had just met. Hiring a convertible sounds flash, but I wasn't sure if I'd ever have the opportunity to visit New Zealand again and I wanted to make the most of the scenery. With time in hand I drove south from Auckland to Te Awamutu. This was one of the only places I had heard of in New Zealand before I went there. The reason is that it is the birthplace of one of my favourite bands, 'Crowded House'. I made a brief visit to the museum which has a permanent display in honour of founding member Neil Finn (who joined Fleetwood Mac on their live tour at Wembley Stadium last year) and then continued via Cambridge to Rotorua.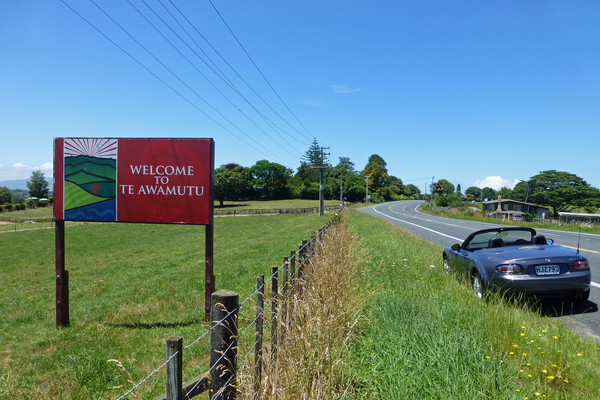 Pausing in my car to pay homage to 'Crowded House'
I had heard that New Zealand hospitality was legendary, but even I wasn't prepared for the open-arms welcome that I received from these relatives that I barely knew. Margaret showed me the room where I would be staying for a few days and then asked me what I had seen of New Zealand so far. I had already explained to her about the cruises when she had come to visit the ship, so I told her about my train ride from Auckland to Wellington which I had taken the day before arriving at her house. Margaret asked me which part of the long train journey I had found most interesting. I mentioned that the tragedy of Tangiwai had felt very poignant to me. Margaret made us both a cup of tea (via precariously balancing of the edge of her kitchen drawers rather than using a step) and her gorgeous beagle, Barnaby, curled up at her feet. Over the next hour she told me the story of the Tangiwai disaster, and it has never left me. Just the thought of her words is something that, as I sit here now at 2.01am on Thursday morning, sends shivers down my spine. However, I have again reached the limit for this blog so I am going to have to extend to a third week – but I promise next week will be the concluding part of what has become a trilogy. All the very best to everyone until then…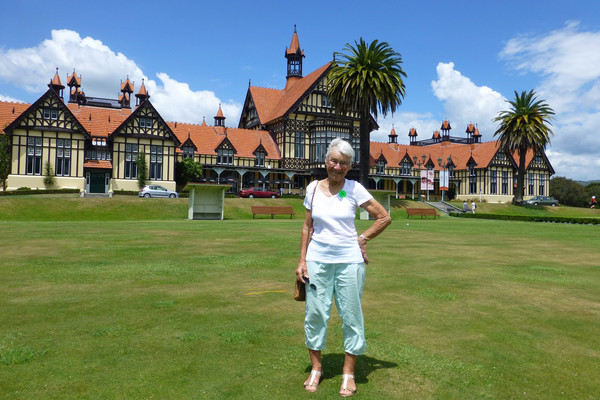 Outside the former Rotorua Bath House with Margaret