New Blog, New Job and New Zealand
A very good afternoon everyone. It's currently tea-time on Wednesday 10th June and I've just made a coffee to sit down and see where my mind takes me on this week's blog. As always, thank you for the kind correspondence to the previous blog. I received a wonderful email from one of our passengers, Veronica, daughter of the Rev. W. Awdry. She told me that her father sent the first four books in the Thomas series to HM The Queen as a first birthday gift for Prince Charles, who in turn has said that he read them to his younger brothers, Andrew and Edward. Clearly I was in good company to also use them as a tool for learning to read. The puzzle I always had was how my mother used to be able to know the word I was struggling with, when she wasn't looking at the page. I guess that when both your parents are teachers they develop a sixth sense!
Since I last wrote, quite a lot has changed for me personally. In light of no-one being able to tell when the Coronavirus pandemic will be over, and the UK government's furlough scheme not being available to those whose job is "at sea", I have had no choice but to seek alternative employment until we can start operating again. That is one of many reasons why I am incredibly grateful to Laura Cochrane for asking me to write this blog. It has been a hard slog to apply for all manner of jobs, at a time when recruitment agencies are understandably short-staffed, resulting in slow or no responses. Another issue I hadn't thought of when I started applying in mid-March, is that many of the temporary jobs that were advertised as a direct result of the pandemic, were filled by people who were furloughed from their original jobs. Obviously, my skills and experience all lie in the areas of travel, tourism, hospitality and event management – all of which are temporarily closed down. Well over a hundred applications, hours of psychometric tests, various interviews, and much frustration ensued. For my own amusement, more than anything, I applied to be the postman on Tresco in the Isles of Scilly. To my surprise, this was the first job I was offered! I spoke with my good friend Mike Nelhams, legendary Curator of Tresco Abbey Gardens, but he pointed out that even if I took the role, I would have to self-isolate for two weeks on the island before I could start work. The thought of spending the summer working two hours a day on Tresco was incredibly appealing, and I even negotiated with Royal Mail that they would pay for my flight to the island. However, the instability of the current situation meant that finally my head ruled my heart and I had to decline the offer. Mike, who also leads tours of the Isles of Scilly for Noble Caledonia with Chantal Cookson, had been hoping that my presence would solve the problem of the lack of an organist for St Nicholas's Church. The pipe organ dates back to 1886. Whilst I might be able to get away with busking on a piano, I become rather scared on a pipe organ when I see the array of pedals beneath me. The last time I played a pipe organ was during a magical September day on Lundy Island, which David and Winifred Simmonds kindly reminded me of in an email this week.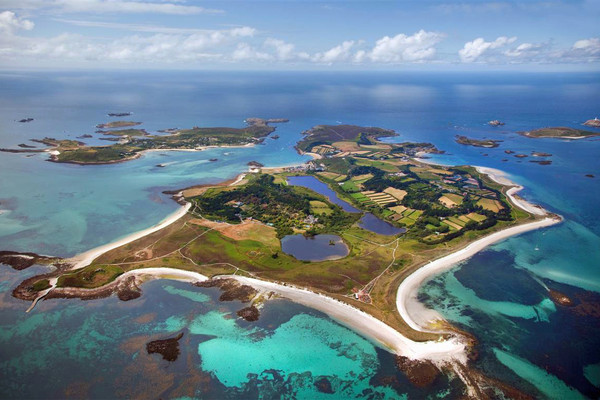 Postman job on Tresco is still available!
The true low-point of my applying for jobs was when a train operator (who I won't name) turned me down as they felt I hadn't shown enough enthusiasm for rail transport. Perhaps I should have sent them the link to these blogs! I think that part of the reason I have been challenging myself to litter-picking the entire length of the Romney, Hythe & Dymchurch Railway has been to make myself think that I have a job to do. Having completed the Hythe to New Romney section, I decided to head further afield last weekend and complete Romney Sands to New Romney. I set out on Sunday afternoon thinking it would only take a couple of hours. Six hours later, and completely drenched from numerous downpours that hadn't been forecast, I waded into New Romney station pulling three sacks of rubbish behind me. It was only then that I remembered I had put my washing on the line at home. Still, at least it was completed, and now only the final section from Romney Sands to Dungeness remains to be finished.
As I looked towards Hythe from Greatstone, I should have realised what was about to happen!
Finally, on the job front, I found success. Whilst I had applied for all sorts of roles in various industries, I was particularly keen to do something that would make a difference during these times we are living through. Many of you reading this will know that I take immense pride in the work of the Noble Caledonia Charitable Trust, and I am fully aware, never more so than right now, of the good fortune I have to do the job I (usually) do and visit wondrous places all around the world. What I love about Noble Caledonia is how they care for the places they visit. In some areas, cruising has a poor reputation, brought on by the large ships. I can understand the frustration that locals feel. A huge ship arrives in port with thousands of passengers. Yes, they all go ashore, but the vast majority will go on a shore excursion where they have paid said cruise line directly to participate. Very rarely will the excursion include lunch ashore, and, other than the fee paid to the guides and drivers, the local economy does not benefit as much as it should. At the other end of the spectrum, you have Noble Caledonia who go out of their way to establish worthwhile charitable projects in countries we visit that do not always have the means to provide support to the remote areas we encounter. There is a whole section on the Noble Caledonia website dedicated to the charitable trust, and I am delighted to have been able to raise thousands of pounds over the years through my Sunday Services to support the wonderful work that the Trust carries out. With that spirit of wanting to do something constructive, as well as earn a living, I applied to answer the call to "help feed the nation", and so last Friday I began work as a delivery driver for a national supermarket. I probably shouldn't mention which one it is, but many of you reading this will have tasted the difference and have enjoyed living well for less. Hopefully that's enough of a clue! You will be relieved to know that you are not thrown the keys and let loose on the nation's roads in a 3½ ton truck on your first day. I started on Friday (5th June) and have been fascinated to learn the process by which deliveries are assembled. It really is a military style operation with a fabulous array of characters making up the cast. Next week, all being well, I will be out on the road. So, if you live in mid or east Kent, and manage to obtain one of the delivery slots, you might be in for a surprise! Even more of a surprise to my Noble Caledonia colleagues has been that these last three days have had me set my alarm for 4.30am in order to sign-in at work before 6am. I have a fully deserved reputation for not being a morning person – but I always tried to make up for it by being a highly active evening person. Hopefully all will continue to go well, and I will have the chance to meet many lovely people whilst out on the road. Wish me luck!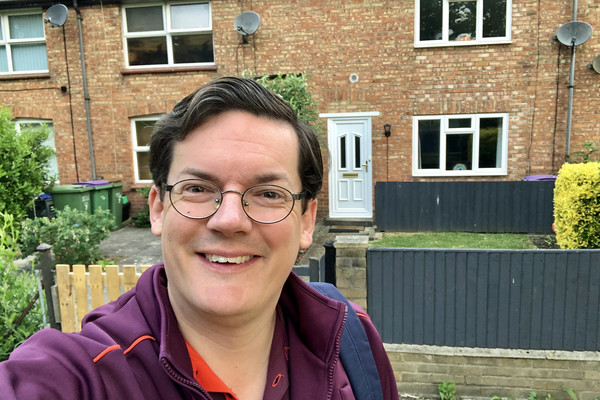 The lesser-spotted Neil heading to work at 5.30 this morning.
So, already half-way through this week's blog and I've not started on the travel part yet. I can sense Laura proof-reading this and willing me to get on with it. Today's inspiration comes from a phone call I received on Monday evening from my mother. She is the only person who rings my house phone, as opposed to my mobile, in order to ensure that I get some exercise by running down the stairs to answer it before she hangs up. When mum rang on Monday it was to recommend a television programme that was starting at 7pm on Channel 5. The programme is one of a series entitled, "World's Most Scenic Railway Journeys" and is narrated by the affable Bill Nighy. Monday's episode featured the 'Northern Explorer' which runs from Auckland to Wellington, and vice versa. I was grateful to my mother for notifying me, as it is a train ride that I once did myself, and I'm delighted to see that a future Noble Caledonia holiday will include it…
I had been to New Zealand once before, back in December 2010 and January 2011 with a previous company. I naïvely thought that I had therefore "done" New Zealand. Looking back, we only visited Milford Sound, Dunedin, Wellington, Tauranga, Auckland and Bay of Islands. The weather was fairly grotty and I was busy with all the Christmas and New Year festivities. On my third ever cruise with Noble Caledonia I was sent back to New Zealand for a couple of cruises on 'Caledonian Sky'. The first was the Christmas 2014 cruise from Auckland to Milford Sound, and then the return cruise to Auckland overseeing a charter. I can well recall sitting in Viaduct Harbour, Auckland, the evening before the passengers were due to arrive and one of my colleagues, Danny Edmunds, asked me what I knew about New Zealand. After my extremely short monologue, he rightly decided that I had not seen New Zealand properly and I was eternally grateful for the detailed descriptions that followed. I have no doubt that many readers of this blog have been to New Zealand, and even joined one of our cruises along this most majestic of coastlines. After those two cruises, I was fortunate enough to return to New Zealand for Christmas 2018 and again earlier this year for a January trip from Auckland to Christchurch.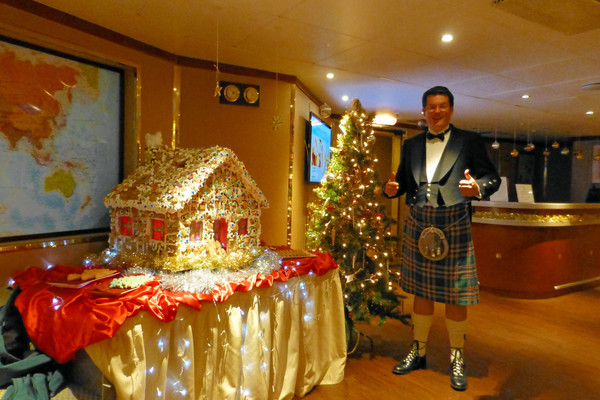 Celebrating New year's Eve in Doubtful Sound
That most recent trip which, although it was this year, now seems an eternity ago, was quite a challenge. The brilliant Captain, Ulf-Peter Lindström, was rightly concerned about a very nasty looking weather system in the Tasman Sea. It is often the case that the Pacific side of New Zealand is calmer than the Tasman Sea side. We were scheduled to spend a day at sea heading down the west coast of the south island. One of the major benefits of cruising in one country is that you tend to have the same local agency in all ports. Carole and Stewart are a highly inventive husband and wife team who look after our New Zealand ports of call. With permission from the Captain, and assistance from the 2nd Officer, I drew up an alternative route for the ship which would mean it would become the "Morecambe & Wise Cruise"… we would do all the right ports, but not necessarily in the right order. With great assistance from Carole in rearranging the guides and coaches, and co-operation from the numerous harbour masters, we re-wrote the itinerary so that we would sail down the east coast of the south island, and then just have a short hop up the west coast to visit Fiordland before back-tracking to end in Dunedin. The plan worked brilliantly, and resulted in warm summer days throughout the south island. Whenever I make changes to an itinerary, it is always with a sense of trepidation. You know you are doing it for the right reasons, to give the best possible chance to the passengers to have the maximum benefit of the destinations, but the weather can easily change at the last minute and ruin such plans. I still feel a tremendous buzz whenever I have made a change and then open the curtains to see a sunny day on calm seas as a result.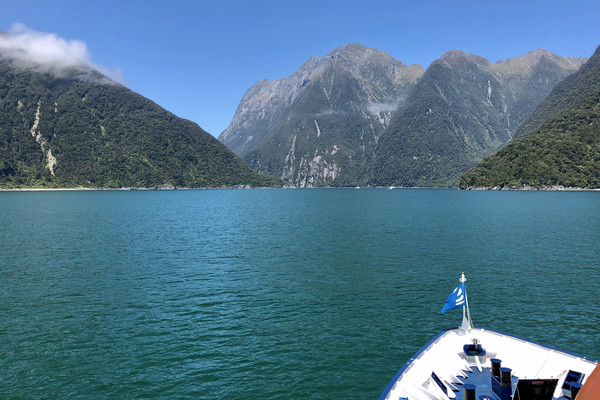 A stunning flat calm sea and sunny skies as Caledonian Sky approaches Milford Sound on 16th January 2020
After that first New Zealand trip with Noble Caledonia, I disembarked in Auckland in mid-January. As it had been a charter, I had no passengers to escort home, and was therefore allowed to spend a few days doing my own thing before heading back to England. One of my former Captains in both a previous company and on Noble Caledonia – and the man who encouraged me to apply to join Noble Caledonia – is the legendary Captain Frank Allica. A Melburnian by birth, Captain Frank now resides in Takapuna, across the bridge (or ferry) from Auckland, as well as having a house up in Bay of Islands. Frank and his wife Jenny were always fabulous company and he was very much a father-figure to me. I still have passengers from our previous company write to me and say how much they loved the combination of the two of us working together – and I loved it too. The only problem was when we cruised together when The Ashes were taking place. On one occasion, the famous time when Monty Panesar managed to hold out in Cardiff to salvage a draw for England, we were sailing in the Norwegian fjords. With the high mountains surrounding us we lost the satellite television signal. Captain Frank ran to the bridge (the pilot was in command at the time) and asked if we could navigate up the fjord on the other side. This was done and the signal was restored in time to see Monty complete the innings! If the series was being played in Australia, the passengers (who were overwhelmingly British) would know which team had fared better overnight by whose voice they heard first on the public address system in the morning. If it was me, then England had been on form, if it was Captain Frank, then the Aussies held the upper hand. Happy memories!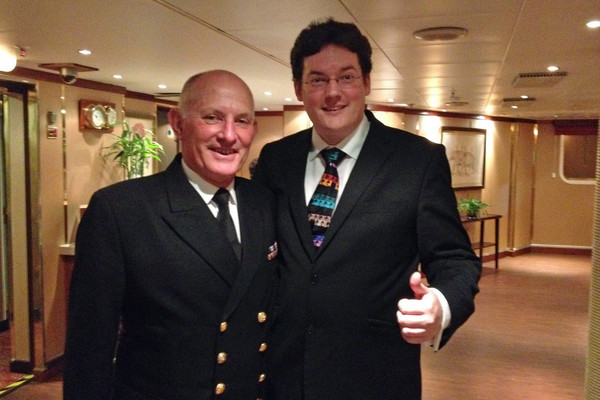 Reunited with Captain Frank Allica on Caledonian Sky whilst in Komodo on 21st January 2014
After I disembarked 'Caledonian Sky' in Auckland in January 2015, I was kindly invited to stay with Captain Frank and Jenny. I used the opportunity to visit their families, some of whom I had met before when they had joined Captain Frank and Jenny on previous cruises. However, the wanderlust that characterises most people in my role meant I wanted to take the chance to see more. I had had a fascinating time exploring the coast of New Zealand, visiting the likes of Bay of Islands, Rotorua, Napier, Wellington, Nelson, Ship Cove, Picton, Akaroa, Kaikoura, Christchurch, Dunedin, Stewart Island, Dusky Sound, etc, but I hadn't seen the inland part. I decided I needed a day-trip adventure. I caught the (very) early morning bus from Takapuna to Devonport and boarded the ferry over to central Auckland. Alighting from the ferry I walked over to the Britomart railway station and took my seat on the 'Northern Explorer' for the 423 mile journey south. Departure time was set for 7.45am, and we wouldn't arrive into Wellington until 6.25pm. En route we would stop at Papakura, Hamilton, Otorohanga (Waitomo), National Park, Ohakune, Palmerston North, Paraparaumu and finally Wellington. My plan was to then catch the bus from Wellington railway station to Wellington airport, fly back to Auckland airport, board the transfer to central Auckland, walk to the ferry terminal, sail back to Devonport, catch the bus back to Takapuna, and that would be my day trip ended. It was an adventure that would lead to me discovering things I never knew about my own family, and so much more. However, I have already reached the limit for this blog, so I will have to continue with the story next week.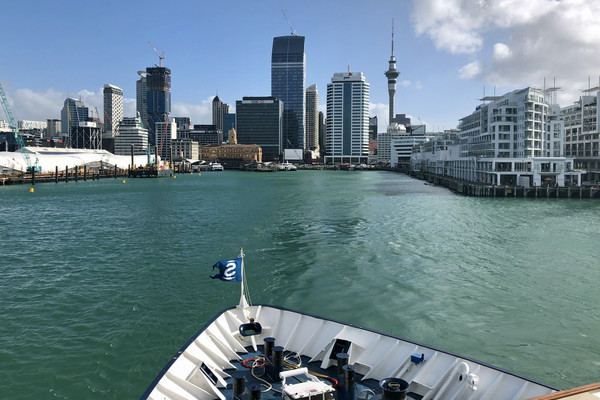 The Auckland skyline, as seen from a departing Caledonian Sky, on 6th January 2020
The tour of New Zealand that Noble Caledonia are operating next year is called "New Zealand by Road, Rail and Sea". It departs from London on 15th January 2021. The trip will include a journey on the 'Northern Explorer' from Hamilton to Wellington, through spectacular scenery, as well as many other great New Zealand railway journeys. The tour eventually ends in Christchurch, where you fly back to London.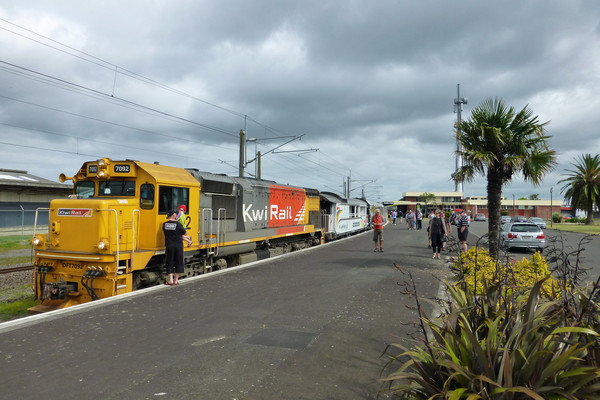 A brief stop in Hamilton during my trip on the 'Northern Explorer' in January 2015