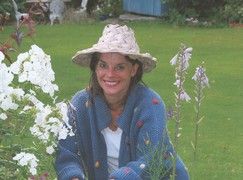 Dr Sue Thomas
Dr Sue Thomas lives in the beautiful countryside of Thomas Hardy's Wessex. She developed a keen interest in gardening from the age of five and won her first horticultural competition at the age of six - the spring bulb category in her primary school, with a daffodil.
She qualified as a doctor in 198, graduating from St Thomas' Hospital Medical School. During her 30 years as a GP Principal , and latterly senior Partner, at the Lilliput Surgery in Sandbanks Poole, she has devoted her spare time to gardening, studying garden design at the English Gardening School and Kingston Maurward, and creating award winning RHS Show Gardens. Retirement has allowed her to expand this interest.
She has spent much of her gardening time cultivating acid soils in Dorset and Devon, and so has a love of ericaceous plants, especially camellias.
She has also indulged another interest, in old buildings, restoring an eighteenth century house in historic Dartmouth over a period of fifteen years.
She has an enthusiasm for the natural world, and has travelled extensively in the Caribbean and the South Pacific in its pursuit.