Australian Coastal Discovery
An expedition from Papua New Guinea to Melbourne exploring Australia's many wonders aboard the MS Caledonian Sky
Voyages Aboard MS Island Sky, MS Hebridean Sky, MS Caledonian Sky
View
Download
Order brochure
View All
What is the best way to see Australia? To us the answer is simple, by sea. After all the vast majority of interest to see is either on Australia's islands, coast or immediate hinterland, and travelling by sea on a small ship with a fleet of Zodiacs opens up the area in the most perfect way. The next big question is which itinerary, the country is so large it's impossible to include all points of interest unless you are prepared to invest a number of months. We believe the best option is an itinerary that takes you from the extreme north of Queensland to the far south in the state of Victoria. After this the decisions come a little easier. Do we plan a mixture of the usual cities, towns and tourist haunts or do we concentrate our time on Australia's unique natural world. Our view is most certainly the latter, so much about this fascinating country's wildlife, geology and culture is unique and we have therefore designed this expedition to incorporate remote islands, natural parks and stunning landscapes allowing us to begin to understand what makes this vast New World so endlessly fascinating.
We will travel from Port Moresby in Papua New Guinea to Thursday Island, the most northerly point of Australia and from the very top of Australia we will journey all the way to its bottom. A momentous voyage along the entire length of its Pacific Ocean coast. In the Torres Strait islands archipelago, Australia's most northern frontier, life moves slowly and centuries old cultures are passed down in song. From Cape York we journey south visiting remote communities each with their own culture, seeing indigenous rock-art and exploring some fascinating national parks.
Our Zodiacs will be so valuable as we explore the off shore islands of the Great Barrier Reef, landing on remote beaches and taking in the sights which have not changed since Captain Cook landed here in the 18th century. There will be so many intriguing places to see as we make our way south, Dunk Island with its spectacular rainforest, the pristine Whitsundays in the heart of the Barrier Reef and Fraser Island, the largest sand island in the world and a UNESCO World Heritage Site.
Leaving the Queensland coast we enter New South Wales, a state with an equally splendid scenery and wildlife as well as some famous vineyards and botanic gardens, and lastly on to the state of Victoria. Here, Wilson's Promontory awaits, Australia's most southerly national park and a drive along the Great Ocean Road, surely Australia's most scenic journey. Our journey ends in the cosmopolitan city of Melbourne, having taken us some 2000 miles by sea. Travelling with our team of experts and being joined by guides and naturalists along the way, will make for a magical and enlightening experience 'Down Under'.
Useful links & Travel Advice
Please find a selection of useful websites to refer to for information from the Foreign & Commonwealth Office, on visa requirements, NHS travel health advice and other useful travel tips.
---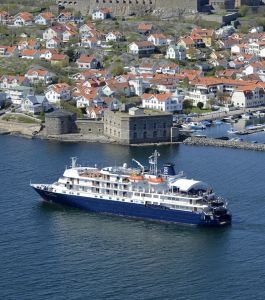 Caledonian Sky
The MS Caledonian Sky is one of our three flag ships and sister vessel to the MS Island Sky and MS Hebridean Sky. All three vessels were built in the same ship yard in Italy at similar times and share the same excellent attributes that make them three of the finest small ships in the world.
Itinerary
Day 1 London to Singapore.
Fly by scheduled flight.
Day 2 Singapore.
Arrive this afternoon and transfer to the Mandarin Oriental (or similar) for an overnight stay. The remainder of the day is free for independent exploration or to relax and enjoy the hotel facilities.
Day 3 Singapore to Port Moresby, Papua New Guinea.
Spend the morning at leisure. In the early afternoon we will take a city tour including the 53 hectare Botanical Garden and National Orchid Garden which displays over 1000 species of orchids. Continue to the exotic streets and stalls of "Little India" before visiting Kampong Glam, Thian Hock Keng Temple and the Sri Mariamman Hindu Temple in Chinatown. After the tour we transfer to the airport for our scheduled flight to Port Moresby.
Day 4 Port Moresby.
Arrive this morning and transfer to our hotel where day rooms will be ready for our use. In the late afternoon we will transfer to the MS Caledonian Sky which is moored in the city and sail this evening.
Day 5 At Sea.
Take the chance to relax on board, join the lecture programme or find a spot on deck.
Day 6 Thursday Island & Cape York, Australia.
Our Australian voyage starts on Thursday Island in the Torres Strait. The island's hidden past will be revealed on a coach tour this morning. Step back in time with a visit to Green Hill Fort, which was built in response to a Russian War scare. Once used as munitions storage space, the fort's underground tunnels and rooms today house the Torres Strait Museum, where you can see informative displays on the region's pearling, shipping and military history. We hope to continue to the Gab Titui Cultural Centre where we receive an insight into the Aboriginal art and culture of the Torres Strait islanders which depict myths and legends. Over lunch we will reposition to Cape York and, if weather permits, land on the northernmost tip of the Australian mainland for a choice of nature walks with the expedition team.
Day 7 Piper Islands, Queensland.
Cruising along the Cape York Peninsula we arrive at the Piper Islands National Park. These five islands are owned by the Kuuku Ya'u aboriginal people who have given us permission to visit. The islands are made up of low, vegetated cays and support over 75 species of seabirds, shorebirds and forest birds including terns, pied-imperial pigeons and beach stone-curlews whilst the islands support one of the largest roosting population of black noddy in Queensland. This is also an important nesting area for hawksbill turtle and green turtles have also been spotted in the waters around the island. We will use our Zodiacs to explore the coastline and land for nature walks.
Day 8 Lizard Island.
Designated as a National Park in 1937 and a Marine Park in 1974, Lizard Island boasts a wonderful number of natural wonders and is a lovely place to spend a day. The island was first visited by Captain Cook in 1770 and he named it after the large number of lizards he found here. We will use our Zodiacs to land on one of the sandy beaches where our naturalists will lead nature walks along the islands trails. Keen birders can keep an eye out for lesser golden plovers and pied imperial pigeons whilst we may see the yellow spotted monitor or another of the eleven species of lizard that reside here. Meanwhile the fringing reef offers a chance to snorkel and we may see the "Clam Garden" where we find giant clams up to two metres long living among an array of hard and soft coral. Those feeling active may wish to take a strenuous walk to the top of Cook's Look, the highest point on the island at 363 metres offering wonderful views over the island group and reef.
Day 9 Cooktown.
Modern day Cooktown is located on the site where, in 1770, Captain Cook brought the Endeavour for repairs after damaging the ship on the offshore reefs. Known as Waymbuurr in the native aboriginal language, it was a popular meeting place for the local tribes and when Cook arrived it was the first recorded meaningful meeting between the indigenous Australian population and Europeans. A morning walk will include the James Cook Museum, housed in a 19th century convent and showcasing the history of the town from Cook's arrival to the Palmer gold rush period of the late nineteenth century as well as insight into the culture and history of the indigenous Guugu Yimithiir aborigines. Also see the 150 hectare botanical gardens. We sail later in the afternoon allowing for free time to further explore.
Day 10 Dunk Island & Hinchinbrook Island.
Spend the morning on Dunk Island, a tropical rainforest island and the largest island in the Family Islands National Park. Known as Coonanglebah to the Djiru Aboriginal people, which translates as "the island of peace and plenty", it sums up this lovely location. On nature walks through the eucalypt forest we will keep an eye for the many species of birds, with over 100 species having been recorded on the island. Over lunch we will sail the short distance to to enjoy a local boat cruise in the Hinchinbrook Channel. Flanked by mountains on the island the scenic channel is home to mangroves and wildlife including snubfin dolphins and dugongs.
Day 11 Townsville.
We call to North Queensland's main city Townsville with its handsome esplanade and grand 19th century buildings. Gateway to the Great Barrier Reef and amidst the dry tropics, Townsville boasts some excellent museums and experiences and there will be a selection of excursions available. Visit the Billabong Sanctuary & Wildlife Park to learn more about the native wildlife; the Museum of Tropical Queenstown & Great Barrier Reef HQ where the story of HMS Pandora, sent to capture the mutinous Bounty crew, is revealed or discover Magnetic Island, lying offshore, with secluded beaches and dry tropic eucalypt woodlands.
Day 12 Whitsundays.
Located in the heart of the Great Barrier Reef are the 74 islands of the Whitsundays. Surrounded by warm tropical waters the majority of the islands are uninhabited and remain pristine and untouched. We enjoy a full day to explore and plan to land on one of the islands to enjoy nature walks with our team of on board naturalists or enjoy a swim or relax on one of the sandy beaches.
Day 13 Great Keppel Island.
After a morning at sea we arrive during lunch at Great Keppel Island, situated just above the Tropic of Capricorn and one of the 18 islands of the Keppel group. Fringed by turquoise waters, hard coral reefs and sun drenched beaches it looks like a perfect tropical island. On land the island covers over 1500 hectares with 90% of the interior made up of native bushland and winding walking trails which is abundant with wildlife. More than 100 species of bird life have been recorded including kookaburras, ospreys, beach curlews and rainbow lorikeets. We will spend the afternoon on nature walks, snorkelling on the reef or maybe choose to relax on one of the sandy beaches.
Day 14 Fraser Island.
At over 184,000 hectares Fraser Island is the largest sand island in the world and a UNESCO World Heritage Site. Created over hundreds of thousands of years by sand blown from the Australian mainland it is a wonder of freshwater lakes, crystal clear creeks and immense dunes of coloured sands which continue to evolve. It is also the only place in the world where rainforests are found growing on sand dunes whilst the wallum heaths on the islands interior provide magnificent displays of wildflowers in the spring. On shore we can see a profusion of wildlife including the infamous dingo whilst the waters are home to dugong and dolphins. The Great Sandy Strait that divides the island from the mainland is a recognised wetland area with mangrove colonies, seagrass beds and thousands of migratory seabirds. We will anchor in Kingfisher Bay and spend the day exploring this natural wonder on an island tour discovering the iconic Lake McKenzie.
Day 15 At Sea.
Spend the day at sea as we sail towards New South Wales.
Day 16 Expedition Cruising.
As we continue our journey along the New South Wales coast our Captain and Expedition Leader will keep a lookout for a suitable landing. We hope we will be able to use Zodiacs to access the sandy beach at Trial Bay where we can visit the gaol that was built in 1886 located in the Arakoon National Park. The gaol was originally used to house prisoners brought to the area to build a breakwater in the harbour whilst later, during the First World War, it became an internment camp for people of German descent in Australia. Enjoy the views from the sentry house or maybe take a walk through the surrounding forest of the National Park where we hope to spot Kangaroos. If we cannot land at Trial Bay we will look for alternate options on the coastline.
Day 17 Newcastle for Hunter Valley.
Founded in 1804 Newcastle grew as a major centre for exporting coal which was delivered along the Hunter River to the port. Today it is not only renowned for its historical heritage, but also as a popular gateway to the Hunter Valley, one of the finest wine regions in New South Wales and one of Australia's oldest wine producing areas. James Busby is credited for starting the wine industry here way back in 1824 and today the region boasts a wide variety of winemaking styles from traditional to modern. After a scenic drive we will visit a vineyard where we will enjoy tastings of the famed Hunter Valley Semillon. Alternatively, spend time in Newcastle and see the Christ Church Cathedral, Nobby's Headland and Lighthouse, Honeysuckle Harbour and the Art Deco Civic Centre.
Day 18 Batemans Bay.
This morning we cruise up the Clyde River into Batemans Bay. The expansive waterway at the mouth of the Clyde River was named by Cook on his voyage of discovery along this coast in 1770. However it was not until well into the 19th century that the township of Batemans Bay appeared. While Batemans Bay is the largest on the coast south of Nowra, it maintains its small town atmosphere. We will visit the Eurobodalla Botanic Gardens to discover more about the regional plants and also spot the wildlife amidst the forest site. Alternatively, a full day tour to Canberra will cross the Great Dividing Range to the Australian Capital Territory. Here we will visit the Australian Parliament buildings and have some free time to explore the capital city.
Day 19 Eden.
Cruise this morning into the port of Eden situated in magnificent Twofold Bay, the third deepest natural harbour in the Southern Hemisphere. A morning excursion will take us to the Ben Boyd National Park, a stunning coastal park of sheltered inlets, Aboriginal middens, historic buildings and wildlife. There will be a choice of walks for all levels and the chance to visit Boyd's Tower, reach the lookouts with views over the Pacific Ocean where, at this time of year, we may see humpback whales on their migration back to Antarctica or watch for white bellied sea eagles in the skies. We will also have some free time in Eden when you may visit the Killer Whale Museum to learn more about the whaling history of the region and the unique relationship between whalers and the wild killer whales. Alternatively find a spot to try some of the region's famous oysters.
Day 20 Wilsons Promontory.
After a morning at sea we arrive in the Gippsland area of Victoria. Wilsons Promontory is mainland Australia's southernmost National Park, an isolated area of granite headlands, with unique vegetation and geology. The park is affectionately known as "The Prom", and is famous for its abundance of native animals, birds, reptiles and plants, magnificent beaches and thick coastal forest. After using the Zodiacs to land on one of the beaches our onboard naturalists will lead a series of nature walks.
Day 21 Geelong.
Today we have a choice of tour options. Embark on a full day (eleven hour) tour of the Great Ocean Road. On this glorious coastal drive we enjoy a treetop walk at the Otway Rainforest and marvel at the amazing rock formations of the Port Campbell National Park, including the Twelve Apostles. Alternatively choose a morning excursion to visit the Narana Creations, an aboriginal craft and cultural centre. Sit in the Yingally Wor-ark gathering room where our hosts talk about their culture, walk in the garden to discover how plants are used for healing purposes and sample a bush tucker tasting. Return to the ship for lunch and enjoy an afternoon at leisure.
Day 22 Melbourne to London.
After breakfast enjoy a morning city tour and local lunch en route to the airport for our scheduled indirect flight to London.
Day 23 London.
Arrive this morning.
Dates and Prices
SPECIAL OFFER SAVE £500 PER PERSON FOR A LIMITED TIME ONLY
Prices per person based on double occupancy
14

October to

5

November 2019
Category
Brochure Price
Special Offer Price
Castle Deck Standard Suite
£12395
£11895
Caledonian Deck Superior Suite
£12395
£11895
Promenade Deck Premium Suite
£13495
£12995
Bridge Deck Deluxe Balcony Suite
£14395
£13895
Promenade Deck Premium Balcony Suite
£14395
£13895
Promenade Deck Owner's Corner Suite
£14395
£13895
Castle Deck Standard for sole use
£14395
£13895
Caledonian Deck Superior for sole use
£14395
£13895
Tour Reference Code: SCCS141019
Price Includes: Economy class scheduled air travel • Overnight hotel accommodation in Singapore with breakfast • 18 nights aboard the MS Caledonian Sky on full board basis • House wine, beer & soft drinks with lunch & dinner • Noble Caledonia expedition team • Shore excursions • Gratuities • Transfers • Port taxes.
Not Included: Travel insurance, visas.
Important Visa Information: Please note that British citizen passport holders can obtain an "eVisitor (subclass 651)" visa for entry into Australia. This can be obtained online from the Australian Government's Department of Immigration and Border Protection website, and is currently issued free or charge. Further information will be provided in your pre-departure information, which will be sent to you approximately 12 weeks before departure.
Deckplan
Caledonian Sky
The MS Caledonian Sky is one of our three flag ships and sister vessel to the MS Island Sky and MS Hebridean Sky. All three vessels were built in the same ship yard in Italy at similar times and share the same excellent attributes that make them three of the finest small ships in the world.
Travelling with You
Martin Sixsmith

Martin Sixsmith was the BBC's correspondent in Moscow, Washington, Brussels and Warsaw in the 1980s and 90s and worked as Director of Communications for the British Government from 1997 to 2002. He is now an author, presenter and journalist. His non-fiction books include Moscow Coup, The Litvinenko File, Putin's Oil and Russia: A Thousand Year Chronicle of the Wild East. He worked as a consultant on the BBC2 political sitcom The Thick of It and the 2010 movie In the Loop. In 2011 he presented the BBC's 50-episode history of Russia on Radio Four. In 2013 his book The Lost Child of Philomena Lee was adapted into the film Philomena, starring Judi Dench and Steve Coogan. It was nominated for four Oscars. In 2014 he presented Radio 4's 25-part history of psychology and psychiatry. His new book Ayesha's Gift is the story of a young woman's search to discover the truth after her father is murdered in Pakistan.

Martin Sixsmith will be on the following tour dates:

14

October 2019 to

5

November 2019

Craig Ward

Craig is a marine professional, dive instructor, marine biologist & ship's captain and studied Zoology at James Cook University, Cairns. For over twelve years he has been involved in marine research and education throughout the Indo-pacific, particularly the Northern Great Barrier Reef, the Kimberley, south-east Asia, Papua New Guinea and New Zealand.

He became a wildlife keeper working with many native Australian species including crocodiles, snakes and cassowaries and wrote a number of public education presentations on topics such as wetlands, reptiles, jellyfish and conservation, Craig developed his lecturing skills and became recognized as a regularly cited author. He is credited on a number of scientific papers, has been published in a variety of magazines and has co written and edited several natural history works.

Craig is based in tropical northern Australia, where he is actively involved in conservation research. He spends much of the year travelling to remote parts of the world in search of, sadly, rare animals with like-minded people who share his passion for nature and travel, and he goes out to sea as often as he can.

Craig Ward will be on the following tour dates:

14

October 2019 to

5

November 2019

Jean-Pierre Els

Jean-Pierre Els is a qualified Padi Divemaster and Category C vessel skipper who is passionately in love with the ocean and the outdoors. He is now working as a Divemaster, Watersports Coordinator, RIB Driver, Zodiac Driver, Guide and Expedition Team Leader/Member.

His lifelong dream to scuba dive became a reality when he relocated to the east coast of Kwa-Zulu Natal. What started out as a hobby quickly progressed into a career and Jean-Pierre soon had the opportunity to work on the Sardine Run, known as The Greatest Shoal on Earth. After that he was employed as a resident Divemaster and Skipper in Shelly Beach. He specialized in shark diving on the reef Protea Banks. One of his greatest experiences in life is as a Sardine Run Expedition Leader for African Dive Adventures. Setting up an entire operation to a remote area and being on the water with no guarantee what to expect is truly an exhilarating challenge he looks forward year after year.

Thereafter his work expanded to various parts around the globe while working with Eyos-Expeditions as a Divemaster and expedition team member. He is responsible for the planning of dive programs, managing operations, group diving, driving RIB's, zodiacs, guiding etc. He is currently also working with Expedition Voyage Consultants as a Watersports and Surface Activity Coordinator. At EVC he assists and advises with the start-up and set up of watersports, surface activities and operations onboard. Advising on the onboard organizational structure, schedules and developing SOP's.

Jean-Pierre Els will be on the following tour dates:

14

October 2019 to

5

November 2019

Kevin Morgan

An enthusiastic naturalist with a passion for wildlife enthusiast, Kevin has been a keen birdwatcher since childhood and he has worked on cruise ships from Antarctica to the Arctic, Iceland to Norway, and the Atlantic to the Indian Ocean, with the British Isles being a favourite with its diverse coastline and seabird colonies. Kevin was a naturalist on a sailing expedition from South Africa to the UK; on a junk in the South China Seas, and he has led whale watching tours, from Blue Whale encounters off California, to swimming with dolphins in the Bahamas and has seen over 40 species of cetaceans.

Based on his experience at sea he was behind the concept of Sealife - A Complete Guide to the Marine Environment, working closely with the artist to illustrate dolphins from above, as they are seen when bow riding. Kevin was on the St. Vincent Parrot Expedition to the Caribbean in 1982 and a resident naturalist in Tambopata region of the Peruvian Amazon in the 80's - and a founder member of TReeS (the Tambopata Reserve Society). In the UK he carries out wildlife surveys (bats, bird, reptiles & amphibians), lectures on his travels, and leads wildlife walking tours. He is a fellow of the Royal Geographical Society, a member of the Marine Conservation Society, a founder member of The Shark Trust with a passion for sharks, and he has an Oceanography Masters. An experienced sub-aqua diver he is learning to free-dive and can hold his breath - for nearly 5 minutes! To relax, he likes to lambada and salsa, the dancing.

Kevin Morgan will be on the following tour dates:

14

October 2019 to

5

November 2019

Phanor H Montoya-Maya

Phanor H Montoya-Maya is a marine biologist, diving instructor and Coral guru hailing from Colombia. His love for all things oceanic emerged after sighting his first giant grouper on the Caribbean coast of his native Colombia. Since that moment he has dedicated his life to better understanding, conserving and raising awareness for the ocean and its inhabitants. A BSc in Marine biology was followed by his MSc in Icthyology and finally a PhD in coral reefs. He has worked all over the world leading cage less shark dives in South Africa, starting the first Marine based NGO in Colombia or heading up the World's largest coral reef restoration programme in the Seychelles. He has been invited to work on countless Scientific expeditions through North and Central America, Southern Africa and most recently was the on board Coral specialist for the National Geographic Pristine seas team in Mozambique! Outside of work he has hitch hiked through Jamaica, ridden camels past Ancient Egypt and even tried his hand at Ice fishing in the remote Canadian wilderness. Phanor loves the possibilities found on expedition cruises to see more of the world and take his guests on some of their most informative, interesting and incredible dives of their lives. He doesn't create log book entries he creates everlasting memories.

Phanor H Montoya-Maya will be on the following tour dates:

14

October 2019 to

5

November 2019

Pierre Malan

Pierre is an all round naturalist who trained as an oceanographer and marine biologist and has more than forty years of experience in the field. He lives in Hout Bay, near Cape Town, South Africa. He is a former Naval Officer who holds certificates of competence in sail and power. He worked at the Sea Fisheries Research Institute in Cape Town for more than thirty years, specialising in the acoustic stock assessment of small pelagic fish and krill.

He participated in numerous research cruises in the South-East Atlantic Ocean, the South-West Indian Ocean, the Pacific and Southern Ocean, often as chief scientist. Since 2001 he has worked as a fisheries consultant specialising in combatting illegal fishing, working mainly in Southern and East Africa and the islands of the Indian Ocean, as well as doing research cruises in the Antarctic, the Eastern Tropical Pacific and North Pacific. During this time he lectured at several Universities in South Africa as well as teaching at the Fisheries Development Centre in Mbegani, Tanzania. In 2005 he started working in the expedition cruising industry as a lecturer, zodiac driver, and later as assistant expedition leader.

He has worked on board ships in the Antarctic, the Western Indian Ocean, South and Central America, the Canary and Azores Islands, Great Britain, Norway and Spitsbergen. In addition to marine biology and oceanography he is a competent all-round naturalist and photographer as well as having an interest in history and in traditional boats and working boats around the world. During 2008 he was technical adviser and presenter for a TV documentary series on the Antarctic and sub-Antarctic.

Pierre Malan will be on the following tour dates:

14

October 2019 to

5

November 2019

Wendy Malan

Wendy trained as a classical ballet dancer and teacher at the University of Cape Town. After dancing professionally for ten years, she taught at the same university before setting out on her own. She has run her own successful exercise studio and produced several ballets for the Cape Youth Ballet. Together with her oceanographer husband she has taken part in research cruises off the West Coast of Southern Africa and travelled to some of the Earth's more interesting places, including the Namibian Skeleton Coast, Mozambique and the Antarctic.

Her first visit to the Antarctic was in 2003, aboard the SA Agulhas, supervising a group of scholars who accompanied the vessel on a relief cruise to Queen Maud Land. She has worked on small expedition cruise ships in many places in the world for the past eight years.

Wendy Malan will be on the following tour dates:

14

October 2019 to

5

November 2019
Tour Extensions
If you would like to spend some more time in Australia after disembarking the MS Caledonian Sky, we have arranged a three night extension in Sydney.

The Itinerary

Day 1 Melbourne to Sydney. Disembark this morning and transfer to the airport for our scheduled flight to Sydney. On arrival transfer to our central hotel for a three night stay. The remainder of the day is free for independent exploration.

Days 2 & 3 Sydney. Enjoy two days to explore at your own pace. See the Harbour Bridge, Opera House and Botanical Gardens. Maybe take a harbour cruise, visit one of the nearby beaches at Bondi or Manly or travel inland to see the Blue Mountains.

Day 4 Sydney to London. Transfer to the airport for your scheduled indirect flight to London.

Day 5 London. Arrive today.

Prices per person based on double occupancy

4

to

8

November 2019
Category
Price
Twin
£995
Single
£1395

PRICE INCLUDES: Economy class scheduled air travel from Melbourne to Sydney • Three nights accommodation in Sydney on bed and breakfast basis • Airport taxes.
Not Included: Travel insurance, visas.
Also of Interest
A voyage from Melbourne to Auckland aboard the MS Caledonian Sky
SPECIAL OFFER – SAVE £1000 PER PERSON
Caledonian Sky
Itinerary at a glance
Melbourne, Australia
King Island, Tasmania
Burnie / Cradle Mountain National Park
Launceston
Bicheno / Freycinet National Park
Maria Island
Port Arthur / Hobart
Bluff & Stewart Island, New Zealand
Dunedin
Akaroa
Wellington
Resolution Bay / Meretoto / Ship Cove
Napier
White Island
Rotorua
Auckland
23 nights from £11695
More Info
Next Departure
1

November 2019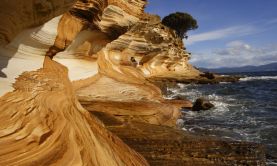 A comprehensive escorted exploration of New Zealand's North & South Islands
New Zealand by Road, Rail & Sea
New Zealand by Road, Rail & Sea
Itinerary at a glance
Singapore / Auckland / Bay of Islands / Rotorua / Wellington / Picton / Christchurch / Dunedin / Te Anau / Milford Sound / Te Anau / Queenstown / West Coast Glaciers / Christchurch
24 nights from £8995
More Info
Next Departure
15

January 2021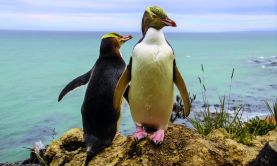 Book with Confidence
Speak to one of our advisors on 020 7752 0000