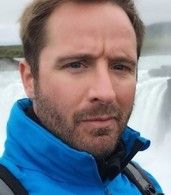 Kevin Treacher
Kevin served in the Royal Marines for 12 years which took him all over the world working in some of the most arduous environments on earth from Arctic training in Norway to desert training in Death Valley, Mountain training up in the Rockies' and jungle training in Belize.
After a couple of tours of the Middle East as a regular soldier Kevin went on to specialize as a boat Coxswain which saw him posted to 'Diego Garcia' - a tropical island in the Indian Ocean where some of his duties included fishery and wildlife conservation.
Upon returning to the UK he completed an advanced boat operator course enabling him to work with the Special Boat Service (SBS) as a highly skilled coxswain in a role designated to counter terrorism for the United Kingdom.
After leaving the Marines in 2012 Kevin went on to work as a private security contractor providing armed protection for vessels sailing though the high risk pirate areas of the Indian Ocean before finally joining the Noble team little over a year ago as a Zodiac Driver.
Originally from Chichester in West Sussex but now resides just outside of London.
Kevin Treacher is on the following tours: