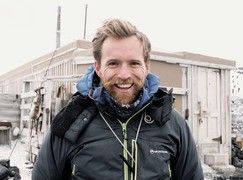 Dr Huw Lewis-Jones
Dr Huw Lewis-Jones is a historian of exploration, culture, photography and the environment, with a PhD from the University of Cambridge. He is the author of award-winning books but is happiest when out in wild nature. Huw was Curator at the Scott Polar Research Institute and the National Maritime Museum in London. His books include In Search of the South Pole, The Crossing of Antarctica, Ocean Portraits, The Conquest of Everest, winner of the History Award at the Banff Mountain Festival, Across the Arctic Ocean, and Explorers' Sketchbooks, an art history of discovery and adventure. His books now have been published in 14 languages.
As an experienced zodiac driver and wilderness guide, over the last decade Huw has wandered on both sides of Antarctica and in the Arctic, from the Ross Sea and the Southern Ocean, the Sub-Antarctic islands of New Zealand, to Siberia, Greenland and the North Pole. His research interests are equally wide-ranging, from Admiral Nelson and Captain Cook, through whaling and Heroic Age expeditions, to pioneering photography, the history of maps, and even Inuit Art. Back in Britain, Huw regularly appears on television and radio as a historian and cultural commentator, in the BBC documentaries Wilderness Explored, Of Ice and Men, Antarctica's Forgotten Hero, Battle for the Himalayas, and most recently the PBS Nova special Franklin's Lost Ships. In 2015 Huw won the Leif Erikson History Award for his ongoing heritage advocacy.
When not deep in the archives, Huw guides real expeditions to difficult places. He has plans next year to ride a yak across Tibet and swim the Strait of Magellan, though he knows he ought to spend more time at home. Huw is married to Kari, the daughter of explorer Sir Wally Herbert, and she shares his love of remote environments.