The Aldabra Clean Up Project
The Aldabra Atoll in the Seychelles is a very special place and one with close links to Noble Caledonia, described by Sir David Attenborough as 'one of the world's greatest surviving natural treasures'. We are one of the few cruise companies permitted to bring a privileged few travellers to the islands and have done since our establishment in 1991.
We are working with The Queen's College, Oxford who are leading an expedition to clear Aldabra's beaches of plastic waste. Whilst only a small number of people have ever been to Aldabra, the oceans carry tonnes of plastic to its beautiful shores. Noble Caledonia's Charitable Trust will be sponsoring The Queen's College initiative to clear the plastic, analyse and identify where the waste has come from and reach out to primary and secondary schools to engage and inspire young people to learn about Aldabra and minimise their use of plastic.
Aldabra Clean Up Update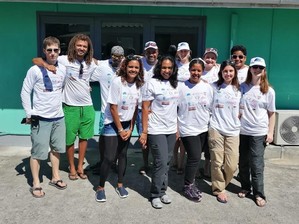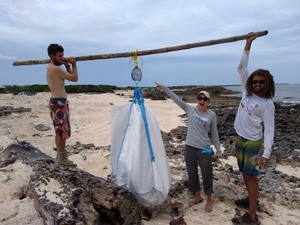 A team of six graduate students headed out to Aldabra in March 2019 to work with six Seychellois environmentalists to transform the shores of the atoll.
The cost of the expedition is £150,000. The NCCT have donated £27,000 to date and we look forward to seeing the results on our next visit to the atoll with the MS Serenissima over the winter of 2019 and 2020.For further details please visit www.queens.ox.ac.uk
If you would like to make a donation you can do so either by cheque payable to 'NCCT' and send it to NCCT, 2 Chester Close, London, SW1X 7BE, or DONATE ONLINE.
If you are eligible for gift aid you can increase your donation by 25% at no extra cost to you by using our Gift Aid Form.
The clean up team are now safely on Aldabra and will spend three weeks collecting and a further week and a half loading up the boat.
The team at Dune Jean-Louis, and have had a busy first few days sorting and clearing through the accumulated marine debris from their first location on the atoll. The amount of waste that has built up in the area that they'll be clearing is shocking.
Part of the @aldabracleanup is scientific research. In order to properly record the marine debris, all waste is sorted into specific categories and weighed, and transects of 40m are done to get a snapshot and collect median data of the waste at each area to be cleared.
It has been a week since the teams arrived at camp and started collecting marine debris in earnest, and the results of the first week are in… the Dune de Mess team was able to collect 5.3 tonnes and the Dune Jean-Louis group collected 4.5 tonnes! That is 9.8 tonnes total! Getting settled in to life on Aldabra. From limited water for showering and washing dishes, to no electricity on camp, it's taken a little getting used to, but Aldabra has also provided some incredible moments for the team so far, and new neighbours!