When the going gets tough……
By Mike Deegan, Head of Fleet Operations
It is said that an organisation truly shows its worth when things go awry: if that is so then the efforts to repatriate our guests from far flung corners of the globe when the world started to shut down thanks to the Covid-19 pandemic showed Noble Caledonia in a good light, despite the awful circumstances, especially if the feedback we have received from those rescued is anything to go by. In almost every case they have highlighted how "looked after" they felt as things started to go awry.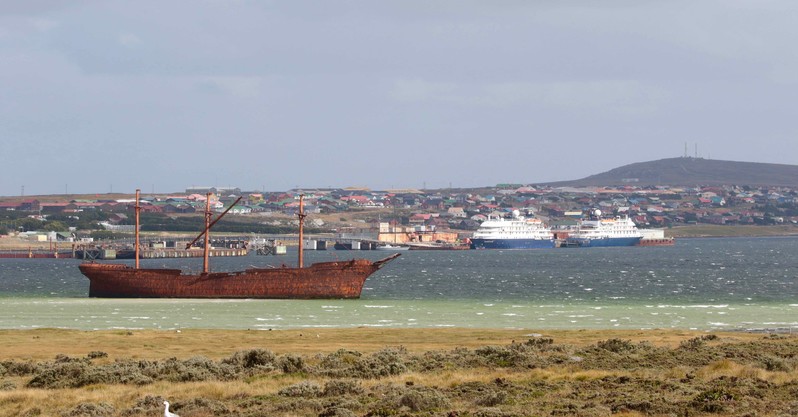 Who would have thought that a viral outbreak in a little-known Chinese province could spread so quickly and so widely and in doing so wreak such havoc globally? True we had been observing events unfold : I had sailed from Port Victoria in the Seychelles to Aqaba in Jordan aboard a guest-free Serenissima as she re-positioned at the end of her Indian Ocean season. I had been subjected to no less than 3 temperature checks and a detailed interrogation by health officials between arrival into the Seychelles and walking up the gangway. After we sailed we had watched media coverage, horrified as initially the Far East had become embroiled in the spread of this pernicious infection. Fast forward to early-March and we could see the world gradually shutting down – at the time we had groups in Papua New Guinea aboard MS Caledonian Sky, in Morocco, in Egypt aboard our historic Nile Steamer SS Misr, travelling from Jordan to Cyprus aboard MS Serenissima, in the Caribbean aboard Sea Cloud II and aboard sister ships MS Hebridean Sky and MS Island Sky in South America. As the severity of the situation became clearer, it was obvious we were going to have mount rescue missions to get our guests and staff home to loved ones.
The Papua New Guinea group was probably easiest to arrange although with myriad ports closing in front of Captain Ulf-Peter Lindstrom as he navigated Caledonian Sky through the Pacific, it didn't seem like that at the time. Eventually and after some negotiations with Papuan port authorities, the ship was allowed to dock in Port Moresby to disembark her passengers and expedition team (more than ably led in very trying circumstances by Expedition Leader Craig Ward). Our guests and expedition team returned home safely and we allowed ourselves to feel a little smug. Little did we know then, that was merely the precursor!
In the middle of March it became glaringly obvious that we would have to rescue our travellers from aboard MS Sea Cloud II in the Caribbean and from their cruise aboard Serenissima by then in the Eastern Mediterranean. MS Sea Cloud II was trapped in St Kitts with Captain Kathryn Walker unable to move as all ports around her had closed to cruise vessels : similarly Serenissima under the command of Captain Etien Bonacic was running out of ports prepared to accept her after her current berth in Antalya, Southern Turkey : worse her planned turnaround port in Cyprus was already closed and it looked like Turkey was preparing to impose a strict lockdown and order all foreigners to leave. Cruise Directors Tom Hook and Peter Graham in MS Sea Cloud II and Neil Horrocks in Serenissima, and their respective teams, kept their guests continually updated with constantly changing plans as we prepared to bring our people home. Over a weekend (isn't it always a weekend) rabbits out of hats and miracles became specialities of the operations teams in Noble Caledonia Head Office as we extracted guests and staff and brought them safely home – always with the belief that our guests and colleagues are very important to us so doing the right thing, ensuring their safety, regardless of cost, was the only option.
In the event, we managed to rescue most guests from the Caribbean and MS Serenissima via scheduled flights, albeit in MS Serenissima's case via an overnight stay in Istanbul. A further guest disembarked later in Croatia. That was also true of our groups in Morocco (with Tour Manager Phil Airey) and Egypt (with Tour Manager Rodica Ghiserel) : we were on one of the last flights out of both countries as they closed. Morocco was especially chaotic as many thousands of tourists made for the airports and non-existent flights. However we extracted all guests safely ourselves with no recourse to Government resources.
Our biggest challenge however lay further south : our Flagships MS Hebridean Sky and MS Island Sky had just commenced cruising around South America, specifically around the Chilean Fjords, when the effects of Covid-19 started affecting their programmes. First Colombia notified us the country would not accept any future calls by cruise vessels and within hours Chile too banned our ships from berthing or guests from stepping ashore. We were not alone as other cruise vessels were also in Chilean waters and for a time it seemed like all of us and our guests would become marooned. It was our Founder Andrew Cochrane who suggested we look to the Falklands for repatriation. The islands were only a few days sail for both ships and we could investigate various options for rescue whilst the ships were en route. An ex-shipmate of mine from our days in tankers is currently the Harbourmaster in Falklands capital, Port Stanley, so a quick call to him confirmed that berths were available for both ships. The RAF offer unused seats to non-military passengers on their transport flights to and from Brize Norton but that avenue was soon closed off when we were informed all northbound flights were sold out for many weeks ahead. We looked at sailing people north but given a voyage to the UK would be over three weeks long, it would be a lengthy rescue. Finally, and after discounting other rescue options, we decided on a private charter flight directly to London Gatwick.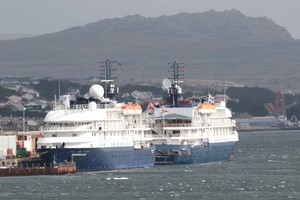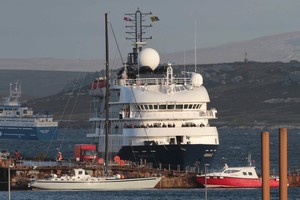 As both ships arrived in off the Falklands, the enormity of what the Falklands were being asked to do became apparent to the Islands' Government so in order to protect the local population (at that time they had not had their first case of Covid-19) they required Captain Henrik Karlsson in command of Hebridean Sky and Captain Jose Foncea in command of Island Sky to anchor in isolated Choiseul Sound, West of Port Stanley, and quarantine themselves for 10 days. With an understandable abundance of caution, they would only allow our ships to come alongside once our charter aircraft had landed at Mount Pleasant Airfield. That gave us some time to kill in this most sheltered and picturesque anchorage. The expedition team aboard each ship (led in MS Hebridean Sky by Expedition Leader Jane Wilson and in Island Sky by Andrea Machecek who was in her first appointment as Expedition Leader having only recently been promoted – what a baptism of fire!) arranged extra activities such as Ship-alates run by Assistant Expedition Leader Wendy Malan, a Boot Camp for fitness run by Naturalist Dr Merel Debout, a series of lectures about the Falklands War in 1982 by ex-Royal Marine Warrant Officer and Falklands War veteran, Zodiac Driver Mike Bowen and a series of local history seminars by Historian Seb Coulthard. Meanwhile the naturalists kept a watchful eye out for local wildlife in this most fascinating place of outstanding natural beauty and scientific interest.
Meanwhile, with Covid-19 effects and restrictions having a greater and greater effect on global conditions, the UK Foreign and Commonwealth Office had understandably become concerned about anybody entering the UK who was not an EU citizen in case their own countries refused to accept them home via the UK at such a challenging time. The Fleet Operations Department staff had to work long hours over a weekend negotiating with the London Embassies and High Commissions of all those aboard both ships who were not EU citizens to gain written approvals in regard to each specific person. In the event only one country refused to accept their citizen (an expedition team member) home via the UK so Fleet Operations staff worked with him to find another way home. In each case the UK Government were incredibly helpful : we had a senior desk officer appointed at both the Foreign and Commonwealth Office and at the Department for Transport (the latter had to issue a permit for the charter flight to operate) and each was available 24/7 as we worked to arrange the rescue of our guests and staff. The Foreign Office helped with making contact with other Embassies and High Commissions at a weekend and the Department for Transport were on hand constantly with help and advice (I even got a call at 10pm on the Sunday evening from them!) We even agreed to bring a British seaman back from a UK Government fisheries protection vessel working around the Falklands whose father was critically ill back at home in the UK.
Eventually we had all the necessary permissions and permits and the aircraft was chartered by our colleagues in the Noble Caledonia Flights Department, flight crews were positioned and flight plans filed and approved. The flight operated on schedule on 25 March from Mount Pleasant to Gatwick via a refuelling stop in Brazil. The Operations Department at Head Office had arranged coach transfers to Heathrow, overnight hotels and onward flights for all those who needed them and everything ran to plan.
Including the two ships in the Falklands, we had rescued nearly 600 guests and staff from all over the world, via a variety of methods, whilst ensuring everybody's safety and whilst keeping everybody informed about plans which were constantly changing. It was truly tough going but as I said previously we believe passionately about doing the right thing when it comes to our guests and I could not have been prouder of my colleagues both ashore and afloat. The UK Foreign & Commonwealth Office that had been supporting us throughout told us after the rescues were complete that "Noble Caledonia were the best example of how a responsible tour operator should behave".
We were then faced with an eery quiet : but not for long. We were contacted by our friends at the British Antarctic Survey (BAS). We have worked with BAS previously : when the Polar Code for Shipping was introduced last year we liaised as fellow UK Polar shipping operators to ensure that we understood the provisions of the code as it applied to ship owners and managers and then on matters such as reducing garbage volumes and sustainable initiatives generally. They had similar problems to what we had experienced although from a far more logistically challenging place : their scientific stations in Antarctica. As the world closed down, certainly in relation to long haul flights, they were considering how to bring their scientific and technical / support staff home to the UK at the end of the Antarctic season. They requested our help and as I write we have chartered them our expedition cruise ship Hebridean Sky where Captain Karlsson and his crew are providing safe and secure accommodation in the Falklands for BAS staff as they are collected from various BAS outposts either by BAS aircraft or aboard their own ship, the RRS James Clark Ross and brought to Port Stanley. After they have all been collected they will sail back, non-stop to the UK aboard the ship for a happy, if delayed, reunion with their families and loved ones. The work is vey different to our usual fayre, especially as it is paid for with public money : the ship is acting initially as an accommodation ship then as a ferry to bring everybody home. However we are approaching the task with the usual Noble Caledonia attention to detail and quality. I speak regularly to Captain Karlsson and Hotel Manager Darren Ormshaw and to my opposite number at BAS and so far everything is going extremely well. The crew even managed to hold an Easter Egg Hunt around the ship on Easter Sunday!
The events of the last few weeks have certainly been unprecedented (and I speak as a 42-year veteran of this industry!) but I strongly believe we looked after our guests and staff as things got challenging, brought them home in difficult circumstances and ensured it was not Governments that were left to pick up the pieces : we believe our guests are our responsibility and looked after them until they reached their front door – now if that is the mark of a responsible tour operator, then I am proud to work for a responsible tour operator.
Photo credit : Captain Chris Locke : Harbourmaster, Port Stanley.