Extended UK season comes to an end
By Mike Deegan, Head of Fleet Operations
Our extended UK season came to an end recently when Island Sky embarked her last guests in the UK before setting sail for her Autumn cruising grounds in the Mediterranean where she will join sister ship Hebridean Sky.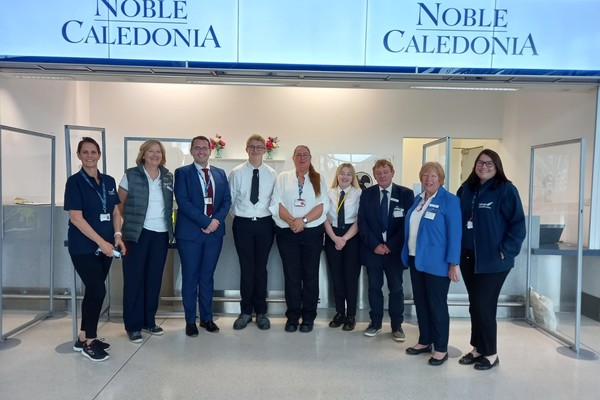 Our last UK port this season was Portsmouth International Port on 23 October where an intense programme of storing, bunkering and preparation took place before guests, who had checked in and been tested for Covid in the terminal by our partners at Wren Healthcare, boarded for their voyage to warmer climes! The historic port of Portsmouth has become our south coast home so it was perhaps fitting that Island Sky sailed from there after her final 2021 UK embarkation.
At precisely 6.20pm, Captain Jorgen Cardestig eased the engines to dead slow ahead and Island Sky moved off the berth at the start of her "Passage South" cruise which will include calls in Spain, Portugal, Madeira, the Canary Islands and Gibraltar on her way to Malaga on her Mediterranean programme. On the way out of Portsmouth Harbour, Cruise Director Neil Horrocks explained something of the myriad warships in port prior to a major NATO exercise and which Island Sky was gliding silently past. Later that evening tables were hosted in the dining room by his team of Tour Managers Jane Mannerings, Susan Stampe and Christiane Ely and Guest Speaker Professor Jeremy Black as everyone settled in for the voyage.
Huge thanks are due to our fantastic teams afloat and ashore for their work in ensuring a safe and enjoyable UK season for our guests. Huge thanks too to the almost 1600 guests who have cruised with us on the UK coast this season (2 x ships, 21 x cruises, 4 x turnaround ports) whose patience, understanding and acceptance of the minor restrictions both on board and ashore have ensured we can operate safely as we emerge from the pandemic.
Photo : the team that oversaw the last Portsmouth turnaround of 2021 : Nurse Lisa, Tour Manager Pru Barlow, Passenger Operations Manager Louis Colpitts, Tom, Helen and Katy from the Portsmouth Passenger Operations team, Cruise Director Peter Graham, Tour Manager Angie Carpenter and Nurse Nicola all pictured in front of the Noble Caledonia check-in desk in the terminal.