Crusty Walnut Bread & Crème of Wild Mushroom Soup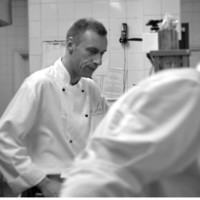 When I arrive in the Galley first thing in the morning, the aroma coming from the bakery where the Night Baker has been busy preparing all those assorted freshly baked breads is simply amazing.
Some passengers may have attended my Galley talks on board Island Sky around the dynamics of cooking onboard ships. Last year in the French Polynesian Islands, the freshly baked breads were a subject the passengers loved commenting on. Therefore, this week my recipe for you is one of my best loved breads – Crusty Walnut Bread.
To accompany it I have suggested the passengers' favourite soup Crème of Wild Mushrooms. This recipe comes straight from the heart and reminds me of walking through the Thetford Forest with my son foraging for the mystical wild mushrooms. There is nothing better for a chef than to source his own ingredients.
It's an honour, while on board the Sky Ships, for me to be able to visit local markets and shops to source fresh ingredients to use on our daily menus. This could be anything from fruit to native fish from the area we are sailing.
I hope you enjoy these two recipes.
Darren Marchant
Head Chef – the Sky Fleet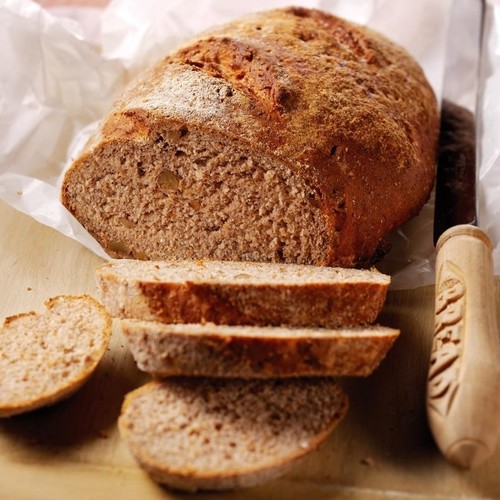 Crusty Walnut Bread
100 grams Chopped Toasted Walnuts 250 grams
Strong White Flour400 grams Strong Wholemeal Flour
2 tablespoons Light Muscovado Sugar
7 grams Easy Bake Yeast
3 Tablespoons Walnut Oil
450ml Warm Water
1 ½ Teaspoon of Salt
Method
1 - Place the wholemeal flour, white flour and walnut pieces into a large bowl with the muscovado sugar
2 - Add the yeast to the warm water and stir
3 - Put the yeast mixture to the flour with the oil
4 - With your hands bring together to form a rough ball
5 - Place the dough onto a lightly floured work surface and knead until smooth and elastic (this will take approximately 10 minutes)
6 - Shape the bread dough into an oval and place onto a greased baking tray
7 - Using a sharp knife, score some horizontal lines on top of the bread
8 - Cover lightly with cling film and place in a warm area until doubled in size, this will take around 30 to 40 minutes
9 - Pre heat the oven to 190 degrees, remove the cling film and bake for 35mins
10 - Remove and place on a wire rack to cool (to test that your bread is cooked, turn upside down and tap on the bottom it should sound hollow)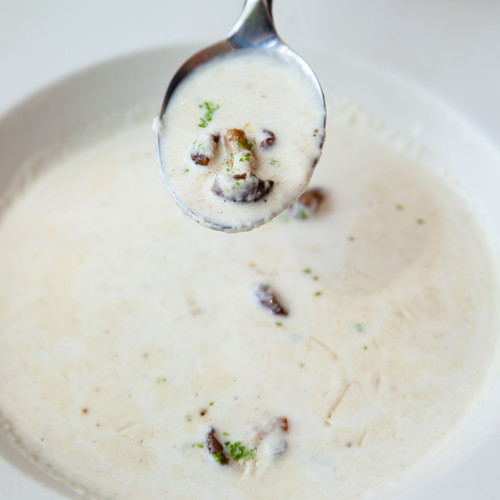 Crème of Wild Mushroom Soup
40 grams Dried Porcini Mushrooms
50 grams Butter
6 Banana Shallots, peeled and sliced
1 Clove Garlic, finely sliced
400 Grams Mixed Wild Mushrooms
850ml Vegetable or Chicken Stock
1 Medium Potato, peeled and diced
150ml Crème Fraiche
2 Tablespoon Madeira
Chopped Chives and truffle oil to garnish
Method
1 - Add boiling stock to the porcini mushrooms and leave to soak for at least 5 to 10 minutes
2 - Heat the butter in a saucepan, then gently fry off the onions and garlic until softened. Add the diced potato and cook until just coloured
3 - Strain the Porcini mushrooms from the stock making sure all the stock is saved
4 - Add all mushrooms to the saucepan and cook until tender and soft in texture
5 - Add the stock to the mushrooms and cook for another 15 -20 minutes
6 - Remove from the heat and liquidize the soup until smooth
7 - Pass through a fine sieve if necessary
8 - Return to the saucepan and when ready to serve, add the crème fraiche and Madeira, heat through and season with salt & pepper
9 - Place in soup bowls and finish with chopped chives and a drizzle of truffle oil