Thai Green Curry & Strawberry Tart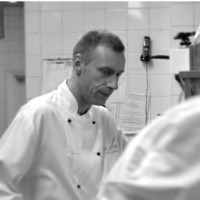 As a chef, my passion is having the luxury of being able to work with the raw ingredients to produce mouth watering dishes every day. In this edition of my Travel Post writings, my mind took me to the Hebrides. We are in the middle of our summer season and this month just brings all those summer berries into the picture. So this week I have compiled a recipe to showcase one of our favourite berries, the strawberry. A fruit widely appreciated for its characteristic aroma, bright red colour, juicy texture and satisfying sweetness. Currently, we should be supporting one of our favourite sports, Wimbledon, home of the celebrated British strawberry. In this issue, I have suggested a beautiful strawberry tart to complement a delicious, green Thai curry.
Many thanks and hope you enjoy
Darren Marchant
Head Chef – the Sky Fleet
Thai Green Curry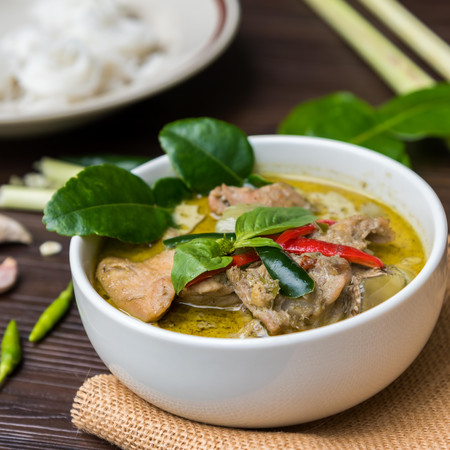 Ingredients serves 4
| | |
| --- | --- |
| Thai paste | Curry |
| 4-6 Medium Green Chillies | 400 Grams Skinless bone chicken, diced |
| 2 Shallots, peeled and diced | 4 Spring onions, cut on an angle |
| 2 Inch piece of freshly grated ginger | 2 Green peppers, cut into cubes |
| Good bunch of fresh coriander | Handull of freshly torn Thai Basil |
| 2 Lemongrass sticks, chopped | 250ml Chicken stock |
| 1 Lime zest and squeezed | 1 tsp Fish sauce |
| 8 Lime leaves | 100 Grams Mange tout, cut on an angle |
| 1 Inch fresh galangal peeled and grated | 1 Medium aubergine, diced |
| 1tsp Coriander seeds | 1 Clove garlic, crushed |
| 1 tsp Cumin powder | 400 Grams Coconut milk |
| 1 tsp Cracked black pepper | |
| 2 tsp Fish sauce | |
| 3 tbsp Sesame seed oil | |
Method
Green Thai paste
1. Place all the ingredients into a food processor and blitz into a paste. Place into a kilner jar and this can keep up to 2 weeks, placed in the fridge.
For the curry
1. Heat 1 tablesoon of olive oil in a frying pan and add the chicken pieces. Sear all chicken until golden brown in colour and remove from the pan onto a plate.
2. Reduce the heat and add 50 grams of thai paste and green peppers. Cook 2-3 minutes, stirring occasionally. Add the chicken stock and coconut milk. Turn up the heat and cook for 5-10 minutes.
3. Return the chicken and cook for a further 2-3 minutes, then addd the aubergine and mange tout. Heat for a further 2 minutes until the chicken is cooked through.
4. Remove from the heat, add the Thai basil and serve with basmati rice.
Strawberry Tart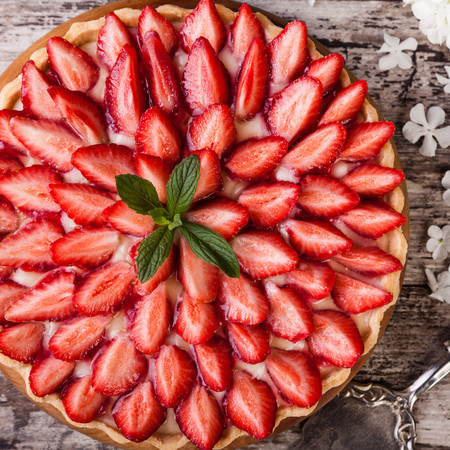 Ingredients Serves 6
| | | |
| --- | --- | --- |
| Sweet pastry | Creme Patissiere | Strawberries |
| 125 Grams of Butter | 200 ml Milk | 20 Large Strawberries, all Same Size and Quartered |
| 60 Grams Icing Sugar | 40 Grams Sugar | 1 tsp Sugar |
| 125 Grams Plain Flour | 2 Egg Yolks | 30ml Sweet White Wine |
| 75 Grams Ground Almonds | 14 Grams Corn Flour | 6 Leaves of Basil, torn |
| 2 Grams Baking Powder | 1 Vanilla pod, seeds removed | 1 Sheet of Gelatine, softened in warm water |
| 1 Pinch Salt | | |
| 1 Egg Yolk | | |
EQUIPMENT: 10 inch pastry case, not fluted
Method
Sweet Pastry (make at least 3 hours before cooking)
1. Pre heat the oven to 160 degrees
2. Place the butter and sugar into a bowl and mix the ingredients until you have achieved a smooth like paste
3. Add the flour and ground almonds along with the salt and baking powder to the mixture and using your fingertips rub the mixture to a sandy like texture (do not over work this)
4. Add the eggs to the mixture, gently mixing them in to form a pastry dough
5. Wrap the pastry dough in cling film and place in the fridge for at least 2-3 hours
6. Remove the pastry from the fridge and place on a lightly floured work surface
7. Roll the pastry out to 2 cm thickness and line in the pastry case tin. Cover with greaseproof paper and fill with baking beans
8. Bake in the oven for 10 minutes, remove the baking beans and return to the oven for 5 minutes until golden brown and cooked. Then leave to rest and cool on the side
Crème Patissiere
1. Place a pan on the stove and heat the milk with the vanilla pod seeds and bring to a simmering boil
2. Place the eggs and sugar into a food mixer and cream the egg mixture until it has doubled in volume. You should have a shiny and smooth consistency. Then add the cornflour and continue whisking the mixture
3. Once the milk has reached boiling point add half of the milk to the mixture and keep whisking on a slow speed then place the mixture back in the milk pan. Place back on the stove on a low heat and whilst stirring constantly until the mixture is cooked out. This should take about 3 -5 minutes
4. Place into a bowl and put in a cool place or the fridge until cold
Strawberries
1. Marinate the strawberries in a bowl with all the ingredients except the gelatine leaf. Leave to marinate for 30 minutes
2. Strain the liquid from the strawberries and place in saucepan. Bring to boil and add the soften gelatine leaf to the liquid and leave to cool
Assembling the tart
1. Take the pastry flan and place on a serving dish
2. Add the crème patissiere into a piping bag with a straight nozzle and fill the flan roughly 1 cm deep
3. Place the drained strawberries on top of the crème patissiere
4. Once the liquid is cool, with a pastry brush start brushing the strawberries with the liquid
5. Serve with a chilled glass of Rose wine